After kink: The precipice of pleasure and pain
By: Alyssa Kitt Hanley
In the morning light I went to my mirror and examined my ass. The heat radiating from it was enough to feel on my hand from centimetres away. Blackened rectangles puffed out against my pale backside. I pressed my index finger into my flesh and watched the colour change.
My eyes shuttered close and I inhaled deeply – it was a familiar pain of the morning after a good spanking.
The night before, my derriere had been primed over the knee of a thoroughly tattooed man. A firm open-handed spanking turned to a timid little cry of, "May I have another, please, Sir? Oh, I'm so sorry, that just slipped out!" I whimpered, knowing full well that he was not mine, and I was not his, "May I call you Sir?"
He laughed and responded, "Oh you certainly may. Another, you said?"
It had been over two years since I'd referred to another with a sexually gratifying title, and since I'd felt the firm smack of discipline on my well-deserving butt. I pressed my index finger into my blackened buttock feeling the dull ache and proud of the beating that I'd taken.
The last time I'd felt strong enough to take a beating was from my Master. With my bolted-on eternity collar around my neck, I had felt protected, cared for and safe. That was, until the nightmares began.
Terrifying demons had ravaged my body deep in sleep. I woke screaming, drenched in cold sweat and clutching at my collar. I curled into my Master to protect me.
I put on my collar and tail behind Master as we went to all the Sydney kink parties. The sound of its little link jingled as I carried our play bag full of goodies – paddles, single-tail whips, stern canes and the worst of all toys, the smiggle, a surreptitious eraser from the aforementioned stationery shop that had a particularly venomous bite.
I always had an extra skip in my step when I knew I was in for a big public play scene. I bent my bare behind over for all to see, wiggle and crack a bratty grin. It was a game between my Master and I: which appendage would quit first, his hand or my ass? The public scene was all foreplay; once we got home, who "won" that battle was irrelevant.
When we fucked, his hand pulled the link on my collar as he growled, "You're all mine."
"Yes, Master, all yours!" I purred in response.
We joked that our engagement ring became our socially acceptable finger collar. I wore both as markers of being an owed woman – proud of my fiancé, proud of my Master. He helped me function day to day but florescent lights, or the bang of a passing car, caused me to collapse into a quivering mess.
I began to drink copiously to get through the days. Little did I realise that post-traumatic stress disorder had reared its ugly head. All I knew was that I wanted to be hurt.
I was leaning on dangerous coping mechanisms. After a particularly treacherous evening of partying, I realised that I had to quit drinking, drugs and Friday night fuckfests. Instead, I stayed at home in a protective cocoon of safe domestic sobriety.
I began to recoil from all physical contact. Our sex life diminished – I couldn't be hugged let alone be beaten or submit to acts of sexual servitude. I lost all sexual desire and as someone who prided themselves as a hedonistic connoisseur, I felt like a shell of my former self.
Our relationship fell apart. I felt like a liar when I wore my collar. When he unbolted it to leave, I didn't just lose my partner, my future husband and my best friend, but I also lost the title of slave. I lost being owned.
It wasn't just a break-up; I had to break up with kink.
I didn't begrudge him leaving – at many points I wanted to leave me, too. But I didn't have a choice. I was about to go through the biggest transformative phase of my life, but first I had to learn to sleep on my own. I knew I couldn't be with anyone. I refused to dive into dating apps or relationships until I could rely on myself again.
Everything that my Master had done to help me, I had to do myself.
After a year, I felt ready to start seeing people again, but the last thing on my mind was submitting to another.
I began to date again in the vanilla world, even though I had sworn off vanilla sexual partners years ago. What I saw as their essential lack of sexual awareness left me wanting, not to mention the fact that consent discussions were far less respected than I was accustomed to in the kink world.
As someone who could only ever orgasm after denial, a hand around my throat, a smack across the face, a thoroughly beaten ass and the permission, "Cum for me, slut!", vanilla sex just didn't have the same zing as my heavily masochistic tendencies desired.
Until one day, seeing my psychiatrist, the words fell out of my mouth. "I only have sex for the abuse. I want my body to be punished because I think it's all I deserve."
My psychiatrist responded with a slow, measured nod – they knew what I had just discovered about myself, that I hadn't been playing for pleasure – I'd been playing hard so I could feel the physical brokenness that I felt on the inside.
I realised that I was punishing my body for being desirable to those who could not stop themselves from ravaging me. I blamed myself for my bruised inner thighs that I hadn't consented to.
But Master's bruises were ones that I'd chosen. They were physical indicators that I was reclaiming my own pain with a muthafuckin grin. When I said, "I can take more, Sir," I felt like I was saying, "I'm stronger than you," to all the men who have hurt me.
One year after that psych visit, I felt the urges for sexual pain again. When I caught the gaze of said thoroughly tattooed man, one bratty smile and a chat about consent led to my now blackened ass.
Looking into the mirror at my bruises again, I realise that I am strong enough to play between the precipices of pleasure and pain.
My kinky sexual desires are still there. Taking a break from kink gave me the time and space to work through some heavy stuff, learn to stand on my own two feet and come back a stronger individual.
My ass definitely couldn't take the well-seasoned beating of the good old days, but it was perfect for me now. I knew the bruising would get darker over the next few days and it would hurt to sit but I would love it.
Would I wear another's collar again? I doubt it – I have chosen to own myself. For now, I am squeezing this juicy sore ass into some jeans and enjoying feeling bruised. I took a break from kink but I feel ready to rekindle my relationship with the sexual arts once more.
Fierce. Formidable. The Feminist Fatale. Alyssa Kitt Hanley is an intellectual and artistic chameleon of the stage and page. She is an internationally acclaimed powerhouse of the burlesque world, writer, journalist, purveyor of the naked arts and PhD candidate at City University New York. 
<! -- WIDGET HERE FOR BUY ARCHER -->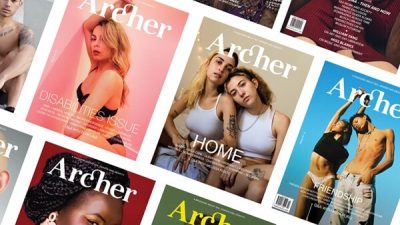 HELP KEEP ARCHER MAGAZINE AFLOAT!