BDSM: inside the kinky lifestyle
By: Renee Glover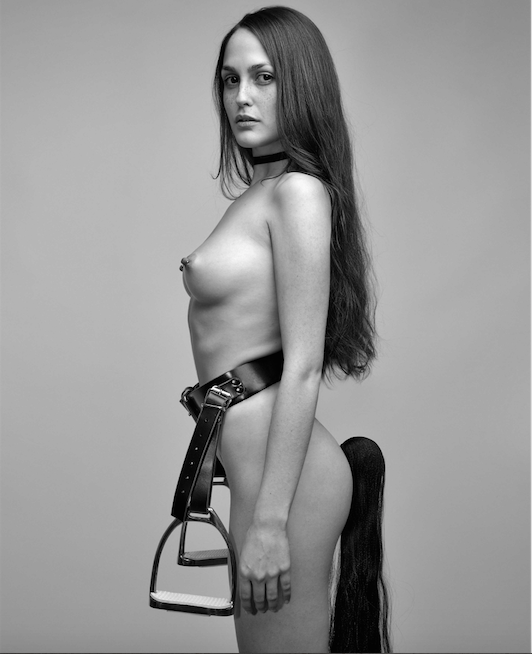 The wildly varied world of BDSM can provide a safe space to communicate, play, and release the pressures of everyday life.
At pre-dawn on a Monday morning more than 20 years ago, two friends and I sped towards a four-hour cleaning job that had to be finished before our uni classes started. We'd been out. Mr Bungle was blaring from the stereo, the chainsaw guitar and rapid percussion accompanied by Mike Patton's uniquely tuneful bellow, It's not funny, my ass is on fire. The three of us screamed along, because it was true. I couldn't sit down through my classes all that day, and I took the next day off.
My introduction to BDSM was a public spanking at a Melbourne kink club back in 1993. It was prearranged by a friend as a Buck's Night 'gift', and I gave explicit consent; I just didn't know what I was consenting to.
Three chairs lined the stage, and the spankers took their places. We were a clichéd trio of The Blonde, The Brunette and myself, The Redhead. We laid across laps and I faced The Blonde, and as my underwear was gathered up to expose my cheeks, I took her hand. A slap rang out, and I flinched, even though I hadn't been touched. When I was, there was no doubt.
The initial spanks were pure shock. I felt fight-or-flight kick in, and cursed myself for getting into this position. A hail of slaps hit home, and a sobbed gasp in my ear confirmed I was not alone in my struggle. I reassured The Blonde with emphatic hushes, and the hotness of my arse became secondary to controlling my breathing enough to check in with my friend.
The next thing I knew, the slaps had stopped and a hand caressed me gently, a voice in my ear asking how I was. I found I was more than fine.
This experience fascinated me. The strength I felt was powerful; the connection sparked with my fellow spankees almost magical; and, later, watching my arse turn from maroons and blues to reds and yellows was an aesthetic and sensual pleasure. With hindsight, it's certainly not an introduction I would ever recommend. Personally, I suggest having an idea of how hard the play may get before engaging, and a 'safe word', in case things get too much.
I had no idea of either.
What I participated in had very little of what you'd find in real BDSM play – definition, intimacy, negotiation, connection – it was basically a titillating show. Regardless, I realised I'd consented to more than a random spanking; I'd consented to a long-term passion.
Since then I've explored many D/s (Dominant/submissive) dynamics, personally and professionally. You might think D/s relationships are easy to define but there's incredible complexity in the intensity and timing of each dynamic. My colleague, Red Black, has dedicated the past 25 years of both Her* professional and private life to the positive practice of BDSM. (Within the community, it's common for the term Dom or Domme to act as a person's title, calling for capitalisation of their title and the pronouns associated with them.)
"I'm a Dominant sadist like I'm blue-eyed and short," She says. "It's part of my make up."
I ask her to explain D/s in simple terms. "Dominant/submissive, or Master/slave, are relationships, often loving, that are, or are moving toward, real life cohabitation," She says. "This is my opinion only, of course."
There are different schools of thought within the community itself about what defines a Dom or sub. For example, Dom (or Domme) can be a label to announce one likes to 'top', or be in control of a scene, as opposed to 'bottoming', when one relinquishes control. For others, it's a title that is earned after years of training.
Similarly, there are many ways to submit and to contemplate servitude or submission. Some give themselves entirely to their Dom/me, consenting to ownership. "Owning a slave is like owning a car or a house," says Red. "You take care of them as you see fit. They are yours."
Generally, the best way to understand BDSM practitioners is to talk to them respectfully and assume little.
A common mistake non-kinksters make is thinking all encounters are sexual. There's no denying kink's sensuous nature, and the exhilarating and sexy emotions it can provoke, but if you've seen floggings of women giving head, it was likely porn or a swingers club.
BDSM promotes many of the things sex is positively famous for: bonding, communication, affection and nurturing. But rather than achieving these feelings through intercourse, the Dom/me activates a trance-like state called 'subspace' through play.
As a longtime Domme, Red is expert in triggering and working with subspace. "Once safe technique is ensured, the tool – crop, flogger, hand or whip – becomes secondary. My angle is going into deeper levels of play.
"I focus more on what's behind play. In proper sessions, the constant noise of everyday life is muted. People can move into a state where they are in a receptive level to grow. Once you get a person to that 'break' – a cry, a scream, tears – they can release their hurt. Our play means dropping the mask, and that intimate level of contact allows them to grow; their mental awareness, their self-awareness grows. Each play session heals some past hurts."
I tell Her, tongue-in-cheek, that it sounds like therapy to me. She laughs, "Absolutely!", and explains that She meets Her current sub at regularly scheduled times to "debrief from the week and plan what play will be most relevant to achieving that week's goals".
Red's passion to share Her knowledge and strength, and Her firm belief that the D/s dynamic can be effective for those living a more mainstream lifestyle, culminated in 2012 with the launch of Splinter Skillshares. Now one of Melbourne's most versatile BDSM education facilities, Splinter offers a huge array of workshops including flogging, pegging, rope 101, massage and 'D/s for the time-poor'.
And Red knows a thing or two about being time-poor, as Splinter recently opened a new venture – a sex-free, alcohol-free kink club. In its third month, it has become a regular haunt for Melbourne's BDSM players, with new faces appearing at each event. "It's like being at a friend's house," mused one newcomer. "It's so comfy here." (Given that I now work at the club, I can only smile: it's my job to ensure people are comfy.)
Dungeon regular, Bridgette, greets me with a smile and hug as I take her drizzle-studded coat. As she shakes out her hair and straightens her corset, I ask her how her week has been. "Don't ask," she says, grinning wryly. "Just horrible. Work drama, car problems and sick kids. Plus it's been weeks since I've played."
I hang her coat and wish her a lovely evening. "I hope I can get a caning tonight," she adds. "I need to find Sir."
She rushes off on her heels, fiddling behind her back with corset laces. Hours later, I'm reaching for Bridgette's coat again. She is semi-serene, still enjoying her spacey brain, and leaning against her Sir. Her finger strokes slowly over a huge purple-violet welt on her thigh.
"Looks like you got your wish," I say. "Mmhmm," she responds. "I feel ace."
Until a couple of years ago, many behaviours associated with BDSM were seen as psychiatric problems. It was only with the publication of the Diagnostic and Statistical Manual of Mental Disorders, Fifth Edition (DSM-5) in 2013 that these behaviours were downgraded. Now, BDSM stands under the umbrella of paraphilia or "unusual sexual fixation" – not considered a disorder unless causing harm to the practitioner or others.
This was a huge win for the kink community, but social stigma lingers. "I still don't disclose my private life in my [non-kink] workplace," says Red. "Unlike same-sex relationships, being a Dominant and sadist, I feel, isn't something that society is quite ready for."
Bridgette agrees, but also feels that stigma is part of what makes the BDSM culture what it is. "For me, it's supposed to be clandestine. Part of what I get out of public play is the inherent risk of bumping into a colleague or relative here. That said, it's a lifestyle choice like any other and deserves the same respect."
For me, the world of BDSM is generally a gentle and peaceful place. In this subculture, I find my boundaries respected in unique ways, and the majority of folk are able to engage in more than idle chit-chat.
The community as a whole tries to uphold many of the values I hold dear: encouragement of individual authenticity, acceptance of others, and an unmatched enthusiasm for curiosity. For me, it's reminiscent of a time before I knew how to judge people and before I feared what people might think of me, or do to me.
Of course, I can only speak of my own experience, and like any other group, the kink scene has its share of politics and drama. The difference I see lies in how some of the problems are solved. There is often a sense of composure and maturity. People seem well-equipped to accept criticism, and skilled in giving criticism constructively.
This isn't a world for everyone, and I don't want everyone in my world. But if you're open-minded, self-aware and willing to learn, I assure you this is a community that would welcome you.
*Within the community, it's common for the term Dom or Domme to act as a person's title. In these cases, kink etiquette calls for capitalisation of both their title and the pronouns associated with them. We have adhered to this style throughout the article. 
Renée Glover is a pseudonym-loving, Melbourne-based writer, who has written for major publications and the odd prime-time comedy. As someone who loves variety (identifying as a gender-fluid, pansexual switch), Renée's passions change, but she is always committed to the sex-positive movement.
This article was first published in Archer Magazine #4. Subscribe to Archer here.
<! -- WIDGET HERE FOR BUY ARCHER -->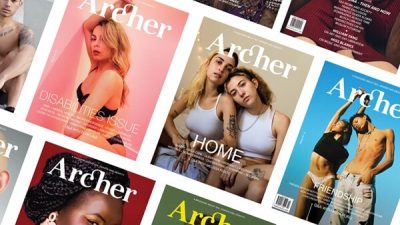 HELP KEEP ARCHER MAGAZINE AFLOAT!