The 'good' and 'bad' feminist: Coming to terms with my kinks
By: Marj Ostani
"Are you choking me?" my partner asked me, pausing in the middle of sex. His expression was somewhere between shock and confusion.
Caught off guard while on top of him, I found both my hands wrapped, perhaps a little bit tightly, on his neck, so I quickly released them. He laughed and, in my embarrassment, I stacked up apologies. We'd never been in this territory before, sexually.
We are both each other's firsts and we've always kept it safe – softcore, to put it simply.
But that night I let him in a secret. "I think I'm into the whole sub-dom thing. I would love to be called names: slut, bitch, whore. I'd like you to slap, choke, spit, spank me. I'm a switch though! So perhaps other times I'll be the one in control of you," I explained.
Uncertainly, he replied, "So you're saying you're into degradation and humiliation but also into BDSM and powerplay?" I nodded my head cheekily in confirmation.
Since then we've practiced and explored these areas.
It didn't take long to share my experiences with friends in my circle. Overall, whenever BDSM comes up in the dialogue, the reactions are amusing. One friend teared up like a parent watching her kid grow up differently to the way she expected. Another friend's mouth dropped open and then he mumbled how proud he was of me.
If I were to make a Venn diagram of all opinions, the question "But you're such a feminist?" is where they all meet. The query hangs around us silently.
Quite frankly I ask myself the same question. Does enjoying BDSM make me a bad feminist? There should be a space for us, where we're not boxed in as bad feminists for enjoying it.
I am conflicted. My whole career's work is rooted in advocacy, empowerment and smashing patriarchal standards, then insert my carnal needs in bed, which completely oppose the former.
I'm sure there are a lot of women who enjoy these kinks, be it BDSM, power play, degradation or humiliation for erotic pleasure. There's nothing wrong with them; it all boils down to bodily autonomy, choice and consent. Owning your body and demanding what it wants sounds a lot more empowering than embarrassing.
Contradictory to my preferences for name calling and submission, it actually makes me feel more powerful than helpless, because, to be honest, I am kind of a bitch and a hoe. There's a hint of resistance there, taking back the word from misogynists and sexists for my own erotic needs.
Let's make one thing clear, though: wanting this requires consent and comfort from each other because, again, anything unsolicited is toxic and doesn't have a place anywhere.
We're entitled to have sex however we want and indulge (or not indulge) in certain kinks or acts. I know what I want, therefore I will ask for it.
Set up negotiations, expectations and boundaries, and know what you are comfortable with and not comfortable doing. It dispels shame and insecurity and there's nothing more feminist than that.
I am very turned on by dominating and ordering someone. It puts the power in the hands of women, which makes everything even more thrilling.
I'm fortunate to have the incredible opportunity of knowing people whose profession revolves around being a dominatrix and such. Having one-on-one conversations with them, listening to their advice and reading more about it helps me further understand my desire for it.
My approach to my own kinkiness and queerness is not complete without the acknowledgment of my multitudes: being a bisexual, Asian, woman of colour. It's all related and important because our stories get mixed up or lost when people try to simplify or sensationalise us into a trope.
We've been objectified for so long, often turned into some kind of fantasy figure and not seen as real. This is where our identity, intimacy and sexuality lies within an intersectional lens.
It is possible to be someone who contradicts and subverts the taboos and stereotypes, because we are so much more.
So yeah, I am imperfect and messy. I am kind and compassionate. I can be cruel and resentful. I am all of these things. And I may be an alpha or beta in the sheets, however, that doesn't mean I'm cool with them happening in real life, and vice-versa.
I still fuck with patriarchy in the streets on a daily basis, annoying everyone into submission through my feminist writings that debunks system and cultures which treats, us, women unfairly.
Marj is a Filipina culture & entertainment writer currently based in Manille. She's mostly written for women lead, feminist centric spaces juggling multiple gigs all at once. A gemini rising bi-con!
<! -- WIDGET HERE FOR BUY ARCHER -->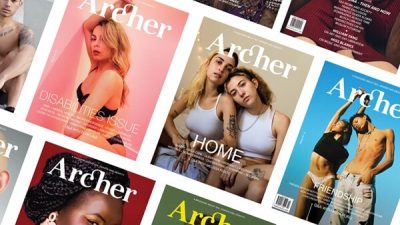 HELP KEEP ARCHER MAGAZINE AFLOAT!