Rural and queer: Coming out in the countryside
By: Frazer MacDonald
My home village is situated at the base of a small mountain.
From there, you could hike a path all the way to its peak and, weather permitting, see miles of Welsh countryside. But most of the time it was foggy or raining.
In the village itself, there was very little to do. There was a local shop, a pub, a small restaurant, and a combination football pitch and basketball court that was rarely open to the public.
It was difficult to grow up there straight; it was even harder if you weren't.
There was something in the public consciousness, a sense that heterosexuality was the default, and although few people would say it out loud, if you weren't straight, you were a deviation from the norm.
Even if people didn't say it out loud, my orientation would flare up in their mind, as if someone had just lit a match, and soon after, it would be snuffed out, because they didn't want to broach the subject.
Those are things which happened in urban places, too, but in the countryside it felt more common.
Were there less LGBT people in the countryside? Probably not, but fewer people spoke about it, and that made it seem rarer. It was a controversy, something that turned heads, and many people thought even mentioning someone's sexuality to them had the potential to make a situation awkward.
Often, the word 'gay' or 'queer' was the punchline of a joke: a colour could be gay, as could a fragrance, a product or a hobby. This isn't to say those things didn't happen in the city. The only difference was that the frequency with which those things occurred in your daily life increased, perhaps because of the smaller population, or perhaps because the behaviour went unchecked.
Did I know I wasn't straight when I was young? On a subconscious level, I think I did. But I never thought about it much throughout my teenage years and early adulthood. I couldn't. It wasn't that I had a problem with it, I was just scared of how other people would react.
It felt like some innate aspect of my being had been cast adrift. My mid to late twenties have been a lengthy swim to reclaim it, to figure out what that part of myself was, to sit with it for a while and examine it.
In rural Wales, there are no commercial LGBT events; all of the campaigning is organised by local charities, which are few and far between.
According to a 2017 study commissioned by Stonewall's Welsh branch, 52% of LGBT people said they had experienced depression during the year in which the study was taken; 46% of those people indicated that they were trans. 24% of the people who responded from the study lived in Wales, in addition to the 53- and 23% who responded from England and Scotland.
Stonewall isn't the only charity operating in the area. Mind, a mental health charity that provides free counselling services, is very popular. It is an invaluable resource for an area in which funding is scarce.
Philippa, 24, grew up in North Wales but now splits her time between her home town and London, where she goes to university. She wants to be a professional therapist or youth worker, and volunteers at a local youth group during the summer. She's a friend of mine, and we found some kinship in facing similar issues. Both of us have used Mind at one point or another.
"I only just found out about Viva LGBT [a local LGBT youth service] which is based in Rhyl and been there since the nineties," she tells me.
Philippa spent most of her time as a teenager immersing herself in LGBT-friendly internet cultures.
"That's where I gained a lot of confidence, self-acceptance, knowledge etc. about LGBT issues and luckily I have supportive parents so I didn't experience a lot of internalised oppression and felt like I was able to have a super healthy attitude about my sexuality." She thinks, in general, that the North Wales area is very hetero- and cis-normative, and that it might be more important for other LGBT people to look further afield than their local area.
YouTube is popular around here; in the youth group at which Philippa volunteers, many of the attendees are fans of Dan Howell, an influencer who runs a solo YouTube channel based on lifestyle vlogs, and manages several more with his friend, Phil Lester. Though he has been popular for some time, Dan Howell only came out as gay this year.
Although these LGBT charities exist, there is still a lot of work to do.
Many mental health services local to North Wales are heteronormative, and that issue shows very little sign of being resolved; ultimately, the problem rests in a lack of funding and education for services like Viva LGBT. Rhyl is a significant distance from many rural areas in North Wales, and many of its residents live too far away from the place to travel there regularly.
The hardest thing about growing up in rural Wales was that there were very few people I could speak about LGBT issues with.
It was a taboo subject, which is what made me – and I'm sure many other people – hesitant to discuss it.
During my teenage years, I never thought about going to therapy. It was something I considered unavailable unless you were wealthy, and I never thought I needed it until much later in life. But by that point, it was too late; I suffered quite severely, in terms of my mental health, for several years. If I had accessed mental health services, it could have been avoided. I'm sure of that. Things are changing in the area, though.
Rural Wales is in a flux period: there are people who want to make a change, but they're facing up to a huge challenge. It's an area in which funding doesn't match their level of ambition, and until it does, it will be impossible for them to roll out their initiatives to places beyond the area's larger towns.
Those things are essential to challenge the undercurrent of homophobia which exists in North Wales. Until then, the status quo will remain.
Frazer MacDonald is a freelance journalist who lives in Wales and has written for Film Inquiry and Zavvi. His main interests are films and literature, and he has particular soft spots for Studio Ghibli and horror fiction. You can follow him on Twitter at @frazermac44.
<! -- WIDGET HERE FOR BUY ARCHER -->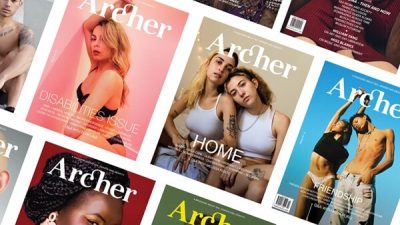 HELP KEEP ARCHER MAGAZINE AFLOAT!