Dungeons & Dragons & sex: Using role play to ask for what I want
By: Hannah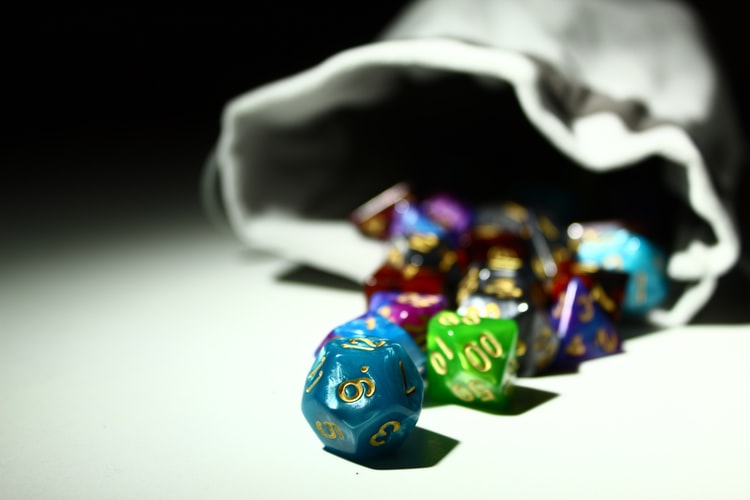 I remember my very first time. As I walked up to the house my mouth was dry. I knocked on the door, nervously clutching my character sheet and bag of dice. I was 27, going through a painful and messy divorce, and about to live out a long-held dream: I was going to play Dungeons & Dragons.
D&D is a role play game. Players design a character and imagine their way through adventures dreamed up by their Dungeon Master. It's a collaborative storytelling experience. For someone who was very sad when the other kids didn't want to play pretend anymore, finding D&D was like coming home.
Every month my group would come together. My week might have involved staying up until 1am getting my house ready to sell and fighting with my ex's lawyers, but when I sat down at that table, I was transported into another world.
Lots of people say that your first character in D&D is just yourself – but I was desperate to be someone else. While I felt timid and anxious, my character August was daring, cheeky and flirtatious. All my life I had tried to walk a good and honourable path. August got to pick the road that looked like the most fun and adventurous.
Around me, my friends were experimenting with their identities, too. A petite woman who was kind to everyone became a hulking eight foot barbarian. A shy guy who spent his day trying to clear riverways became a show-off bard.
As little pieces of my confidence and self-belief came back, I decided to live more adventurously in real life. I moved to the other side of the world, from the UK to Australia. When I arrived I found a D&D group and began to make friends. But there was one more post-divorce hurdle I needed help to overcome.
As I got a lift home from a regular D&D session, I confessed to my friend and fellow-role player that I had not had sex in over a year. After patiently listening to me whinge, he proposed a radical solution: use D&D character building to ask for the sex I wanted.
D&D has two spectrums that your character's personality is based on – Lawful-Chaotic and Good-Evil – and you can land in the middle and be Neutral.
Good v Evil is a bit broad-brushed in D&D. If you're Good you tend to put others first and if you're Evil you put your own desires before all else. And if you're Lawful like me, you feel comfortable following the rules, like Stay Off The Grass or Have Your Myki In Your Hand When You Board. If you're Chaotic you tend to go with your gut – what feels right in that moment.
My friend gently pointed out that in real life I am Lawful/Good. In my sexual life this means I find it really hard to ask for what I want and be open about my desires.
I tie myself in knots around sex – I'd been on dating apps, I'd tried to flirt, but I could not make myself ask for sex. I believe sex is a joyous act that can be shared by any number and gender of consenting adults. But I was finding it so hard to break out of the 'You should be in a monogamous relationship' rule that society has pushed for so long.
My friend suggested that I should become more like a Chaotic/Evil version of myself – be in the moment, ask for exactly what I want, and prioritise my desires.
I took my friend's challenge. Later that week I caught up with friends at a bar. A friend-of-a-friend was there who had been hitting on me for months. He was brash, wore fake-tan and wasn't very nice.
Chaotic/Evil Hannah strode towards him with a sense of purpose. I laughed at his terrible jokes. I drank shots with him. I asked him to take me to his place and shortly after we were in his bed.
The sex was probably the worst of my life. It felt like I was in a cheap porno from the nineties – lots of grunting and being flipped from one position to another. He gave me a hickey. A HICKEY, for goodness' sake. After an hour, Chaotic/Evil Hannah made an executive decision – this was no good and we were going home.
The next morning, head pounding from the inevitable hangover, I mused blearily on the experience. It had worked – I had gotten laid. But I hadn't enjoyed the experience at all.
It felt out of character in fact, and even though that's what I'd been aiming for, I knew then that role-playing my way into bed with someone was not going to get me the satisfying emotional connection that the real, Lawful/Good Hannah wanted.
A month later I started dating my Dungeon Master, and this bloomed into a loving sub/dom relationship. As I played my new role of an obedient sub, I finally found the freedom to ask for what I really wanted. I could be a very good girl, devoted and loving to my master, which played perfectly into my real life character alignment.
It took being tied up to free me from the knots of my own psyche – and the sex had never been better.
Hannah is a British writer and dedicated nerd. She is currently single and looking for love and leather in Melbourne.
<! -- WIDGET HERE FOR BUY ARCHER -->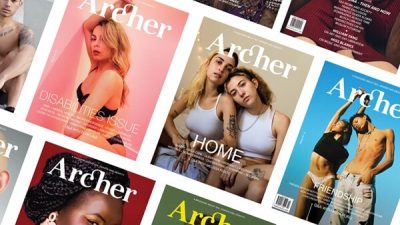 HELP KEEP ARCHER MAGAZINE AFLOAT!