Archer Asks: Yen-Rong Wong on race, sex, kink and familial expectation
By: Alex Creece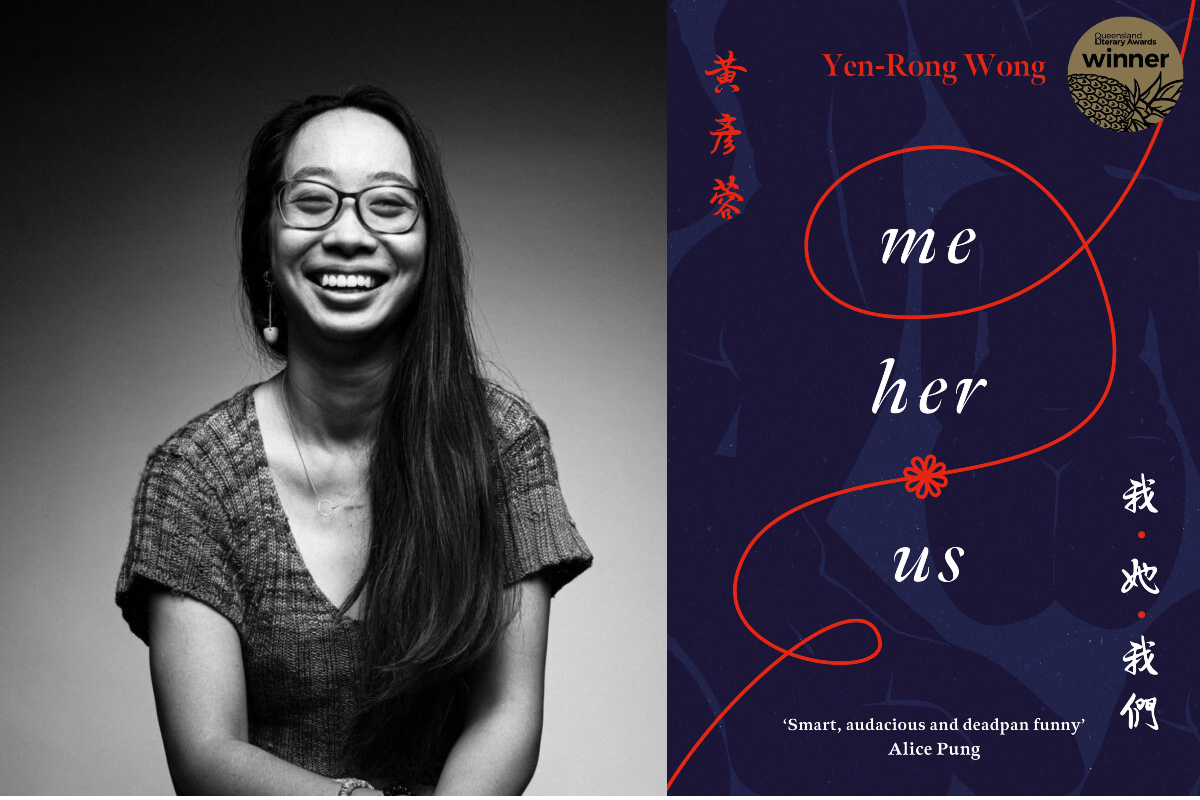 Yen-Rong Wong is an arts critic and award-winning writer working between Yugambeh and Jagera and Turrbal lands. She won the Glendower Award for an Emerging Queensland Writer in 2022, and the Queensland Premier's Young Publishers and Writers Award in 2020. She has been a Wheeler Centre Hot Desk fellow and writer-in-residence at the Katharine Susannah Prichard Writers' Centre. She is a frequent contributor to The Saturday Paper as a theatre critic, and her work has appeared in many print and online publications, including The Guardian, Sydney Review of Books, Meanjin and Griffith Review. Me, Her, Us is her debut book of non-fiction.
Archer Magazine spoke to Yen-Rong Wong about Me, Her, Us, which is published by UQP and available in all bookstores and online.
Image: Yen-Rong Wong (by Declan Roache) and Me, Her, Us (courtesy of UQP)
Alex Creece: Hi, Yen-Rong! Thanks for taking the time to talk to us about your amazing debut book! I know your manuscript has been through many iterations, so I was wondering if you could tell us about how it started? Was there an initial catalyst or motivation for writing this book?
Yen-Rong Wong: Thank you so much! The manuscript started out a bit more heavily memoir-focused, but I think I always knew it was going to end up with a few other bits thrown in. My motivation for starting this book (and continuing to work on it even when it got really difficult) lay in the fact that I couldn't find anything similar on Australian bookshelves.
As a society, I think we're slowly getting to the point where we're more comfortable openly talking about sex – what's great about it, what's not so great about it, the issues it raises – but the majority of the people (I see) doing this work are white. This means their commentary, while valuable, either doesn't or only marginally explores what it's like to be at the intersections of race and gender.
I'm not sure if it's because women of colour aren't being asked, or they're less willing to talk about sex, or maybe some other combination of factors, but the disparity exists nonetheless.
In summary, my goal for this book was to be something I wish I could have read when I was a teenager or young adult, something that can hopefully spark conversation and be relatable for younger generations to come.
AC: Your book is structured into three sections to align with the title: Me, Her, Us. Can you tell us about the themes of each section?
YRW: 'Me', as the label suggests, focuses on my personal experiences, specifically as they relate to the themes of shame, pleasure and kink. I introduce myself to the reader and wrestle with the trials and joys of growing up, drifting between cultural and social expectations.
'Her' broadens this focus a little, and looks at my relationship with my mother through the lens of language and translation (or lack thereof). I think it's a considered examination of a contentious mother-daughter relationship – I know it would be a very different section if I'd written it when I was younger and angrier!
'Us' expands on the previous two sections and brings in the wider Asian diasporic community. When I was writing these chapters, I was particularly conscious of the influence of Asian American activism, and I wanted to take a closer look at how Asian Australian women fit in and differ from our counterparts in America and around the world.
AC: I love the way you discuss the empowering potential of kink as a form of connection to the self and to others, and as a form of self-love and body appreciation. Can you tell us more about how kink has empowered you and allowed you to explore your sexuality?
YRW: Kink has allowed me to reinterpret and reconfigure the way I think about my body, my brain, and how the two interact – I'd always seen mental fortitude and physical strength as separate traits. Consent is really important in kink spaces and knowing I have that agency, whether it be to say no or to continue pushing myself that little bit more, has instilled in me a confidence I wouldn't have otherwise.
I've learned to look at and feel my body in new ways. I've learned that strength doesn't necessarily mean a lack of vulnerability. I didn't go into kink expecting these sorts of realisations – I just liked kinky stuff!
In terms of my sexuality, it was interacting with other people in the kink scene that led me to the realisation that bisexuality is a spectrum instead of this fixed definition of who you're attracted to.
For me, kink is as much about the relationship that is cultivated between the people participating in the scene as it is what's happening physically, and it's been incredibly interesting and exciting to explore this space with both men and women without necessarily veering into anything overtly sexual.
It's been such a relief to be part of a community that is so understanding and respectful of different genders and sexualities, to have people who I can turn to for help if I need it.
AC: In Me, Her, Us, you also interrogate the fetishisation and hypersexualisation of Asian women. At one point in the book, you mention the difference between being a sexual being versus a sexualised being. Can you tell us more about this distinction?
YRW: This isn't just something that applies to Asian women (or women of colour)! I think it's simply a feeling of wanting to be able to talk about sex and everything that comes with it – loving it, wanting it, troubles with it, and so on – without it then becoming a value judgement on who you are as a person.
Put more simply, I think being a sexual being is something you embody and have agency in, whereas being sexualised means you are the object of other people's judgements (something that you have no control over).
AC: Michelle Law describes Me, Her, Us as "a journey that is as unapologetic as it is vulnerable". How does it feel to share such an intimate account publicly? What conversations do you hope it'll open up?
YRW: I think it's important to note that while I do reveal a lot about myself and my life in this book, there is just as much that I have left out.
It is, of course, nerve-wracking to share something this personal! But I don't think I've said anything in the book that I wouldn't be comfortable talking about in person. Writing anything that has a basis in memoir is always a balancing act – how much of myself do I want to show the world? – and I'm so grateful to all the publications I've written for in the past for helping me through this process.
I hope it will spark more nuanced conversations about intimacy and sex, and what it's like to navigate these issues in a world where young people are terminally online. I'd like there to be more discussion around what it's like to be at the intersection of multiple identities and sources of expectation, and how this affects the way we see and interact with the world and those around us.
AC: You quote several fantastic writers in Me, Her, Us. Can you please give us some book recommendations? Or tell us what you're reading right now?
YRW: I'm currently reading Before the Girl by Jessica Zhan Mei Yu, Natural Beauty by Ling Ling Huang, and I'm looking forward to Sunbirds by Mirandi Riwoe. I also loved Yellowface by R. F. Kuang – I devoured it in one day!
AC: Lastly, I know you love wordplay, so what's your favourite pun?!
YRW: I cycle through favourites, but at the moment it's: "What do you call a crocodile in a vest? An investigator."
Me, Her, Us by Yen-Rong Wong is published by UQP and available in all bookstores and online.
Alex Creece is a writer, collage artist, and average kook living on Wadawurrung land. Alex works as the Online Editor for Archer Magazine and the Production Editor for Cordite Poetry Review. She's also on the editorial committee for Sunder Journal. Alex has been awarded fellowships with Writers Victoria, Arts Access Australia, The Wheeler Centre, and Midsumma Pathways. Her work has been shortlisted for the Kat Muscat Fellowship, the Next Chapter Scheme, the Geelong Writers Prize, the Born Writers Award, and the Lord Mayor's Creative Writing Award. Alex's first collection of poems is forthcoming in 2024 with Cordite Books.
<! -- WIDGET HERE FOR BUY ARCHER -->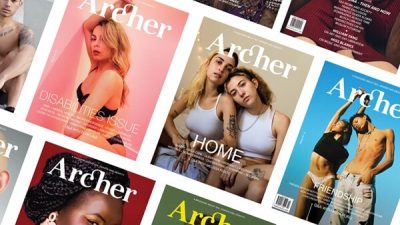 HELP KEEP ARCHER MAGAZINE AFLOAT!