Protest alongside Pride: A call to action
By: Teague Leigh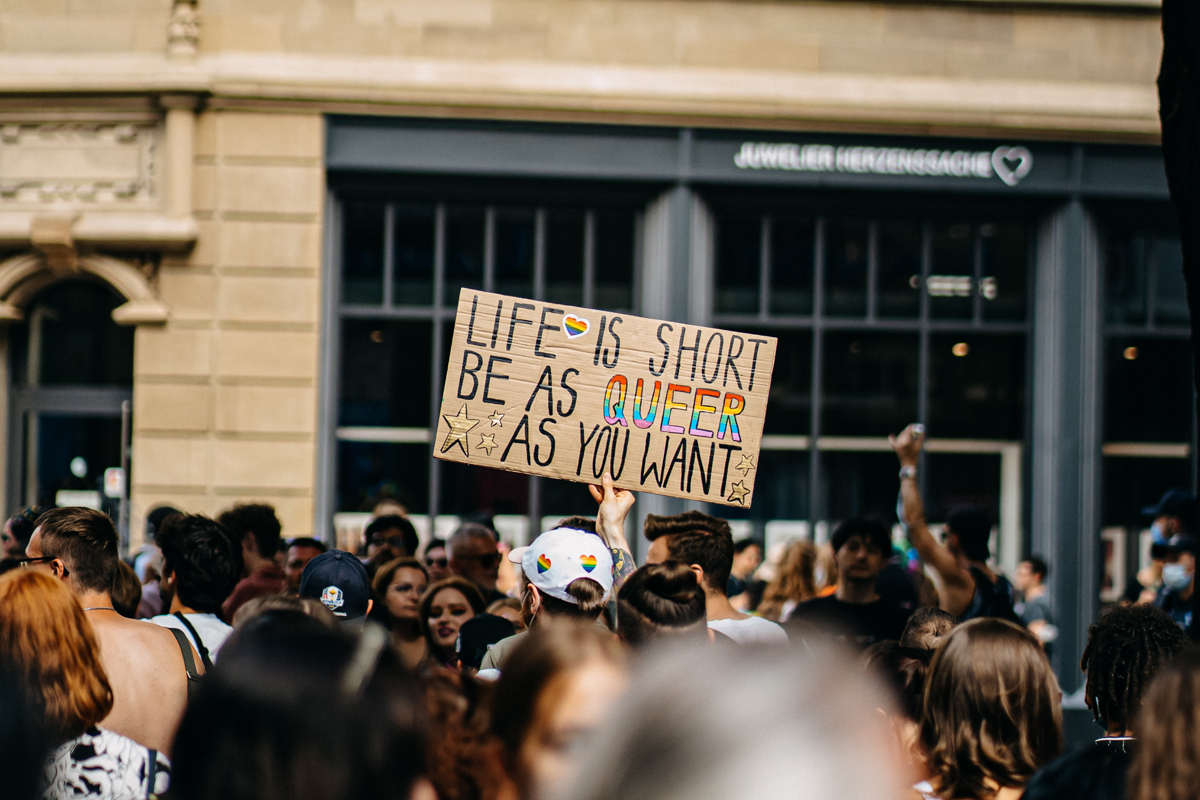 The day after our final celebrations at the dazzling Sydney WorldPride, we're flying home at 29,000 feet. The afternoon sun is blazing through the cabin window. I'm weary like a vampire at midday. The gold flecks from Sydney's city lights glisten on the ground, looking like Gustav Klimt's painting The Kiss.
I ache from my rainbow week. At this altitude, flying home after the glorious chaos, all of the majesty really sinks into my heart.
I arrived in Sydney on a Tuesday, to the comforting embrace of my best friends and their couch. I walked great distances for photo opportunities, to look in galleries and to act out my sexual hedonism: WorldPride edition.
My very open and generous partner arrived on the Thursday. We moved to our own room near Central Station for more queer culture, hedonism and walking. Always bloody walking. But, thanks to council 'support', at least the crosswalks were rainbow.
The Sydney Mardi Gras march started in 1978 – three years after I was born – in solidarity with queer protest across the globe. The protest was calling for LGBTQIA+ rights everywhere: the right to walk safely in the street, to gather in pubs, to wear what we want, to not be brutalised in public and killed in private – essentially, to be ourselves.
But now, protest feels like a discarded word, replaced by 'pride'. The throbbing, dancing, cheering masses along the march route are happy to support the party, but often overlook the protest, the history and the violence. The countries who still steal lives and disappear difference are too easily ignored.
On social media, those of us on the fringes talk constantly of the rise of Neo-Fascism and TERFs (trans-exclusionary radical feminists) across European countries, North America and Australia.
We tell each other to be safe, that there is safety in numbers, and to be careful at night. There are still swathes of the population that want queer, trans and gender diverse people erased.
Currently in Florida, swastikas intertwined with crosses are being projected onto buildings. In the UK, celebrities are vocally calling for our eradication. In Block 13 of the Kenyan camp of Kakuma, LGBTIQA+ people seeking asylum are being locked up within refugee camps and forcibly silenced and abused. In Australia, fascists give the Nazi salute on the steps of the Victorian Parliament, whist raising a banner calling for our destruction.
This is happening now. While so many sit back and watch the sparkle on TV and marvel at how far we've come, our very lives are at risk.
This is not equality.
We cry to be seen, and we weep for those who we lost to violence. We march in pride, yet so many forget we still need to fight.
Our allies are loud at this time of year, but where are they when the glitter, abandoned shoes and milk crates are swept away by city council the next day? Or the next?
"I am your friend," I hear from allies in my life. "I love you as you are," they say.
But when was the last time they wrote a letter to their local/state/federal politician? When did they offer to help trans citizens in faraway countries? When did they truly protest, disrupt the masses, stop floats from continuing their course, or agitate the masses out of their comfort?
Lydia Thorpe stopped the Mardi Gras parade, and this action was condemned for being at the 'wrong time, wrong place'. Yet her people are dying. Our people are dying. If a parade with a violent and political history is not the time to raise our voices and disrupt playtime, when is?
Large-scale global progress creeps forward in millimetres, if at all. Some days it feels like we're sliding backwards.
Sitting on this plane, I ache from the conjoining of bodies, the sweat on the dancefloor and all that bloody walking. But more so, I ache for our global rights for freedom and equality that are yet to be achieved.
I ache to not be shoulder-barged by a person screaming slurs at us after Kylie performed at WorldPride. I ache for the freedom to protest for my existence and be heard, not be seen as a nuisance.
I ache for Sistergirls and Brotherboys who are still targeted for arrest because they dare to breathe and be themselves.
Closing in on my fifth decade, I am tired of fighting.
Leaving it to the energetic youth is a fleeting thought my aching body toys with. I brusquely sweep it from my synapses.
Why should the youth bear this burden alone? We need all hands on deck right now. We need every part of the acronym in conjunction, disrupting the hate that continues to threaten obliteration.
We need more allies with louder voices and more energy for action. My community is tired, but we will continue to work, not just for equality, but for the daily desire and simplicity of safety.
After touching down in Melbourne, I found myself doom-scrolling through queer news articles.
In Sydney, the council rainbows were vandalised – those very menacing rainbows. A mural outside Wynyard Station, rainbow stairs outside the Pitt St Uniting Church, a rainbow-painted tree at the Marrickville Golf Club, amongst other things were either painted over or damaged.
While Sydney is celebrating how open and friendly it is to the LGBTQIA+SB community, these hate crimes occur unchecked. They are happening now. 
This is why we must continue our queer protest. We must continue calling on our allies to be loud in their support every day of the year – not just in spirit, in action.
Every year we party. 
But the protest has not been forgotten. On whose backs do we dance?
I ache. We ache. But we are not done yet.
Teague Leigh is an autistic queer trans man from planets unknown, currently residing in Naarm. Once upon a time he was anthologised in various works and performed his spoken words around the country. Now due to various acquired disabilities he is a photographer, letting his art speak for him. Find more of Teague here.
<! -- WIDGET HERE FOR BUY ARCHER -->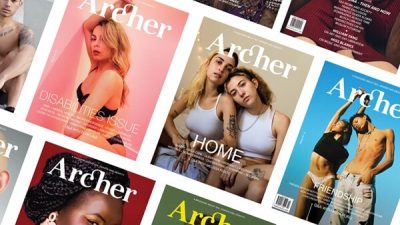 HELP KEEP ARCHER MAGAZINE AFLOAT!