Over the rainbow: The history of the PRIDE flag
By: Suzanne Verrall

This piece is published in honour of the victims of the Orlando massacre in June 2016.
In 1978 the San Francisco artist Gilbert Baker designed the LGBTQ rainbow flag, rising to the challenge set by his friend Harvey Milk to come up with a symbol of pride for the gay community.
With the help of 30 volunteers, two flags were meticulously hand-dyed and stitched together. It was, to say the least, an act of love. The flags flew proudly in the Gay Freedom Day Parade on June 25 of that year.
Harvey Milk was the first openly gay person to be elected to public office in California. An influential gay leader, he ran unsuccessfully for political office three times before winning the position of San Francisco's City Supervisor. Less than 11 months into his term, he was assassinated on November 27, 1978 by a political rival.
As San Francisco's gay community struggled to process the tragedy, demand for Baker's rainbow flag grew and Baker enlisted the Paramount Flag Company to fulfill the sales.
The original handmade flag had eight stripes but, due to the unavailability of hot pink fabric, the Paramount Flag Company's version only had seven stripes.
In 1979 a second stripe was dropped from the design, because the Gay Freedom Day Committee wanted to split the flag in two in order to hang the colours evenly from alternating lamp posts along San Francisco's Market Street, leaving us with the six-stripe version we have today.
The existence of rainbow flags predates the LGBTQ movement by centuries. In the German Peasant's War of 1525, where peasants and farmers took up arms against the tyranny of their aristocratic overlords, a rainbow flag was used as the sign of hope in a new era.
Around 400 years later, in 1925, a rainbow flag was adopted as an official symbol of the international cooperative movement. Cooperatives, or co-ops, associations of people who work together to produce or supply goods and services for their own mutual benefit, are embedded with social goals which they aim to accomplish by investing a proportion of trading profits back into their communities. The co-op rainbow flag symbolises the spirit of cooperation, strength, enlightenment and progress.
The year 1997 saw the inauguration of an LGBTQ arts and cultural festival in my hometown. The Adelaide Feast Festival was created to provide a visible forum for queer artists to present their work to a wider audience. In recent years, Feast organisers have invited the Local Government Councils of South Australia to fly the LGBT rainbow flag for the duration of the festival, in support of their own local LGBTQ communities.
In 2011, the Adelaide City Council voted unanimously to fly the flag, and have done so ever since. However, in 2014, only 13 out of a possible 68 Councils agreed to do so. Two years on, the issue still remains contentious in the debating chambers of Local Government. From openly homophobic hostility to bureaucratic red-taping, explanations for refusals to fly the flag have ranged far and wide.
In contrast, Councils who agree to fly the flag have a shared understanding of why this is important: valuing diversity; promoting an inclusive community; social unity and simply to do a good, affirming thing.
This year, 2016, has been a big year for the LGBTQ rainbow flag. On 24 May it flew over Victoria's Parliament House, marking the State Government's formal apology for historical laws which criminalised homosexuality.  On 1 June the flag was raised for the first time at Parliament Hill in Ottowa, Canada, to mark the beginning of Pride Month. On 24 June, the flag will be raised for the first time atop Portcullis House, London's iconic Parliament building, in support of Pride Weekend.
Flags are a potent and powerful symbol in the representation of an idea or an ideal. When Gilbert Baker designed the LGBTQ rainbow flag, he assigned a specific meaning to each of the colours: red – life, orange – healing, yellow – sunlight, green – nature, blue – harmony, violet – spirit.
(Incidentally, the two colours that were dropped were pink – sexuality, and turquoise – art/magic.)
Irrespective of our sexuality, gender, ethnicity, occupation, religion, age or shoe size, these qualities – life, healing, sunlight, nature, harmony and spirit – are gifts we all aspire to.
Gilbert Baker said: "The flag is an action – it's more than just the cloth and the stripes. When a person puts the Rainbow Flag on his car or his house, they're not just flying a flag. They're taking action."
When local governments and national parliaments fly the LGBTQ rainbow flag, they do much more than show support for sexuality and gender diversity. They invite inclusion. They encourage difference to be made visible. They recognise the rights of every individual to be acknowledged, and to be kept safe from persecution. They proclaim the social unity that comes about through acknowledgement of individual diversity.
Now that's a flag worth flying.
Suzanne Verrall works for the Adelaide Hills Library Service.  She has written over 300 reader reviews for the South Australian Public Libraries Catalogue under the username greenreader.  She also writes flash fiction.  
Suzanne Verrall appears at our Archer Comes to Adelaide event on 25 June. 
<! -- WIDGET HERE FOR BUY ARCHER -->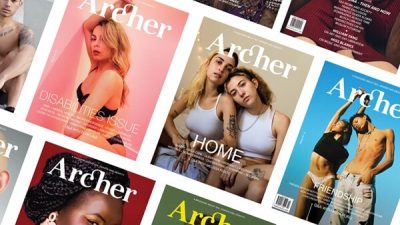 HELP KEEP ARCHER MAGAZINE AFLOAT!