Queering history: Brian McGahen and Bolshevik Bloomers
By: Jess Ison and Nick Henderson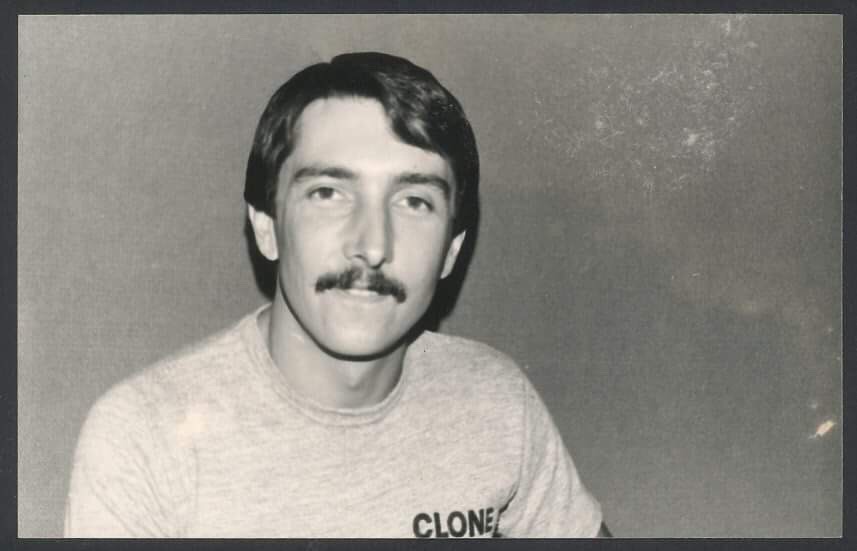 For this next instalment of Out of the Archives we introduce you to Brian McGahen (1952-1990). He leaves behind a complicated life which begs the question, how do we write queer legacies?
Out of the archives is a series from Jess Ison looking at queer her-/their-/his-tory in Australia in collaboration with Nick Henderson from the Australian Lesbian and Gay Archives (ALGA). Read the first instalment in the series here.
The official, sanitised version of Brian's life is that he "was an openly gay activist and a leading member of the Communist Party who was involved in welfare and homosexual issues". These official versions often avoid the facts of him being a draft dodger, euthanasia activist, drug user advocate and gay liberationist, and that he was crowned by the Knights of the Chameleons as the Empress of Sydney. One biography simply records a list of his achievements in chronological order and then states he "never married".
This simple line is everything we need to challenge when (re)writing queer history.
To boil Brian's life down to a heterosexual institution is entirely at odds with his activism. And indeed, his sexual proclivities. Brian frequented certain leather establishments, which perhaps indicates he was anything but the marrying type. Rumours prevail that confirm he valued hot gay sex. Indeed, one person claimed he was a "tiger in the sack".
Yet the sanitised narrative of Brian (and many other queer lives) often wants to erase these parts of our communities, or does not see fucking as an achievement along the lines of marriage and children.
Resisting the sanitisation of our history is imperative.
At times Brian's activism is also sanitised in straight retellings. However, the archival material at ALGA indicate that he was radical and passionate. His activism was about alliance building, particularly between Communist groups and Gay Liberation.
He was described by a close friend as being a "really good person-to-person communicator and he was good at alliance building. What you needed to do to make revolutionary change was bring as many people along on the journey. Brian played those things out every day…in everything he was involved in." Clearly he believed in interpersonal alliance building as well as across social movements.
He also was the director of the Sydney Mardi Gras association from 1981-85. Due to financial issues, the committee started moving towards professionalisation. A friend of his claimed that he wanted to professionalise to save the Mardi Gras, but not lose its radical roots.
Across the pink press there were some pretty juicy letters and roaring debates about Brian's work as the director of the Mardi Gras. In particular, there was some heated debates between Brian and ALP members as well as well-known activist Lex Watson. Some were accusing Brian of conspiring to make Mardi Gras a communist event and others were claiming he was a spy for the ALP, which all seemed rather contradictory.
While these are important historical conversations, it is hard not to be drawn in by the drama of it all. Some serious mud was slung.
The place we can most find Brian now is in the writing he left behind in the pink press. There seemed not just to be an urge for change in his articles, but a commitment to being active in the fight.
Indeed, Brian chose to die still fighting, which is why summing his life up as "never married" is such a heterosexual view of who he was. Brian chose when he would die. In fact, he was the first person with HIV/AIDS in Australia to publicly die from euthanasia. He was clearly a lifelong activist, even in dying.
More than this, he died with his closest people around him. His life cannot, must not, be summed up in a heteronormative claim. He died, surrounded by those he loved, pursuing activism to his last breath. One of those people was his lifelong partner Gary Cox, who is also erased in this telling of "never married".
Queer histories must also capture how funny and campy Brian seemed to be. Brian used to sell 'Bolshevik Bloomers' at activist events and his writing is full of camp humour. He always lived, and he died, with a gay flair.
Apparently, he found his own urn, a designer ice bucket from a trendy shop on Oxford St, Sydney's gay strip. With so many people dying at the time, they still often maintained a sense of humour and queer spirit that was captured in obituaries in the gay press, but distinctly absent from those found in mainstream media.
The framing of queer life, and indeed queer death, should be controlled by our communities. We must write our own histories. Writing about Brian is writing about a part of queer history: those radical roots that were what we now call intersectional and were importantly part of a struggle to see queers liberated and able to live their chosen lives.
It also speaks to the importance of radical socialist politics in the history of gay liberation. For him to be an open communist and homosexual in the 70s was a brave act. To have that erased by official biographies only underscores the importance of writing queer history.
There are still tensions between Communists and queers, and Mardi Gras dramas seem to have stuck around. What then is Brian's legacy? No doubt people who knew him will have wildly different responses to what we have written here in these few short words, but that is the fun of digging through the archives and piecing together a life.
Queer storytelling, in all its complexity, cannot lose sight of the queer lives we have lived.
POSTSCRIPT: Since this article was published, we were informed that when Brian was the director of the Mardi Gras committee he passed a motion to ban animals from being in any floats. It seems that there had been a horse the previous year and this raised concerns with some Mardi Gras members. This information fits nicely with our previous Out of the Archives piece which looked at Animal Liberation's involvement in the parade.
Jess Ison is doing a PhD and tutoring at La Trobe University on the land of the Wurundjeri people. Jess is the representative for the Institute for Critical Animal Studies and a rescuer for the Coalition Against Duck Shooting. On most nights Jess can be found ranting about prison abolition, fermentation and high heels.
Nick Henderson is a curator and archivist, with a passions for collecting, preserving and celebrating Australia's queer and gender diverse histories. On most Facebook groups Nick can be found spamming articles or images from the Australian Lesbian and Gay Archives, or trying to seduce newbie volunteers to join the archives.
<! -- WIDGET HERE FOR BUY ARCHER -->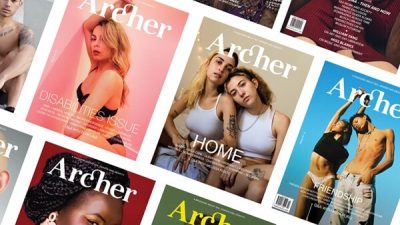 HELP KEEP ARCHER MAGAZINE AFLOAT!