Farewell to Progress Shark: A eulogy for the unexpected icon of Sydney WorldPride
By: Mama Alto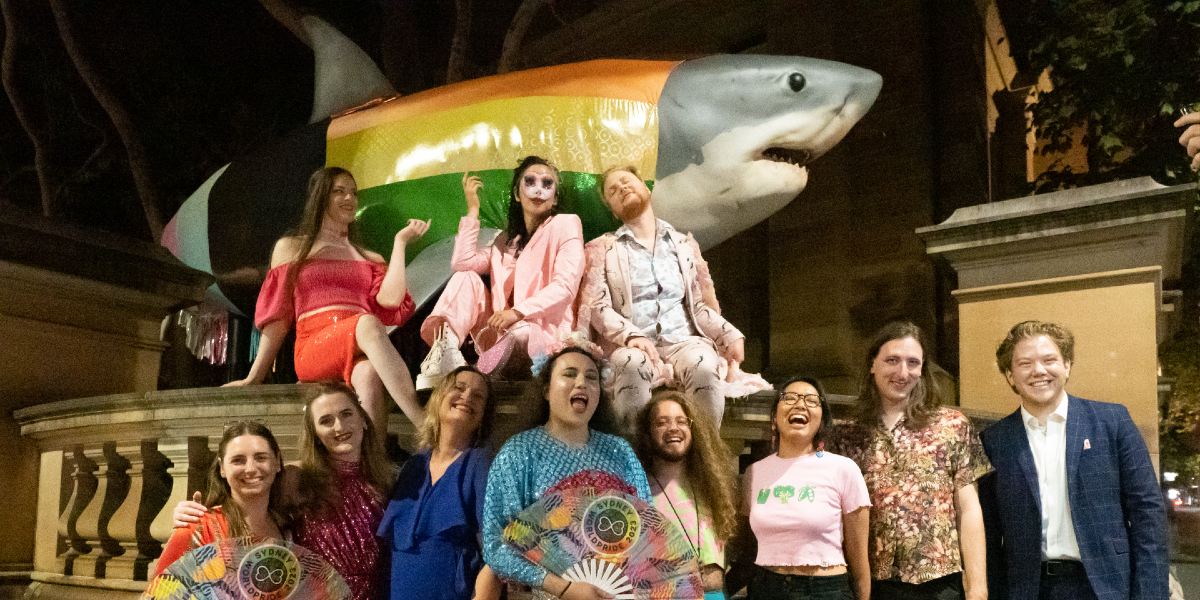 In the bustling foyer of Darlinghurst Theatre Company's Eternity Playhouse, surrounded by the exhilarating buzz of post-show chatter, my friend leaned forward and related in hushed, almost reverent tones:
"And of course, you know, sharks can only ever move forwards. They don't go backwards. They move forwards – that's how they breathe – they progress."
This was over a month ago now. I had just come off stage from one of our final Sydney WorldPride performances of Gender Euphoria and already, less than 15 minutes after bows, I was engrossed in yet another conversation about Progress Shark.
To be fair, I should add this was by my own instigation. By the tail end of three glorious weeks of Pride festivities, I, like many others, was utterly enchanted by this quirky marine icon of queer celebration. I couldn't stop talking about her – and now that she's gone, I think I'll still talk about her for years to come.
In case you missed it, Progress Shark was the Australian Museum's contribution to Rainbow City, a Sydney WorldPride initiative that aimed to "transform Greater Sydney into a rainbow wonderland" with 45 public artworks commemorating 45 years of the Sydney Gay and Lesbian Mardi Gras Pride festival.
Painting the city rainbow, literally, also made sense to welcome visitors to the first WorldPride ever hosted in the southern hemisphere, let alone in Australia.
The outdoor model of a great white shark already sat in front of the museum, and artist George Buchanan crafted a swimsuit-like second skin in the colours of the Progress Flag. This is an updated variation on the traditional pride flag that features new stripes to embrace trans and gender diverse people and people of colour.
The Progress Shark quickly, and somewhat unexpectedly, became a global "accidental icon" of Sydney WorldPride.
I relished hearing everyone's thoughts on Progress Shark, and if they didn't yet know about her, I would give detailed directions to the corner where they could experience her wonder firsthand. It was certainly easy to tell people how to find her.
Maybe her geographic proximity to queer heartland contributed to her successful evolution into a globally remarked upon icon of Sydney WorldPride 2023. Perched on the corner in front of the Australian Museum, holding court over the intersection of Park, William and College streets, she was an easy stroll from the gaybourhood of Oxford and Crown streets, Darlinghurst, and their lively pop-up Pride Villages.
She overlooked Hyde Park and parts of the Mardi Gras Parade marshalling area, where an estimated 12,000 plus gathered and marched this year.
Perhaps most poignantly, she held space along the strip where many of the 78ers fatefully rallied, "To the Cross!". At the first Sydney Mardi Gras in 1978 – envisaged as an 'out of the bars, onto the streets' celebratory parade – this was the site where participants were forced to retreat back up William Street to King's Cross once the police confiscated their truck. From this point, police hostility descended into outright brutality.
Progress Shark's perch here cannot help but seem significant – by design or by chance – when we reflect on the conflict between Pride's protest origins and its increasing commercialisation.
Pride movements are still uncomfortably navigating their dual (and not necessarily mutually exclusive) roles of party and protest, and the tenuous tightrope between activism and celebration. With this in mind, I also think of a shark's seemingly endless rows of teeth.
Sharks can shed their teeth, as they have more waiting in reserve. This feels like a fitting model for LGBTIQA+ activism and advocacy, where our communities must continue to rally against the inequities, challenges and injustices against us. Minority stress is compounded by the emotional and psychological demands of advocacy and activism, causing very real risks of burnout and exhaustion.
This means it will take collective solidarity when any of our communities is under threat – like those rows of shark teeth, we must be ready to take the frontline.
Seeing Progress Shark bear the colours of not just the rainbow flag, but the progress flag reminds us that while some of us enjoy newly enshrined rights such as marriage equality, others within our broad kinship here and around the world are still caught in the melee of fighting for very basic human rights.
Similarly, my partner remarked on the potential for the symbolism of shark skin – from a distance, this skin is sleek and shiny like our glittering Pride festivals, but up close it's a tough and leathery armour to protect from an often-harsh environment.
And in 2023, we also felt the impact of Progress Shark's placement as she glared across the forecourt of St Mary's Cathedral. Mere months after the death of a certain Cardinal who espoused abhorrent views on LGBTIQA+ people and who played a disturbing role in the Catholic church's abuse scandals, seeing Progress Shark bare her teeth in that very direction was almost cathartic.
The "loud fences" of ribbons at the Cathedral – a testament to survivors and victims – may have been removed swiftly, but for a few weeks at least, Progress Shark watched on, unblinking.
It's very likely that none of these layers of meaning were intentional.
The Australian Museum, like many other organisations, simply got into the spirit of the first WorldPride in the southern hemisphere, and contributed to the decoration of Sydney in rainbow as far as the eye could see. And our diverse communities, struck by the absurd delight of this lycra-clad marine carnivore, embraced her with aplomb.
Isn't this how myths are made? The layers of meaning, co-created, gathering connotations and interpretations like a stone gathering moss?
A month on from WorldPride, we miss Progress Shark's rainbow colours, which have been removed and packed away. She outlasted many of the flags and glitter – some of which seemed to disappear within minutes of WorldPride ending.
In some ways, her continued presence for the remainder of March was a comfort. This contrasted the fleeting wave of pinkwashing that comes with Pride season – a pattern where corporations and politicians jump aboard the bandwagon as allies, before disappearing when the going gets tough and our communities are under attack at other times of the year.
At a time now when neo-Nazi extremists perform their abhorrent salutes on the steps of Victorian state parliament – with the red carpet for their presence rolled out by transphobia and hatred – thinking of Progress Shark, as silly as she might seem, gives me strength and solace.
Yet even a queerly bedazzled great white shark cannot endure forever. I get emotional, imagining her, as she swims sadly back into the closet, no longer wearing her pride on her sleeve – or fin, as it were.
The fact that Progress Shark emerged so rapidly as an enduring and internationally recognised symbol of Sydney WorldPride 2023 gives me immense joy. Not just because of the ridiculous fabulousness of it all, but because in a world where the overwhelming imagery of Pride has traditionally been dominated by white, gym-fit, able-bodied and muscular cis men, Progress Shark is a symbol for us all. The quirky, the different, the strange.
But most of all, as my friend reminded me in that foyer: Progress Shark can only move forward. Let's hope our communities, our nation, and our world will do the same.
Mama Alto is a jazz singer, cabaret artiste and gender transcendent diva. She is a transgender and queer person of colour who works with the radical potential of storytelling, strength in softness and power in vulnerability. In addition to her excellence as a performing artist, she is a writer of intelligence and sensitivity.
She has performed original spoken word and pieces of new writing for Melbourne Writers Festival, Queerstories, Emerging Writers' Festival and Word In Hand. Her writing has been published in The Age, Archer Magazine, Querelle 2018, The Music, and Melbourne Recital Centre's SoundEscapes, and she has contributed writing to QUEER (NGV, 2022), DREAMLIFE the zine (2023), Queerstories (ed. Maeve Marsden, Hachette Australia 2018) and Living & Loving in Diversity (ed. Maria Pallotta-Chiarolli, Wakefield Press and AGMC 2019). She has received writing fellowships and programming including the Wheeler Centre Hot Desk Fellowship (2020), the Antipodes Theatre playwright winter lab (2020), MTC's Cybec Electric workshop and readings series (2019) and Creative Victoria's Creators Fund (2019).
<! -- WIDGET HERE FOR BUY ARCHER -->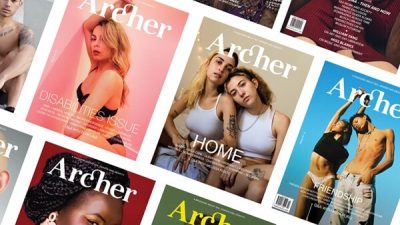 HELP KEEP ARCHER MAGAZINE AFLOAT!