Loving Eurovision as a trans woman
By: Natalie Feliks
Content warning: This article discusses transphobia and transmisogyny.
Almost a decade ago, after avoiding all internet access and news broadcasts for the entire day, I sat down with my mother and brother to watch one of my favourite TV shows, the Eurovision Song Contest.
At that point – in 2014 – I'd been a fan for two years. I'd always loved pop music and European politics, so this weird mix of both caught my heart from my first encounter. The previous year's contest, held in Sweden and won by Denmark, remains one of my favourite editions, and 19-year-old me was gearing up for Sweden, aided by a cutting power pop ballad, to win the contest for the second time in three years.
There are few moments from my youth that I remember, but this is definitely one of them.
I knew I was queer, and probably trans-feminine, from the age of four, but was yet to come out due to fears of my life becoming a political battleground. I only felt more terrified about identifying as queer given the anti-gay laws being passed in Russia and the gay marriage debate happening in Australia around that time. I just didn't want to put that pressure on my already strained family.
All of these fears changed when, to my astonishment, a bearded drag queen named Conchita Wurst won the contest for Austria. The entirety of Europe – including Russia, who gave Austria five points – got behind Conchita and made her a Eurovision winner. A little voice in my brain said, "Oh… maybe… just maybe… they don't hate us."
It took me another two years to come out properly, but to say Eurovision assisted that process would be an understatement. The contest became part of my heart and soul as I strove for a brand-new identity.
By the time I was on hormones and out publicly in 2016, I was a regular contributor for the Eurovision fansite Wiwibloggs. I became homeless and struggled to survive throughout 2017, but the contest kept me together. Wiwibloggs kindly gave me leave as an editor while I rebuilt my life. I have visceral memories of sitting in parks, watching clips from that year's contest on my phone, to pass time day-by-day as I waited for call-backs from queer crisis services.
I must've listened to 'As I Lay Me Down' by Wiktoria a million times, but that song can still make me cry. No matter how bad things got, I had a community, and I had an event that always made me happy. It told me that I had a place in the world. I'm gay and trans, and that's not just okay, that's wonderful.
As I found a home and made more friends and relationships, I shared my love of the contest with others too. I take a lot of pride in my ability to convert fans of death metal or folk punk into Europop!
But as the years wore on, and I grew as a person, my perception on Eurovision and Wiwibloggs changed. I went from the Eurovision community being my safe space, my world, to feeling like an outcast.
Most trans women will tell you that queer communities can be quite disillusioning and isolating. As someone who has been reliant on them for my survival, I perhaps know this better than most.
Events like Mardi Gras or shows like RuPaul's Drag Race, while undeniably very important for the queer community as a whole, are often so cis-centric to the point where casual transmisogyny just goes unnoticed, leaving me and my friends feeling not just forgotten, but attacked.
Eurovision is no exception.
This transmisogyny was perhaps best exemplified in 2018. When host Filomena Cautela interviewed some Eurovision fans in the audience, one fan, dressed in Valkyrie-inspired drag, made a comment that they were a "real biological woman". Filomena, clearly uncomfortable, rushed to the next segment, but the clip was passed around in many 'best Eurovision moment' montages on YouTube. Uhhhh… that's gross?
The salt gets rubbed in the wound when you look at Eurovision's trans-inclusive history. Before gay marriage was legalised anywhere in Europe, Eurovision's reputation as a queer pride event kicked into gear in 1998, when a trans woman, Dana International, surprisingly won the contest for Israel.
Trans women being underappreciated for their achievements in the queer rights movement is nothing new, as followers of the Stonewall Riots know, but this example from Eurovision hits hard for me, particularly during the growth of hate movements like LGB without the T, among others.
This feeling grew and grew for me as the years progressed. My love for the contest never drifted, but my love for the community did. My politics on feminism evolved and affected my song reviews, which were met with disdain from the fanbase.
Last year, I spoke of my disgust over Latvia's misogynistic entry, only to be met with the Wiwibloggs audience calling me "catty" and "consistently negative", even when some of my other female colleagues gave lower average scores than me when ranking songs. This got too much for me, and I called it quits on my Wiwibloggs role after seven years with them.
I know I'm far from the only trans woman who partially owes her life to the contest, and this is a lesson on how a largely cis gay audience needs to make a space feel safe for trans fans, especially when trans people are a big part of why those spaces exist. The truth is, we often get treated like novelties or hypersexualised at queer events.
Conchita herself even got asked repeatedly in interviews about whether she was a trans woman, which is deeply inappropriate. Everyone should know by now that drag queens and trans women are completely different things!
This year's contest is a sombre one for me, hosted as it is in the United Kingdom, which seems to be on the cusp of stripping away even more trans rights. But Eurovision is Eurovision: a dazzling ray of sunshine even in the darkest night.
In the wake of the Russian invasion of Ukraine, and Ukraine's poignant win last year, the contest is perhaps more politically important than ever. And things are getting better for trans people in the contest, with Nikkie de Jager becoming the first trans host two years ago, Romania's Roxen becoming the first non-binary performer that same year, and Iceland's Systur waving those trans flags loud and proud last year.
I deeply hope that the British trans community can find the hope and joy in Eurovision week that I always do, and I hope to hell that the cis gay community makes space for them.
Eurovision is more than just a contest for me. It is a part of my identity, and always will be. As my life has evolved, it's also become part of how I show love. Watching Eurovision with my polycule has become a ritual at this point, and now I'm even blessed enough to have a girlfriend who wants to watch the contest live at 5am with me.
Trans identities and trans relationships are very rarely represented anywhere, and that makes it all the more empowering when we are united through something as simple as Eurovision.
For the record, my favourites this year are Austria, Norway, Finland and Malta.
But hey, wait… what you say?
Do you wanna dance?
Natalie Feliks is a writer and fan of music originally from Adelaide but now living in Melbourne, who has contributed to the likes of Junkee, Overland and Siren Sport. She's currently working on a YA book about depression in trans teenagers. You can follow her on Twitter at @nataliesqrl. She also loves squirrels.
<! -- WIDGET HERE FOR BUY ARCHER -->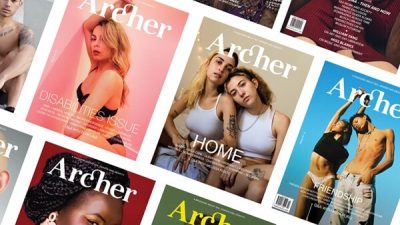 HELP KEEP ARCHER MAGAZINE AFLOAT!