Dance and gender: How dance helped me love my trans body
By: rudi lorimer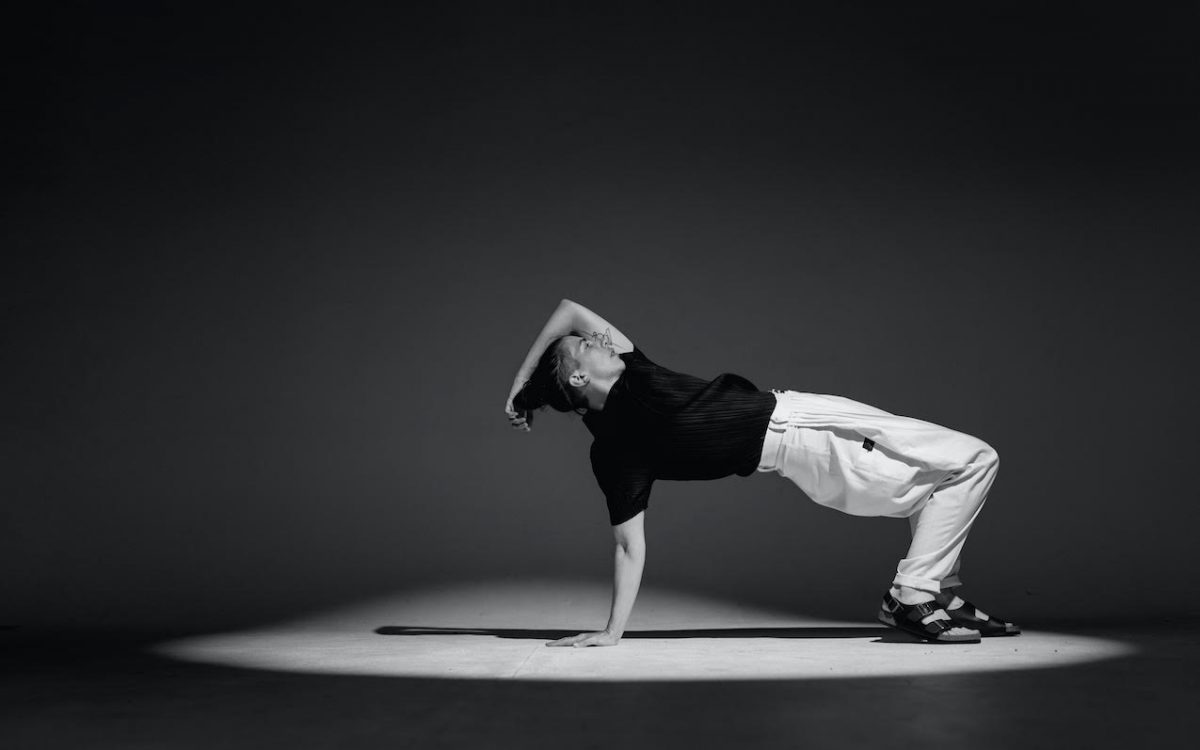 Content warning: This article discusses mental ill health and gender dysphoria.
From a young age, I've been a highly physical person.
I have vivid memories of moving, spinning and whirling around my living room to Jerry Lee Lewis's 'Great Balls of Fire' before I was old enough to start school.
Speeding down the hallway, I'd leap down our four stairs in time to the finale of the song.
The act of moving uninhibited, in union with music, is the most human thing I have experienced.
Image: The author, photographed by
Misha Dutkova.
I was always a tiny kid. Because of growing delays and other various roadblocks, I started dance training late, despite showing an interest since toddling. 
By the time I started dance classes officially in my tweens, it was apparent that – to put it mildly – I was a discontent person. I'd been in and out of therapy since I was six, but nothing ever seemed to quell the raging, distressed soul that lived in my wee body. 
I was determined to convince counsellors that they had no effect on me. I was well reputed for my earth-shattering tantrums, I was a terrible sleeper and I developed early signs of disordered eating as soon as puberty hit.
But when I started dance classes, all of the belligerent determination, excess energy and racing thoughts clattering through my brain were channelled into mastering the art of moving my body.
I focused on dancing in a way that I will never focus on anything again. I danced every day for at least 10 years. I never took days off. I'd skip high school regularly to sneak into my dance studio and practice. 
I lived and breathed ballet, jazz, tap and eventually contemporary, once I'd moved into tertiary training. 
I recently realised there is no greater practice of mindfulness than a dancer's now-ness in the studio, with whoever and whatever is there. 
They breathe the moves they are investigating in that moment; be it for today only, or for sharing with an audience later. They observe and are present with every moment their body is playing out.
They sense where their fingers, heels, tailbone and eyes are tracing. They know where they have just been, and where they will go next.
They offer all of their current energy to being only in that breathing body; right then, right there. 
I became aware of my transness in my early 30s. In hindsight, it had been glaringly obvious since I was that tiny child.
I've spent many hours wondering what my journey would have been like if I had had these words and shapes to describe who I was while I was still young.
I wonder what I'd be like if I'd been allowed to know that masculine was not the enemy; that I was not broken, or wrong, and that the reason I didn't fit was about society, and not about me. 
Many trans, non-binary & gender non-conforming people experience body dysphoria. It's a deeply unsettling distress at characteristics of their body that don't align with their inner self. 
Gender dysphoria and body dysphoria can be managed by the brain with dissociative functions. These can vary in experience from a pounding heart, dizziness, emotional detachment to more severe out-of-body experiences. 
People who experience gender dysphoria can have such a disconnect with their body that they struggle with acts like being touched, being aware of their breath or looking in the mirror. 
It seems obvious, right? The body doesn't match the mind's eye, so it starts to create its own experience of self to protect the soul, away from this body that doesn't feel like it fits.
A lot of healing goes into the process of self-realisation as a trans person, some of which can be aided by medical transition. For me, the journey began with mindfulness techniques. I was finding ways to reconnect my body and my mind. 
I started small, by being aware of the room I was in: noticing light switches, pulled carpet strands, the way the light reflected off the raindrops in the window.
Then I moved on to noticing and changing the speed of my breath, feeling the crushing ache of sadness in my chest. Eventually, I could allow someone's arm and body to wrap around behind me in bed, without needing to disconnect and disappear away.
Once I realised I was trans, the uncomfortable physical and mental symptoms increased exponentially before they improved. At the peak of my ill mental health, I was experiencing regular, uncontrollable disassociation that would literally stop me in my tracks. 
I was having panic attacks and raging outbursts that I'd watch play out from afar, as well as severe suicidal ideation. My body was a prison that I desperately needed to escape. It caused me constant torment and discomfort.
As my mental health decreased, I stopped dancing, I stopped going to the gym and I stopped yoga. I became immobile in my ability to help myself. I arrested the movement of my body – whose outward appearance made my stomach turn. 
But it was as my mental health cascaded down this slippery slope that I also ached to be back in the studio. I ached for the freedom to be with this body non-judgmentally; to release the disgust, and to just observe and feel.
It was in those moments, when invasive thoughts were swarming around in my head, that I felt frozen with energy. I needed to be up and moving. 
I yearned to be with my body in a capacity that I knew and loved. The reflection in the mirror was a stranger to me. The way parts of my body gripped under my clothing was alien. 
But the way my joints moved, the tension and release in my neck and back, the intricate sensations I noticed when I allowed my mind to be with my body; these were the most familiar and comforting sensations I knew.
This body – that I hated, and that told the world I was someone I was not – was also my place of safety and security. The way I moved my body was the one thing I could control in a world that confused and bewildered me constantly.
It is a body that I have committed my time and energy into nurturing and moulding. My mind has always listened to this body, and sought to give it space to be and do, in its most natural way. 
This amazing, miraculous, mechanical bag of skin, muscle and bones is the only thing I have to fall back on. 
Slowly, I learned that when my mind was too much, my body could do the work for me: lateral walking and running motions; gentle swirling and spinning in my living room; powerful, connected and technical phrases in the studio; pulsing, repetitive and unified bopping in a club. 
These were the ways I could heal and find calm. Through these motions, I remembered the love I have for this body. It is my home, my safety and my life's enduring work. 
My body is exquisite and so capable of amazing things. 
My heart keeps on beating, my lungs keep on breathing, my face continues to cry and smile and laugh. My muscles move my bones and my joints. They propel me through the world with a grace and clumsiness that is unique to me. 
My body on a bicycle or skateboard, climbing a wall, carving space in a studio or on a stage; it is a marvel, a joy, and it is so, so powerful. So beautiful. And so whole. 
I have done a lot of hours in therapy and read a lot of books. I've done mindfulness, meditation and a lot of self-work. I have had medical assistance to help shape this body into one that I can stand in front of a mirror and witness as being me. 
But this love that I hold for my trans body, it is this that I owe only to dancing.
rudi is a trans nonbinary, creative from Aotearoa, living and working on Wurundjeri country. A trained contemporary dancer, they have worked in a variety of creative settings. Always curious about ways to shape their voice, rudi experiments with genre, focusing on story and connection as their primary intention.
<! -- WIDGET HERE FOR BUY ARCHER -->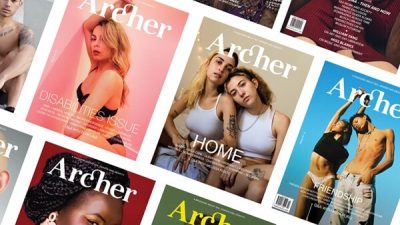 HELP KEEP ARCHER MAGAZINE AFLOAT!