Aromantic awareness and the trouble with amatonormativity
By: Jes Layton
The first time I became cognisant of the importance others placed on romance was when I transitioned from the children's section of my local library to the teen section. Suddenly, all of the books were about falling in or out of love. Nobody, it seemed, was all that concerned with friendships anymore.
Until that point, friendships had encompassed the bulk of my reading experience. Now the books around me were making out that these earnest connections were only stepping stones on some predetermined path towards romance. At the end of that path would be a single person who would eclipse the need for all other people, providing the perfect form of happiness.
The literature, of course, reflected society. It was from this early age that I was bombarded on all sides by people (and institutions) telling me what I was supposed to value: romantic relationships, dating, and having kids.
If I didn't, I was weird or sad. I would be ridiculed, pitied. But somehow, worse, I would also receive well-meaning, condescending advice that I never asked for. As if people were all supposed to have the same goals in life, and to value the same things.
As much as I consider all aspects of my identity to have an impact on my values, my aromanticism tells me the most about who I am and how I understand the world around me.
My lesbianism and my genderfluidity, alongside my aromanticism, have always been relative to what the people around me have been exposed to. Did this person vote yes in the 2017 postal plebiscite? Okay, sweet. But are they a TERF? Do they know what I mean when I say "my pronouns"? When they find out I'm single, will they be surprised because I'm "too pretty to be single"? Or will they try and reassure me that "I will find someone one day"?
I never really know if I'm going to be treated properly and with respect. But, when I am, the further down my identity 'rabbit hole' I go.
I've been told over the years that lesbianism, and even genderfluidity, are recognisable terms. But aromantic? That's something you have to Google. Something that comes with side eyes and comments like "Well, one day!", "Never say never!", "What are you, a psychopath?", "You just haven't met the right person!", and "Wait…you mean you don't like sex?" To address that last point: aromantic and asexual are entirely different things.
It's somewhat funny to me, perhaps circular in a way, that the first time I became cognisant of the identity aromantic was when I transitioned from reading the teen section of my local library to reading fanfiction online.
I was 12 when I started identifying as a lesbian. I was 21 when I started identifying as aromantic.
My relationship with romance is very similar to my relationship with coffee. As a Melbourne resident, everyone assumes I want coffee. But I don't.
Everyone then assumes that I must have a reason beyond just disliking it. But I don't. Sure, sometimes the smell doesn't bother me, but I never crave it. I never really think about it, or even consider it as a beverage I'm curious to try. I actually get a little nauseous at the thought.
Coffee, coffee shops, coffee adverts, coffee drinkers, coffee lovers, and coffee addicts are everywhere in Melbourne. Society assumes I am decaffeinated, single, and desperately unhappy about it. To the extent that even the algorithms for my social media accounts advertise me a weird mix of espresso machines, hot singles in my area and—once, when I changed my relationship status for the gag of it—ovulation trackers, wedding venues, and fertility treatments.
The romance schedule is relentless. As soon as you've completed one aspect, society harasses you to complete the next. Do this, aim for that. Hit these milestones. Interestingly, targeted adverts have been timed, relentless, and never really 'about me' in the way that I would expect an algorithm to make them.
There were never adverts for solo trips or pampering days celebrating me as an individual, rather than me as an incomplete part of something else. It seems impossible, or just unthought of, for a person to be themself, by themself.
There's a word for the assumption that everyone is better off in an exclusive, romantic, long-term relationship. That this is a normal, universally shared goal, and that it should be aimed for in preference to other relationship types.
To be honest, I thought it was heteronormativity for a long time. But the word is amatonormativity.
Using amatus, the Latin word for 'beloved,' amatonormativity was coined by Arizona State philosopher Elizabeth Brake in her work  Minimizing Marriage: Marriage, Morality, and the Law. It's one of those delightful words that, like many queers my age, I came across via Tumblr. Immediately, I felt emboldened to go out into the bush and live my best, single, cottage-core life.
Amatonormativity isn't something that only affects people on the aromantic and asexual spectrums. It's no secret that queer and trans people are constantly navigating our way through systems and structures that are not necessarily built for us. Or, that are built to privilege some of us—white, cis, able bodied people—over everyone else.
Even the cisgendered and heterosexual of us are taught that a romantic relationship defines our happiness. This is imprinted on us by authorities and peer pressure until we reach a point when we're no longer sure what we really want.
My own experience of aromanticism is very much about questioning the narrative of amatonormativity and creating the kinds of relationships I want. This does involve a bit of educating and explaining.
In most cases, it means a negotiation of what the relationship is and isn't, as well as what it should and shouldn't involve. But, ultimately, embracing my aromanticism has brought me closer to a lot of people. Including myself.
Being aromantic has involved justifying my place in the queer community and continuously explaining my identity. Aromantics tend to come up against gatekeeping, as well as refusals to understand or respect our experiences and frustrations living in an amatonormative society.
While the paltry sentiment of being told that aromanticism is 'valid'—that, as an aromantic, I exist and I am real—the true affirmation of aromanticism isn't found in our perceived validity. It's found in understanding how our queerness shows the richness of possibilities. How people can live, how people can act and, yes, how people can love.
Aromantics: we aren't just valid, we're valuable.
Jes Layton is a writer of words and art that unpack queerness, fandom, and pop culture. Jes' story 'Chemical Expression' was published in Underdog: #LoveOzYA Short Stories. Find Jes online at @AGeekWithAHat.
<! -- WIDGET HERE FOR BUY ARCHER -->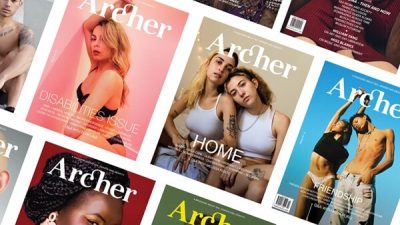 HELP KEEP ARCHER MAGAZINE AFLOAT!