Hedon House: Sydney's lush queer sex and play space
By: Angela Walken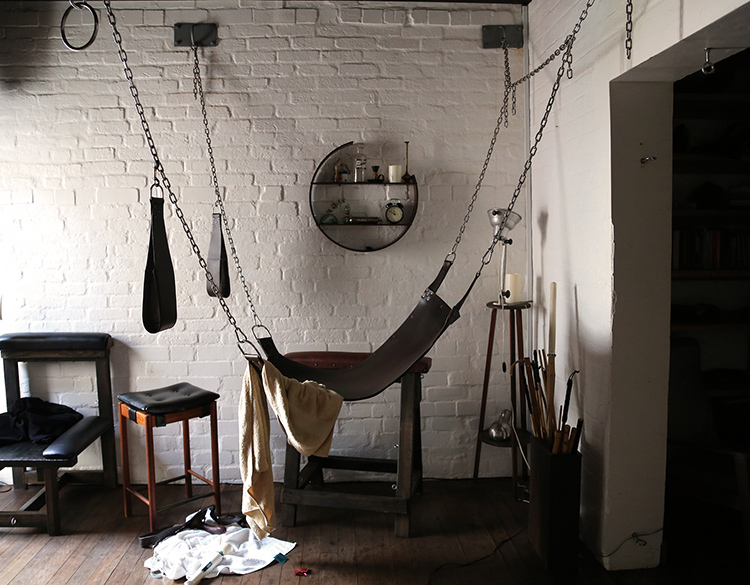 Hedon House is a proud supporter of Archer Magazine.
The black blindfold slips, and I catch a tantalising glimpse of my stockinged legs strapped to leather stirrups suspended from the ceiling. Between them, my red skirt is stretched and riding high up one tattooed thigh.
My body and I haven't been on the best of terms since I had the twins. But for the first time in eons, I check myself out with blatant appreciation. If I wasn't gagged, I'd seriously consider giving myself a wolf whistle.
I look so ridiculously hot – and so very far from the frazzled single parent who'd dropped her kids off at a birthday sleepover just hours earlier – I can't help but giggle.
My captor is not amused. "Hält die Klappe!" she barks, slapping a leather flogger beneath the sling but losing her grip and sending it flying across the wooden floor.
"Ach nein!" she says, and starts giggling, too.
The location for our adventure is Hedon House, Sydney's only private playspace, BDSM, and kink dungeon accommodation – not that any part of this luscious two-storey terrace looks like a dungeon at first glance.
Hedon House is located in an unassuming, quiet street in inner-city Sydney. The front door opens onto a lush lounge area with velvet cushions, enormous working fireplace, and copious mood lighting. Beyond the living room is Hedon's main play space. The fittings, too numerous to mention, include floor-to-ceiling mirrors, anchor points on walls and ceiling, and an array of wooden chairs and benches designed for comfy discomfort.
Upstairs is a wooden four-poster bed with draped muslin curtain, next to a Jane Austen-esque sitting room with a gorgeous balcony.
Outside in the back garden are two deep iron baths, offering a twin outdoor bathing experience with perfect views of the day or night sky. It's a lot to experience, and we've only got a night.
We're here to celebrate our six-month fuck-buddy-versary (Hallmark really should make a card) after discovering we were both kink-curious but too shy to attend play parties and too cash-strapped to buy the requisite gear. (My mandatory under-the-bed sex box contains a couple of temperamental vibrators, a tube of lube, and an orange rope I bought from Bunnings but haven't had the courage to ask anyone to use.)
The caretaker of Hedon House is sex worker, writer, and activist Gala Vanting. That afternoon, Gala had checked me into the terrace she refers to as a "living, breathing being": an additional playmate for those who book her out by the hour, night, or week.
During our tour, she had covered basics like heater and stereo operation, and offered a rundown on the space's mind-boggling array of playthings for grown-ups.
Insertables? There are three boxes of colourful dildos and butt plugs ranging from small to, as she puts it, "absurd".
Vegan cuffs? Tick.
Fully-fitted, antique backyard caravan for day naps or 1960s trailer park porn enactments? Tick.
Literal sex machine? Tick. (Though this particular gadget is brand new and so far the mistress of the house has only videoed it "walking" across the floor, pumping its giant, screw-on attachment.)
Hedon House was originally Vanting's private workspace. Over the past five years, she's sought queer crafts- and tradespeople to help kit out the place with sturdy yet subtle bondage infrastructure, leather gear, relics of Sydney's LGBTIQ+ history, and repurposed antiques (for example, the condoms and lube sachets are housed in old library card filing drawers).
A tour of Hedon House is a crash course in its array of available scenes and sensations, and she says we shouldn't hesitate to contact her with questions. "If you don't know how something works, text me a photo and I'll tell you where to start Googling."
The house hosts many guests who aren't into kink at all, but simply want to spend some time in a sanctuary in restful, sensory pleasure. There's plenty to enjoy without even venturing towards the 'heavier' amenities.
My play mate arrives shortly after Vanting leaves, and we squeal over box after box of discoveries like a couple of kids around an adults-only Christmas tree. While not all Hedon House guests choose to use it for sex-a-thons, our agenda is definitely NSFW.
After lighting a fire in the main lounge room, we open a bottle of champagne and get down to the serious business of discussing how we're going to play. We're both hella nervous, but also determined to create a conversational space where we can toss out suggestions without feeling a sense of either shame or obligation.
Having established that she'll take the upper hand and I'll be submissive, we plot an elaborate kidnapping scenario.
My playmate is multilingual, and I ask how she'd feel about speaking in a language I don't understand. She says she's not sure, but she'll see.
She asks about my pain threshold and I say I'm not sure either, but am OK with having my limits tested. My only no-go item is the recreational medical speculum – I'm fresh from a pap smear and have had my fill of icy tongs for the week.
Finally, we settle on "Berejiklian" for our safe word. It's the least sexy thing we can think of, apart from maybe "monogamy".
At first, our role playing feels awkward and kind of fake. But it doesn't take long before things get hot and heavy.
She starts whispering in German and working through a series of objects and implements that deliver a range of sensory deliciousness.
Sure, she drops things, fumbles as she slides condoms onto dildos, and occasionally breaks character while she regroups. But the wait and the uncertainty about the strange sounds I'm hearing are steamy AF.
She's just used a pair of safety scissors to cut off my clothes and is close to bringing us both to climax when the Uber Eats driver arrives.
"Shit!" she says. "Have we been at it for three hours already?"
"Ghmmmshgh!" I exclaim through the gag, somehow sending my butt plug and medium-sized insertable shooting across the room.
Fortunately, discrete stacks of towels are always within arm's length at Hedon House, and their copious use is expected.
We take a break to eat vego curry and swap notes about how we're both travelling (the consensus is "fucking awesomely!") before picking up where we left off.
Afterwards, we spend hours talking into the night about how we might continue reclaiming our post-baby bodies, and further investigating these unexplored sides of our sexual selves.
When it's time to return to our regular lives the next morning, we don't want to leave. Hedon House has been good to us. She kept us warm and safe while we played, and never once judged us when things didn't go quite according to plan.
"See you again soon?" I say as I lock the front door.
"Well, obvs," my play mate replies.
"Actually, I was talking to the house," I say.
My friend grins. "Another three-way with this place? I'm so in."
Hedon House is a queerly-conceived, lovingly-crafted adult play space and accommodation in inner Sydney, available for hire by the hour or the night. The house is built for hedonism, with scope for that to include BDSM and kink if that's your thing. It's also a bathhouse, an urban retreat, a private dance floor, a healing space, and whatever else you make of it. For more info, visit hedonhouse.com. You can also follow the House on Instagram.
Angela Walken is a part-time PhD candidate, full-time parent, and aspiring queer play party attendee. Since writing this article, her secret stash of orange ropes from Bunnings have finally been put to their proper purpose.
Hedon House is a proud supporter of Archer Magazine.
<! -- WIDGET HERE FOR BUY ARCHER -->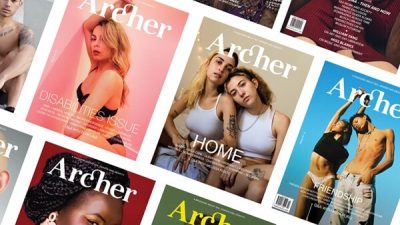 HELP KEEP ARCHER MAGAZINE AFLOAT!