How to have really good sex: Sydney's forward-thinking festival
By: Sabine Brix

Want to learn erotic yoga, navigate non-traditional relationships, or sensually tie up the babe you met on New Years Eve? You might want to try Sydney's Festival of Really Good Sex.
Entering its fifth year, the festival promises five days of interactive workshops, films and discussions spanning topics like Mindfulness, Physicality, Creativity and Imagination, Movement and Play, and Relating and Consent.
Geared towards people who are newcomers to the sex positive community, the event offers a safe space enabling attendees to comfortably play and explore.
Director Peter Banki says the creation of a space where people can experiment with each other is integral to the success of the festival.
"You have to create erotic spaces where people feel enticed and encouraged to open up and try new things," Banki says. "That's the art of designing the workshops."
This year's headliners include Joseph Kramer, the world's foremost teacher of erotic massage, and French philosopher Jean Luc Nancy, whose work discusses the relationship between sex and philosophy. But the session with the most hype is one that Banki initially thought would interest only a few people.
"If I look at the statistics, Please Daddy is the session that's being clicked on the most," he laughs.
The workshop explores the erotic figure of the daddy in relation to age play and will be taught by body modification artist Lukas Zpira.
"The daddy idea is very interesting because you're playing a bit with caring, but also with being very taboo because it touches on incest," Banki says.
"What I love about it is that it really crosses all orientations and genders and it's just not limited."

The festival will culminate with a party that allows participants to practice techniques learned over the five-day period. It is partially shaped by Banki's experience at queer Berlin S/M party Experiment, which encourages people to state their desires up-front.
"A thing that they did – which was very interesting and that I am going to copy [laughs] – was that before the party started we all went around, stated our names and expressed what we were interested in and how we felt. It's an incredible idea because you wander around the party and you don't know where people are at – whereas if you had the opportunity beforehand to say 'Well, I am here to play with this person, or I am actually looking for a partner to tie me up' – it immediately gives people an anchor as to what they want to do."
I am already getting a few ideas.
The Sydney Festival of Really Good Sex runs from the 22-26 January 2016.
Sabine Brix is Archer's online content producer and a social media strategist for the Melbourne Documentary Film Festival. She is also a freelance writer and composer. Follow her on Twitter: @sabinebrix
<! -- WIDGET HERE FOR BUY ARCHER -->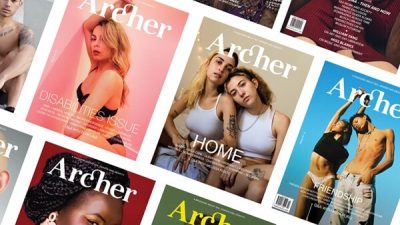 HELP KEEP ARCHER MAGAZINE AFLOAT!