Queering the map: an archive of queer space
By: Allison Gallagher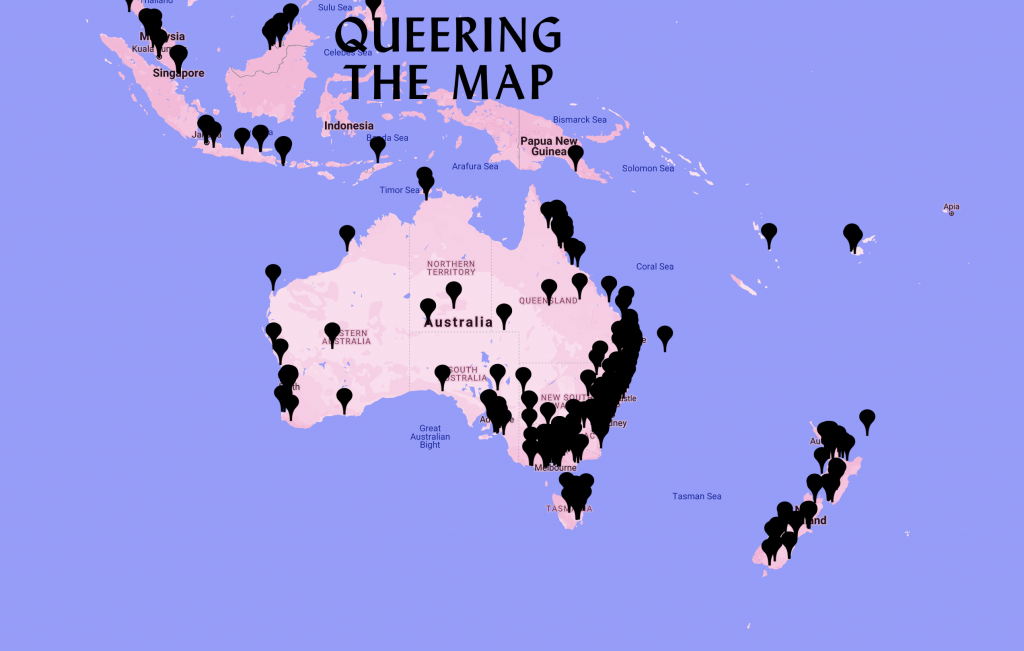 There are places that overflow with queer energy each and every time I pass by them. There's the park in southern Sydney where I had my first gay kiss. A street in the Melbourne suburb of Coburg North where I wore a dress in public for the first time in my life as a trans woman. There's nothing inherently queer about any of them, but they are irrevocably linked to queerness in my heart.
It seems imperative that we find queer significance in everyday spaces – and that we talk about it, record it. If not for the sharing of stories, it's easy to forget we're not alone. If not for the retelling of queer histories, it's easy to forget where we came from – and who we owe for the progress we've achieved.
Queering the Map is one such method of recording – and sharing – those histories. A community-based geomapping project, it allows people to pin-drop and detail queer experiences and memories, anywhere in the world. Some are brief and to the point ("two lesbians fell in love here"), some go into great detail. Some are explicitly sexual, some are incredibly wholesome. Many are poignant in the space of a sentence or two – "my first kiss was a girl from church. her parents moved her away."
There are narratives archived across the globe of queer romance, friendship, belonging. Coming out, acceptance. Heartbreak, homophobia, loss. There are pin drops at nightclubs, at beaches, park benches, pretty much any kind of location, and most countries have at least one recorded entry.
The fact that physical spaces hold different experiences and memories for different people is obvious. What's interesting is the way that shared experiences attached to geographical space, and communicated digitally, may provide some kind of collective intimate meaning through the particular convergence of queerness, storytelling, geography and technology.
Projects like Queering the Map disrupt the presumed heteronormativity of physical spaces by providing the potentiality of queerness in any location. In this way, they act as both a method of resistance as well as connection, even healing.
This kind of digital defiance and connectivity feels significant when we consider that for many queer people, in particular trans women and especially trans women of colour, walking out the front door is still a terrifying prospect, each and every time. Or that in many countries being gay is still a punishable offence.
I use Newtown train station in Sydney almost every day of my life. In that sense, it serves a fairly perfunctory role. However, it's also a place where I've been on the receiving end of homophobia and transphobia, threatened with violence and called slurs late at night while trying to get home from a night out. I may use this station almost every day of my life, but I still feel a brief twinge every time I pass through the gates.
That's my experience of Newtown station, but someone out there has had a wildly different one. For the author of one entry at the station, it represents the place they helped a friend administer their first testosterone shot. One site of transphobia is another's site of trans affirmation; and to know of that experience is restorative.
In her book Mirror Sydney, writer Vanessa Berry offers a version of the city that is defined not by its redevelopment, its skyscrapers, its cranes. Instead, Berry is interested in its alternative – a cartography that takes into account the overlooked and ignored, the forgotten and peculiar.
From op shops to abandoned amusement parks to forgotten monuments to subterranean oddities, Berry positions taking notice of these places, and documenting them, as an act of preservation against a city that feels increasingly intent on swallowing them whole. There is a personal element to this reading, too – "'These places were like resistors on a circuit board. My thoughts stuck to them. They had auras."
Psychogeographic readings like Berry's allow us to consider how the personal intertwines with the material, how the past interacts with the present. How many alternate versions of a city run parallel, and the ways in which they might cross over. Through queering our own personal maps, and sharing them with others, we open up new possibilities for understanding place; we create an intimate method of protest.
Another part of why a project like this is so powerful is the way it demonstrates the sheer diversity of what existing as a queer person looks like. There is something about the attachment to a specific place, a literal point on a map, that makes reading entries from people on the other side of the planet a uniquely intimate experience. It can be an easy thing to feel insulated in our queer bubbles, but projects like this visibly demonstrate the breadth of queer and trans experience around the world.
It can be hard to feel a sense of human connection to place as a queer person. Even in an area where one knows there to be a high population of queer folks, isolation from communities can still be devastatingly common.
How does one find queerness if they don't know where to look? To that end, there are entries pointing out dedicated – even if somewhat covert – queer landmarks and safe spaces. It makes me wonder what accessing something like Queering the Map would have meant had I come across it in my adolescence – struggling with dysphoria and convinced no one in my immediate surroundings could relate to what I was going through.
Obviously, we cannot engage with the queer politics of space without first acknowledging that many of these experiences are taking place on stolen land. Geography is not objective, mapping is never neutral, and any political reframing must stand in solidarity with decolonisation.
For Queering the Map, this has meant including information about the traditional owners of the land the project began on, the Kanien'kehá:ka people, of what is now so-called Montreal. It encourages users to find out on which Indigenous peoples' land they are located, and take steps towards supporting local Indigenous groups and decolonisation.
"Inherent to any mapping project there are colonial implications," Queering the Map creator Lucas LaRochelle told Citylab back in February. "Queering the Map is intentionally political, but that politic needs to be coalitional, especially with an indigenous politic, if we're talking about land and geography. That's one of the next steps—figuring out how to make those links more apparent, and more active."
Ultimately, when utilisied to their full extent, projects like Queering the Map have the power to serve as both political disruption and tender connection. Archiving queer histories – particularly in a personal, intimate sense – is a meaningful act of resilience when being visibly queer in public is not always safe.
Back in February, the site was taken down after trolls spammed the site with a barrage of pro-Trump messages. It's now back up, (with a moderation team checking posts before they are made public). Whether out in the streets, or out on an online map, queer space, queer histories, queer memories persevere.
allison gallagher is a writer from sydney. their writing has appeared in the guardian, overland, lit hub and kill your darlings, among others. in 2017, their debut chapbook 'parenthetical bodies' was released through subbed in. they also sing and play bass in the band sports bra. they can be found on twitter at @denimdyke.
<! -- WIDGET HERE FOR BUY ARCHER -->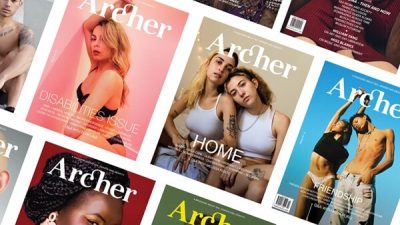 HELP KEEP ARCHER MAGAZINE AFLOAT!