The Bachelor: Understanding the attraction of watching the reality show
By: Roz Bellamy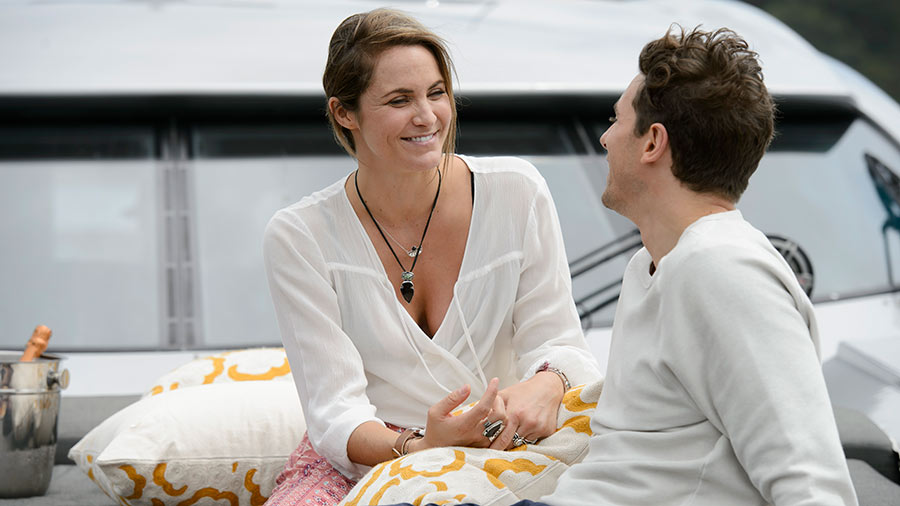 I notice the terminology immediately. The contestants frequently refer to the other women as "girls", which makes me cringe. It's not just the contestants, but also this year's Bachelor, Matty, and Host, Osher Günsberg. Journalists are guilty of using this word, too; in recaps for news.com.au, James Weir writes, "In a humiliating moment, one girl on The Bachelor has thrown herself at Matty and tried to engage in a passionate kiss in front of the other girls only to have her advances publicly rejected and her face palmed away in haste."
My wife, Rachel, started watching The Bachelor after I pulled out contestant Sian's name in a work sweep. It was partly as a favour, since I dislike reality television but was curious about how Sian would go. Also, Rachel enjoys Big Brother, Survivor and MasterChef, so I figured it would not be as painful for her.
She became hooked. When I started watching the show, and only made it through the first five minutes of episode one, I asked her how she was able to watch these episodes the first time, let alone again.
"It takes a little while but then you become immune to it," Rachel explained. "At first, you sit there shuddering."
"What made you shudder?" I asked.
"It's basically a bunch of women competing for the same guy. Which is difficult to watch unless you like that kind of thing."
Neither of us like that kind of thing, so I decided I would reach out to people to find out what they think of the show. Shows like The Bachelor are predominantly watched by married women, according to 2016 Roy Morgan statistics.
I created a survey about The Bachelor to see what people in my social media circles think of the show. I included questions about whether participants found themselves attracted – in terms of sexual and non-sexual forms of attraction – to the contestants and Matty. 158 people filled in the survey, despite one friend's objection that the show is "a load of crock and devalues feminism."
Like my friend, I find the show questionable and objectionable in many ways. One aspect that surprised me was the way the women were infantilised, while Matty was depicted as mature and ready for commitment and a family. In one episode, the contestants were 'tested' with children and were pressured to form bonds with the children before being judged on these connections.
On another episode, Matty takes Laura on a date on a boat. She cannot stop marvelling at the boat and says, "It's a big, man's boat."
Rachel shrugged when I turned to look at her. "I guess women don't have boats like that?"
After 2016 contestants Tiffany and Megan announced that they were in a relationship last year, which was short-lived, I wondered whether viewers now perceived the contestants and show differently. Queer eye for the straight guy and his bachelorettes.
I interviewed Natalie Holmberg, a 2017 contestant, who turned out to be very funny and an excellent communicator. On the first episode of this year's season, Natalie introduced herself by mentioning that she had been in a relationship with a woman but Matty J and his abs had "turned me straight again", which led to a backlash from queer viewers on social media. Later, she told the media that she didn't want to be pigeonholed as a bisexual but said that she would like to be a role model for women who have felt attracted to a woman. She hoped that this would be "one step closer to having a gay Bachelor one day."
Natalie is the first contestant on The Bachelor Australia to identify herself publicly as anything other than heterosexual. When I ask her about the comment she made about Matty turning her straight, she says "it's my only regret from my time on the show." She explains, "I hadn't found my feet yet", referring to dealing with the media, and told me that she was kidding when she said the line. She recalls someone working on the show suggesting that she tell Matty that he had turned her straight, which she thought was a terrible idea.
"They love to put people into boxes on this show. They pushed that line because of the narrative. The show, the Daily Mail, and the media are so preoccupied and obsessed with homosexuality," she says. This obsession with sexuality suggests to her that "we're not ready" for a queer version of The Bachelor. She notes that the media and show itself "didn't focus on other people's exes, just mine, because she is a woman."
Since her eviction from the mansion, she has encountered homophobia and biphobia in social and professional settings that have hurt her feelings. "I had never experienced it before. I had never felt the oppression before. I never really thought about these issues," she says.
I was left with an overwhelming sense of empathy for Natalie, who had clearly ended up in a situation she had not anticipated. She described her surprise at having become "the poster girl for gay rights" even though she previously identified as straight and attracted to men, but I think there was more to it than that. I think Natalie is right; the franchise, and the tabloids that write about it, are not ready for queer participants and viewers.
Wanting to understand why people watch the show despite its faults, I interviewed Dr Jodi McAlister, Associate Lecturer in English at the University of Tasmania, about her thoughts on The Bachelor. Jodi writes about romance, feminism and virginity in a variety of publications, including academic journals and books. Her debut novel, Valentine, was released earlier this year, and she also blogs about The Bachelor. All of the above make her the pre-eminent expert on all things #Bachie and #romance.
According to her, viewers' favourite contestants rarely win. She believes that fan favourites are related to "romantic worthiness: who do you think is the most worthy?" She explains, "One way you can become a fan favourite in Bachie is by explicitly rejecting the heterosexual romance offered by the Bachelor. Laurina Fleure in 2014 became a huge fan favourite because she didn't seem to like the Bachelor Blake Garvey very much, and was quite cold to him."
Jodi describes Tara, on season five, as "the kind of person that the predominantly straight-lady audience has decided that they want to find love – which I'd contend is a kind of emotional attraction." When I ask about her own experience with emotional attraction as a viewer, McAlister, who identifies as heterosexual, reveals that she felt this way about previous Bachelorette Georgia Love. "She was sensible and asked good questions and didn't put up with random dude shenanigans and I thought she was awesome – in my recaps for her season, I refer to her repeatedly as my TV best friend."
It was interesting to hear this admission from a heterosexual woman. I'll admit it; I'm often confused by heterosexual cisgender women. Many interact flirtatiously online, calling each other hot and "BB" or changing their Facebook status to "married" to another woman. Some will openly discuss their "girl crush" – reducing the woman to a girl and the attraction to a crush – in what I can only assume is a way to cope with the unexpected attraction. Of course, some may not be heterosexual but many are.
This is why I was particularly fascinated by my survey results. I scanned them eagerly, looking at the results in relation to the participants' sexuality and gender identities (all of which were self-identified).
When asked whether participants experienced sexual attraction to the contestants, two heterosexual women said 'yes', and four heterosexual women said 'not sure'.  A further four heterosexual women said 'no' but answered 'not sure' in response to the question about whether they experienced another form of attraction, e.g. emotional or romantic, and 21 heterosexual women said 'no' but answered 'yes' to whether they experienced another form of attraction.
Overall, 18 people – 15 who identified as female and three who identified as male – answered 'yes' when asked if they experienced sexual attraction to the female contestants. Of these 18 people, the majority were bisexual, queer or heterosexual, and only a few identified as lesbian, gay or pansexual.
I also offered participants an open-ended comment box in which they could elaborate on their attraction to the contestants. One person, who had identified as a heterosexual woman, wrote "Elora is alluring."
Many of the women indicated that they watch the show purely for the contestants. Another heterosexual woman said, "I totally watch for the women – and don't watch the Bachelorette for the same reason! A bunch of men is boring television! I know it's reductive and anti-feminist in so many ways but it's a total 'guilty pleasure' for me."
Of the participants who said that they experienced attraction to the female contestants, most mentioned Elora and Tara in the comments. One said "I loved Nat – who had epic gay vibes" while another reminisced about "Florence in the slutty teacher outfit." Several referred to physical traits, such as Elora having a "beautiful curvy body and sparkling eyes", but mentioned that they turned off Elora for her perceived slut-shaming comments about Leah's career choices.
One queer participant summed up the contestants very articulately. "While I might think some of them are physically attractive and quite fun, I just think sex with them might be super vanilla."
Whether or not Australia is 'ready' for a queer version of The Bachelor, I know there would be demand for it. Looking at comments about a hypothetical queer version online, I saw remarks like "If this happens, I might actually watch this crap." Another person was less fussed about the fine details, saying, "I wanna see me some bi representation on Aussie TV. And not overtly sexualised."
The show erases any genuine and authentic exploration of sexual diversity or sexuality in general, apart from shaming some of the women over their past relationships, and career choices. I also struggled with the conservative ideals about the nuclear family, gender essentialism and monogamy.
If the show is renewed for another season, I would love to see the contestants starting to hook up in the mansion, and given the results of my survey, I don't think I'm alone in that. Queer Bachelor or otherwise, the series needs to shift away from the unequal and uneasy power relations that currently exist and start exploring human sexuality and expression of gender identities in honest and meaningful ways.
Roz Bellamy is a queer and non-binary Melbourne-based writer, teacher and workshop facilitator whose work has appeared in Archer Magazine, The Big Issue, Daily Life (Fairfax), Everyday Feminism (USA), Going Down Swinging, Junkee, Kill Your Darlings, PRISM International (Canada), SBS, Seizure and The Vocal (Fairfax). Roz's work was shortlisted for the Scribe Nonfiction Prize in 2014 and won the Stonnington Prize for Poetry in 2016. Roz has just finished writing a memoir about marriage equality and queer identities. 
<! -- WIDGET HERE FOR BUY ARCHER -->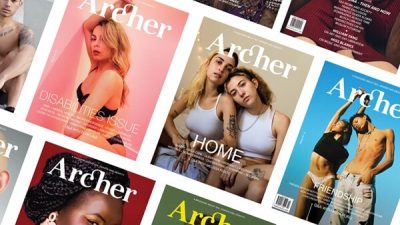 HELP KEEP ARCHER MAGAZINE AFLOAT!