Sam Stoich Image Essay: Shot in the Dark
By: Sam Stoich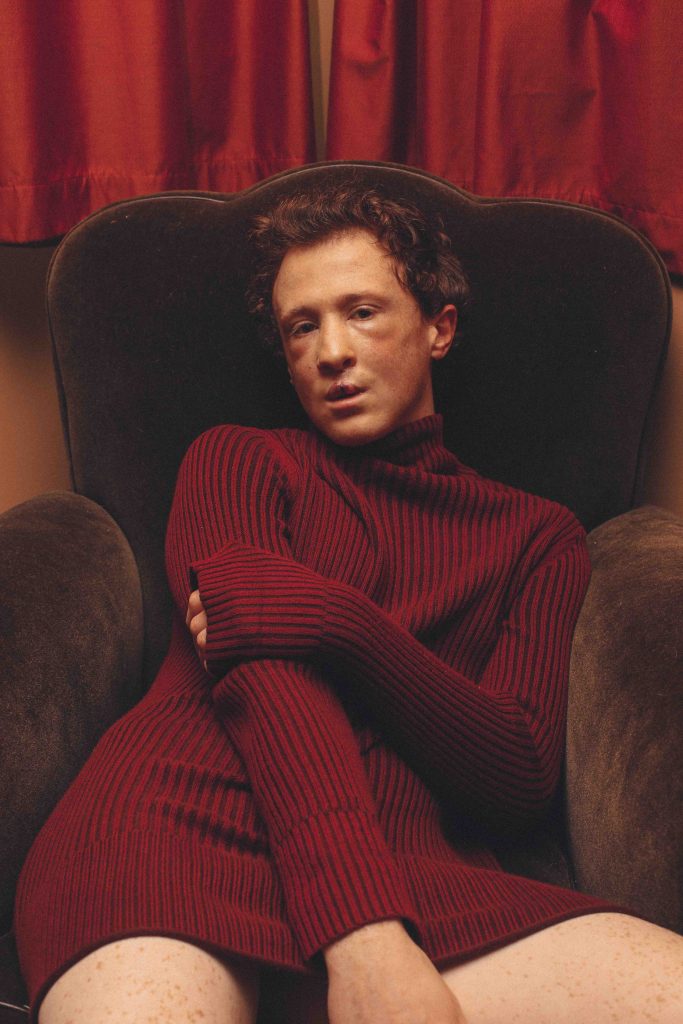 This series by 20-year-old HIV-positive American photographer Sam Stoich confronts a subject that has long been misunderstood, and remains burdened with ­stigma even today.
Q&A with Jess Desaulniers-Lea
Shot in the Dark has a sense of continuum; is this series on­­going? If so, how has it evolved so far and in what direction do you see it heading?
This body of work has taken years to develop, and I have seen myself grow tremendously. I don't want to put a due date on this project; I want to see where it goes organically.
A few years ago, I was stuck trying to create an alternate reality – an escape from some very unfortunate circumstances in my life – and, in that time, my portfolio has transformed into something that allows me to honour the beauty, strength and uniqueness of my actual reality.
Tell us about the use of the colour red in your work.
I saw this film called Greed by Erich von Stroheim from the 1920s. It's a black-and-white si­­lent movie about a man who succumbs to greed, and it even­tually destroys him.
Von Stroheim used the technique of hand-tinting to strategically place a gold/yellow colour on certain objects throughout the film. The colour acts as a visual metaphor for the man's obsession with wealth. By the end, the entire film is tinted yellow, creating a very vivid visual depiction of his emotional state.
I am doing something similar with the colour red – only, for me, it represents the presence of HIV in my life. It seeps into my frames like blood, and sometimes can make them seem absolutely flooded. It is something that is always there in the background.
Your use of iconography such as roses as well as the images in Blood Brothers feels deliberate. What inspired these?
I am very inspired by the Symbolism movement, whereby everything you see in the image has some kind of alternative meaning.
The roses are supposed to represent the frightening statistic put out by the CDC [Centers for Disease Control and Prevention] that one in eight people are HIV-positive and do not know it. I wanted to use roses because of their phallic form. I also wanted to emphasise that the one rose that was not protected is still a beautifully intact rose.
Blood Brothers is about the connection I had with the first guy I was seeing, who was also HIV-positive. We are bonded by this thing in our blood, so to cut each other open, hold hands and kiss is a statement of solidarity between us.
In the '80s, Nan Goldin and Robert Mapplethorpe were some of the first photographers to create visual narratives of LGBTQ communities and relationships. Why do you feel it's imperative we continue to explore narratives about HIV/AIDS today?
All art is vital to social struggle; when you are expressing such raw emotions, you can really connect on a deep level with others in similar circumstances.
The best part of ­sharing this work has been hearing stories from people who are dealing with HIV-related issues, whether they are HIV-positive themselves or have lost family and loved ones to the disease. If I can make people feel less alone and inspire those in despair, that would be a huge success for me.
In your experience, what stigmas still exist now, and what's the biggest misconception about HIV/AIDS?
There's endless research that proves that undetectable equals untransmittable; I even had to explain this to a doctor. So many people look at those with HIV like we are infectious monsters. Fear is not going to prevent you from contracting a disease.
There is a culture of ignorance about HIV, and few are aware of current medical information that exists. On Grindr, people state on their bios that they are looking for "drug- and disease-free" or "­disease-free only". This kind of culture perpetuates the idea that HIV is synonymous with drug abuse.
You cannot contract HIV from a poz/undetectable person – whereas you are actually at risk being with someone who assumes they are HIV-negative but hasn't gotten tested for months.
I was talking to someone who told me they couldn't be with me because, if they were to get HIV, it "would ruin [their] career". Just the fact that people see a disease as something so negative – that it could be a career-destroyer – says a lot about how people view HIV.
I have had many negative experiences with people reacting poorly when I disclose my status to them. I have even had a couple professors at art school tell me I should stay discreet about my status for "professional reasons". Yikes!
Your work is extremely intimate and vulnerable. What's your process behind the scenes?
It starts with clear communication and consent with those I photograph. From there, we can both navigate where the shoot goes.
I will give people an idea of what I see in my mind, but oftentimes I will let the subject take the lead. I want to create a safe space that is inclusive and sex-positive. I want people to feel confident in their bodies and proud of their sexuality.
A good deal of my photos are with people I am in deeply personal relationships with, so that trust is already there. I think a lot of people come to me having seen my work, and they want to express themselves in a similar way. I also think it helps that I photograph myself so intimately, and not just other people.
You explore themes such as sexuality, beauty and the body; what inspired you to evoke them in self-portraits?
I believe vulnerability and power are synonymous. Photographing myself has been essential to my growth as an artist. It has allowed me to confront the things that make me and others uncomfortable. Avoiding aspects of my identity has only ever brought trouble in my life, but, when I embrace what makes me different and what sets me apart, I thrive.
Some of the self-portraits to date are of me post-operation, which was an extremely vulnerable time for me. I have had over a dozen major operations throughout my adolescence to help repair the cleft lip and palate I was born with.
Though I work hard to embrace my sense of self-worth, being born with a facial birth defect has always been a point of contention in my relationship with myself. It is my Achilles heel.
When I come out of an operation or procedure having to do with my cleft, I am most vulnerable to self-hatred – and taking a self-­portrait during these times is ex­tremely cathartic. It has allowed me to combat the negative thoughts I had, see my perceived flaws differently and own them.
Your portraits are reminiscent of the classic reclining nudes of canonical Western painters, yet they depict people we rarely see in Eurocentric, cisheteronormative art-history books. Did you seek to subvert these (often-subconscious) aesthetic ideals by representing other forms of beauty, identity and sexuality?
I like to look outside of photo­graphy to inspire my work. I look at painting and filmmaking a lot. Understanding these other forms of visual storytelling can help me tell my own story better. I definitely study painting especially because it was around before photography.
I love going to art museums to look at classical paintings. I am so attracted to the technique and aesthetic style of these kinds of works, but never could relate to what was being depicted. I definitely have set out to give the poor, the marginalised and the all-round disenfranchised the royal treatment – take their photo the way a painter would make a portrait of a wealthy patron.
What advice do you have for HIV-positive young folks who face day-to-day stigma in their personal and professional lives?
I'm really trying to figure it out myself. I would say to those recently diagnosed: don't freak out, you will be just fine. Tell your mama or anyone you love and trust, as it's important for you to establish a support system.
Also, to anyone dealing with stigma around being positive: call me. I would love to talk to ­others in my position about what we can do together.
This image essay originally appeared in Archer Magazine #10, the 'HISTORY' issue. BUY ARCHER MAGAZINE
<! -- WIDGET HERE FOR BUY ARCHER -->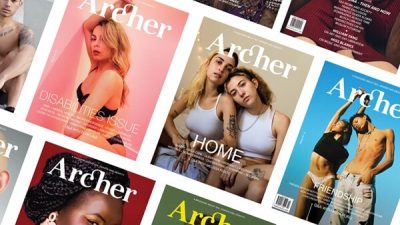 HELP KEEP ARCHER MAGAZINE AFLOAT!