Queer Asian creatives: Dragons and glitter
By: Natasha Hertanto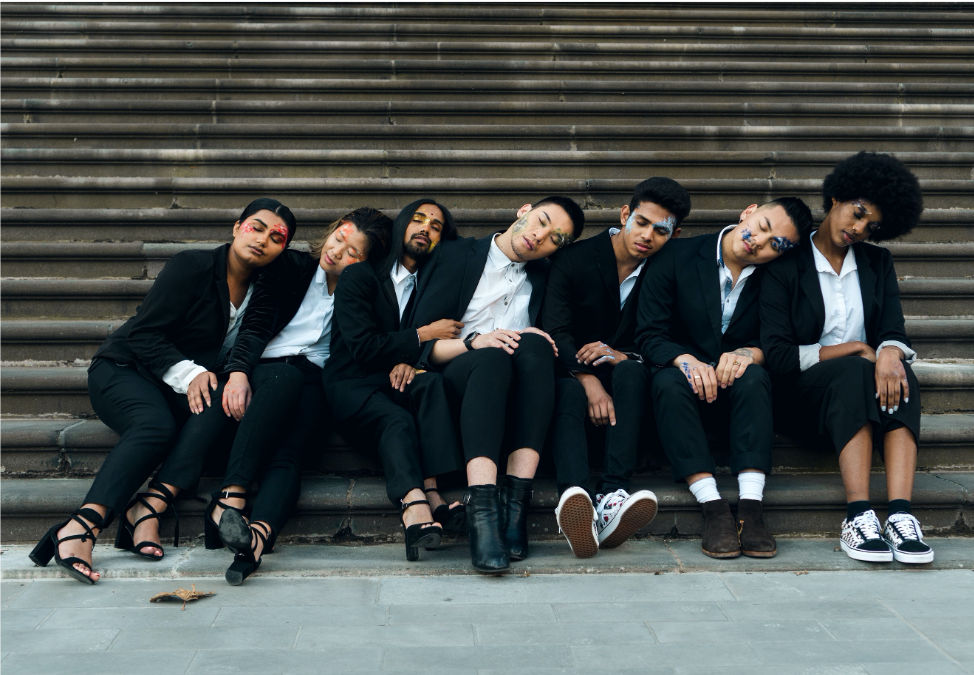 Asian Ambition is a movement and platform designed to highlight Asian artists, embrace Asian sub-cultures in all their complexities, and negate the stereotypes propagated by the media of Asian people being timid, stoic and academically excellent.
I'd followed the Asian Ambition account for a few months and their previous photoshoots always left me feeling grateful to have monolids (even though I grew up wishing them away.)
I told Gary Borne, the founder of Asian Ambition, this when I first met him at an underground music event. Wearing one of his colourful beanies and a silver cross earring, he gave me a long hug and whispered, "I'm so glad to hear that."
In July, photographers Johnny Huang and Jm Tubera arrived in front of Parliament House as we finished three hours of hair and makeup.
Warm introductions ensued, and our group of seven models were careful not to get our face paint on anyone's clothes or cheeks. Johnny and Jm briefed us on the photoshoot concept they had developed with Gary, who had recruited us for this project. He was also one of the models, the magnetic link between us strangers.
Gary first pitched this idea to me after a mysterious call-out on his Instagram account for Asians who identified as part of the LGBTQ+ community. At the time, I was only out to three close friends and my sister, but I replied with "Y E S", a raised hand, pink heart, and purple heart emoji without second thought.
The black and white suits and Parliament steps represented policy changes and a site of political power. The colour swabs on our pinkies – voting rights. Rainbow paint on our faces represented pride – in both senses of the word – and love.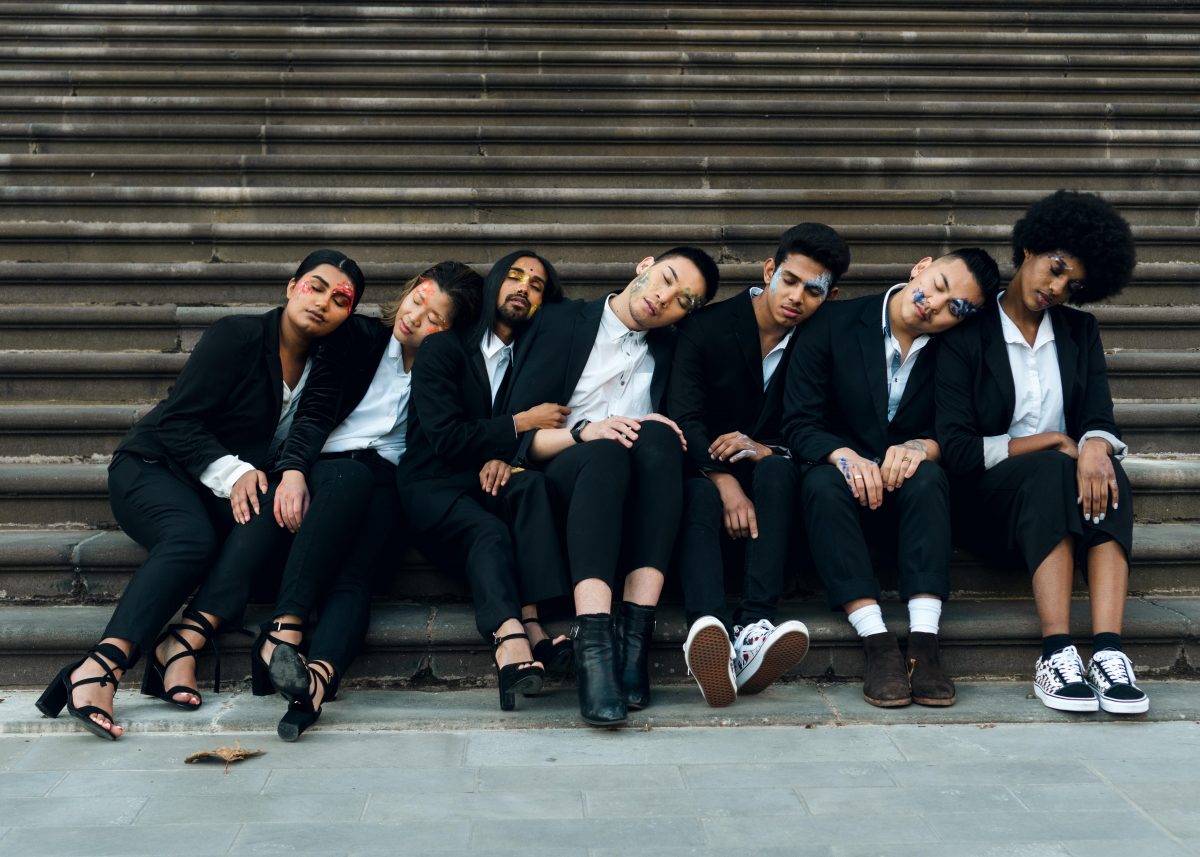 Our make-up artist, Monica Ng, applied an extra dash of orange on my eyebrows. In a flurry of finishing touches, we absorbed the shoot brief and nodded, feeling buzzed for the day ahead.
"Excuse me."
Three white male cops stepped into our intimate huddle.
"Do you have a permit to shoot here?" one of them asked.
I glanced at his terminator sunnies, blue hat, gun attached to his waist by something that resembled Disneyland's swirly straws.
"No. I didn't realise we needed one," Gary said.
"I've shot here plenty of times and I've never been asked for a permit," Johnny chimed in. We found out, later, that Jm had stepped back to record the exchange on his phone.
"What is this shoot for?"
"It's for Instagram. For Asian Ambition," Gary said.
"Well, we've been watching you in the security cams for a while now, and you can't shoot or do these types of productions without a permit."
All of us looked at each other. In the last three hours, there had been at least five wedding shoots that took place, a few family photoshoots, a prom shoot and even a full-blown catalogue merchandise 'production'. The cops didn't leave their surveillance room or asked for permits because every group, without fail, had at least one white person.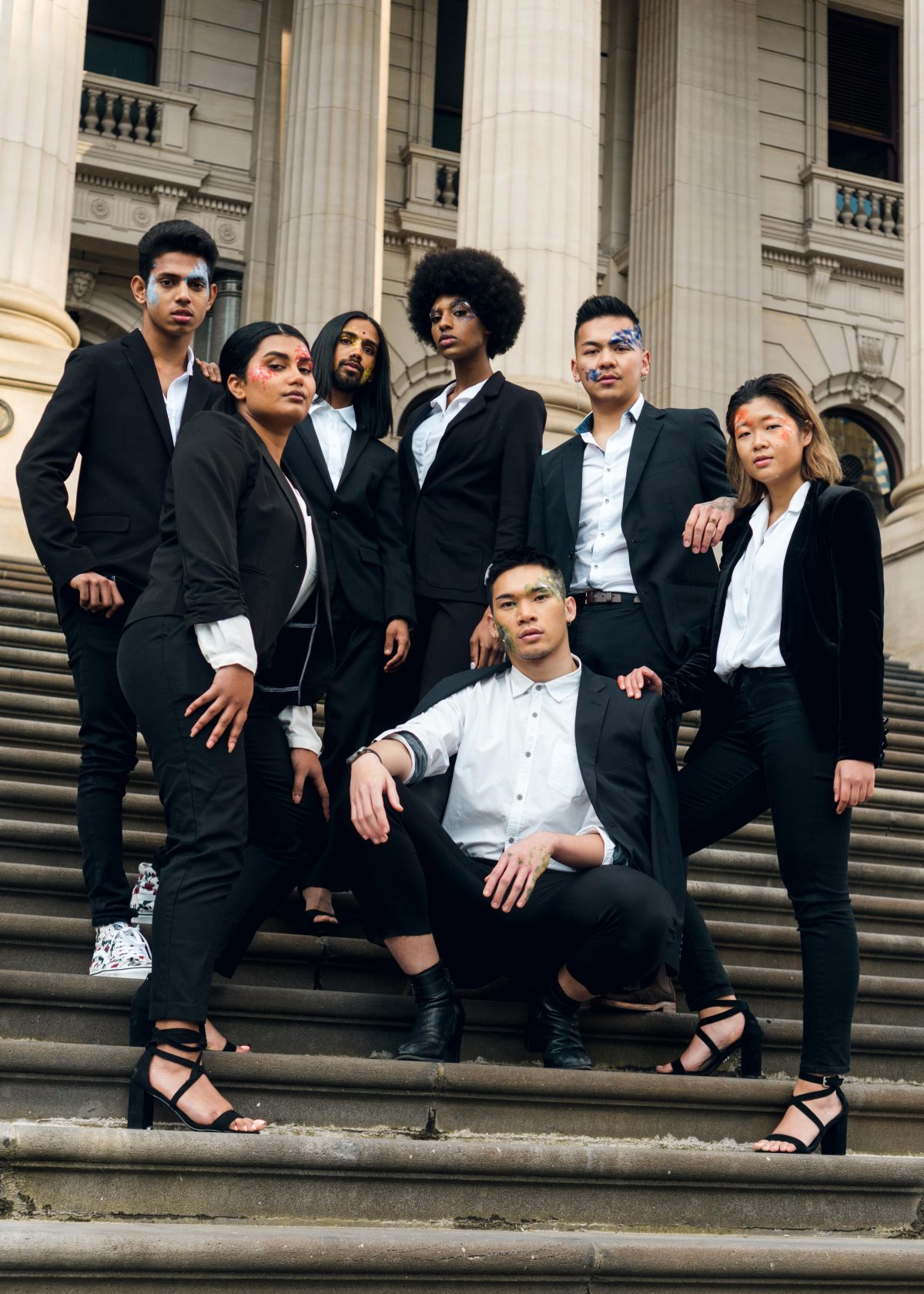 Us on the other hand? An all-Asian group with rainbow streaks on our faces. Looking furious, too, I might add.
Double the minority, double the threat.
One of the models reasoned with the cops calmly and though there was a degree of pushback, they eventually let it slide.
The pre-shoot anticipation spell broke and Gary could tell some of us were left shaken. So he led us to a nearby Nandos for some fries. People stared as though they were wondering if our group – eating Peri-Peri fries and talking about being fetishised on Bumble, succumbing to European standards of beauty, and debating the pros and cons of dating white men – was part of some Melbournian Pride Month skit.
A few random memories from different times and places popped into my head as I listened to everyone jumping in and out of casual get-to-know-you questions and heavy debates.
Sumudu Samarawickrama talking to Sonia Nair at the Emerging Writer's Festival about the importance of "decolonising the self," not just as a creative but as a PoC (I think about this often and strongly).
Ellen van Neerven telling the audience at Melbourne Writer's Festival that her Indonesian friend called Australia a racist country. The mention of the home I left five years ago was jarring, and though I don't disagree, a queer photoshoot in front of a government building there would end up with us jailed or stoned. Not with cops walking away.
But possibly the most important memory of all: a fierce girl with Bieber-hair, a black stopwatch and basketball shorts she wore everyday under our chequered Catholic schoolgirl skirt. 16-year-old me was fixated the moment she sipped my boba, our lips on the same purple straw.
I didn't know how to balance the mixture of dread and indignation as we walked back to Parliament. I think it shows in the pictures. I've learned over the course of modelling that there's no lying to the camera. The eyes, especially, give everything away.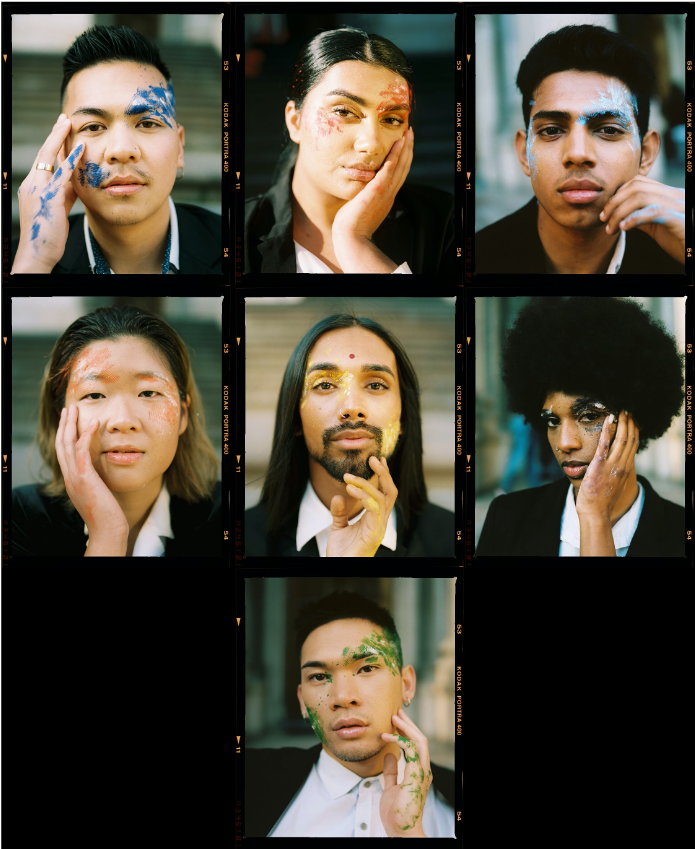 The solo portraits were taken by Jm's film camera; a boxy, heavy, aged contraption with a single wide lens. We each stared it down, holding our pose for twenty to thirty seconds, before it captured a single image. The only image. When I first saw the results, I loved all shots but mine. Everyone had these dreamy, curious, cunning gazes.
I looked angry. I was angry. I am angry, I guess. Part of me always will be when interacting with spaces and conversations that corner me into fear and submission.
Existing is resisting, though. It's true. I've heard these words before but only understood them during the final huddle at sunset, delirious laughs all around, as we wrapped the shoot.
Existing is resisting. I felt the words like a weighted blanket, my outfit and make up intact, strangers' eyes lingering on me as I walked home. Alone but with my chin up. With pride. With love.
Models:
Red: Rishika Prasad
Orange: Natasha Hertanto
Yellow: Roshan Nausad
Green: Kiki Devine
Light Blue: Varinder Pal Singh
Dark Blue: Gary Brone
Purple: Cerina Allotey
Make up artists:
Hair styling:
Photographers:
Natasha Hertanto is a Chinese-Indonesian writer, activist, and dog-mom. Her work can be found on Peril, ABC Life, Local Wolves, & EWF 2019. Subject matters that fascinate her include mental health, LGBTQ+ rights, cultural diaspora, and fxmale empowerment. She's currently studying International Development and struggling with her first historical novel.
<! -- WIDGET HERE FOR BUY ARCHER -->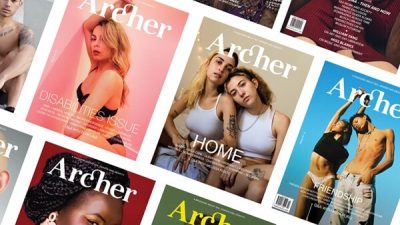 HELP KEEP ARCHER MAGAZINE AFLOAT!