Meryl McMaster Image Essay: Threads of Self
By: Jess Desaulniers-Lea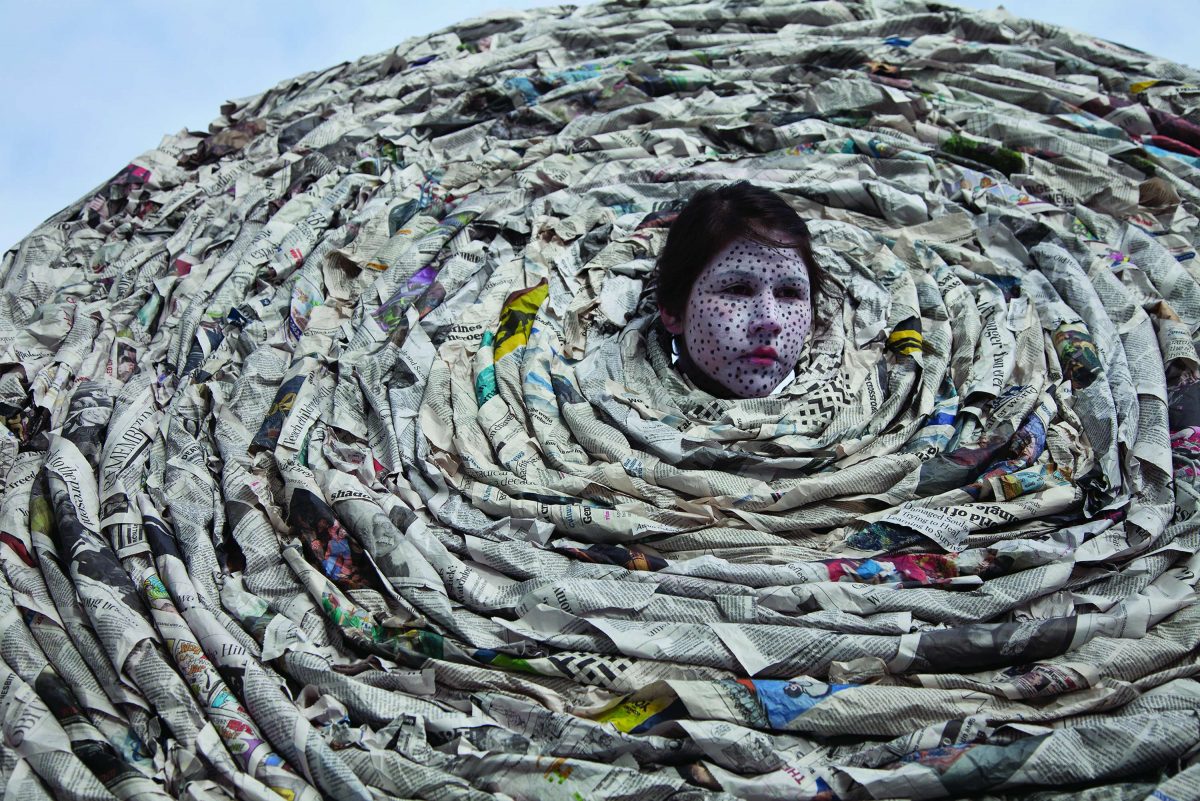 Meryl McMaster is a Canadian artist and a graduate of the Ontario College of Art and Design University (OCAD U). Through her distinct approach to photographic portraiture and self-portraiture, she explores questions of identity in relation to land, lineage, history and culture.
Her work has been ­included in exhibitions throughout Canada and internationally, including the National Gallery of Canada, the Smithsonian's National Museum of the American Indian, the Art Gallery of Ontario, the Ryerson Image Centre and Seoul's Hangaram Design Museum. She is a reci­pient of the Scotiabank New Generation Photography Award, the REVEAL Indigenous Art Award, the Charles Pachter Prize for Emerging Artists, the Canon Canada Prize, the Eiteljorg Contemporary Art Fellowship and the OCAD U Medal.
Her solo exhibition Confluence is currently touring across Canada.
Your work is rooted in exploring heritage, history, lineage and your bi-cultural identity. What sparked your desire to explore these themes through self-portraiture?
I have dreamed about being an artist and wondered what I might say through my art since I was a young girl. I think that I still have those thoughts!
It wasn't until the final year of my undergrad at OCAD U in Toronto when the reality of those questions was brought to the surface. I knew I wanted to make work that came from a deeply reflective and personal place in the hope that I may be able to connect with others.
At the time, I was considering the age-old question of figuring out the self. For me, those questions start from our lineage, history and culture, and then are built on further from our personal life experiences.
Understanding who I am began with exploring my complex cultu­ral background. I am Plains Cree from Red Pheasant First Nation in Saskatchewan and a member of the Siksika First Nation in Alberta as well as English, Scottish and Dutch. Using sculpture, performance and photography, I began to try to rev­eal the layered and multifaceted nature of my identity.
My works are like a catalogue of my thoughts, feelings and experiences, almost like a ­journal. They exist with the hope of showing the person looking at the images – regardless of their cultural background – the complexity of experience and something about the world and our history that they maybe didn't know.
In your work, you're primarily the sole photographer and subject. Could you tell us about this artistic choice?
When I have included myself as the subject of a work, it has been a deliberate decision, as the majority of my images have been inspired by my personal experiences and questions about who I am. I am also quite shy and introverted, so I never felt comfortable working with someone else when it came to my images!
Art is how I express myself, and being the subject of my work brings me closer to the ideas I'm bringing to the surface – in both positive and negative ways. Through the process, I'm confronted and challenged, leading to a better understanding of myself and others.
You often feature the colours red and blue as well as handmade costumes and natural found materials. We'd love to know more about the significance of these.
The colour red represents a lot of different things to me. One of the most direct links is that it repre­sents the heart or bloodline and connection to one's family and one another. Red markings within the images become navigational tools or trail markers for me, both to the past and present.
I use blue to reference the sky as an unknown place as well as a world of boundless opportunity and possibilities without limits.
Each of my photographs begins long before the camera enters the scene. I am always on the lookout, collecting different objects and materials (manufactured or natural) that I can bring together to make one of my objects or sculptural garments. Sometimes I am inspired by a certain material that then becomes the outfit, and sometimes the outfit idea comes first and then I need to figure out what materials are best to use to realise my ­concept.
Everything – myself, the camera, the location and the crafted elements – then comes together to generate these quasi-fictional worlds, through which I hope to extend the boundaries of identity beyond what is known and understood. Each subject I embody shifts in response to the natural environment and the costumes I'm wearing, which is then activated through a series of staged performances for the camera that my photographs document.
In this way, my private performances respond to the elements, to memory and to emotion.
How do you draw on your connection to the land in your work? Your images seem to form part of a pre-existing story that is continuing to unfold.
Ever since I was young, exploring and working in the outdoors has been a great interest of mine. I have been on several remote camping trips, some taking place over a period of many weeks in the wilderness, and I have worked as a tree planter and outdoor guide. I think these experiences over the years have naturally become present in my images as they are an ­ongoing passion.
In my early work, I started out photographing in and around areas that I was familiar with, mostly near where I was living at the time. In many ways, I was trying to re-create moments or experiences from my past.
More recently, I've selected sites across Canada that are of significance to my family and cultural histories. There are stories written within these sites that I've wanted to immerse myself within in order to better understand them – and, ultimately, to introduce my viewers to them. These sites have included areas of importance to my Plains Cree ancestors, such as gathering places and transportation networks in Saskatchewan.
I've also photographed in parts of Canada that are of significance to my European ancestors – areas in Ontario where family crossed into Canada from the United States, and in eastern Canada at sites that hold meaning as the earliest contact points between the lands of those who came before me.
What has the learning process been like in terms of connecting not only with your own ancestry, but also with those of other indi­genous communities in Canada?
Even though I was born in Ontario, my family is actually from Saskatchewan, in the prairies of Central Canada. My father grew up in the Cree community of Red Pheasant First Nation, which I was able to visit many times in my youth.
Connecting with both sides of my family's history has been a lifelong project and will probably continue over the course of my lifetime. My most recent body of work, As Immense as the Sky (2019), allowed me to travel back to Red Pheasant and form connections with mentors from the area.
It has been very difficult being separated from this important area for most of my life – it takes a great effort to learn the language and stories when living so far away. But it has felt empowering to feel an increasing sense of connection to this second home and to have the support of new friends and mentors from the area.
Colonisation still profoundly impacts all indigenous peoples in Canada. How has this complex and layered history informed the process of constructing your own sense of self?
At school, I learned the history of Canada, yet I was taught very little about the inception of this country from an indigenous perspective. I was given no further knowledge beyond what was in our textbooks.
I was aware of the life experiences of my relatives and learned about my ancestry through family, but the relative absence of formal education in this area and the greater emphasis on Euro-­Canadian history at school had a lasting impact. I learned a bit about the intersection between my heritages, but usually in negative ways.
This experience made me view 'my' history largely from the colonial perspective. This said to me that this history was not to be ­questioned, talked about, or rem­embered. This erasure, in part, shaped my understanding of my family history, instilling a problematic feeling of being born into two heritages and not fully understanding their relationship.
I've come to understand that the narratives we inherit influence our identities because they inform our relationship with the past. Knowing this, I feel empowered to re-examine the stories that Canada was built on and to use the resulting con­templations as teaching tools for future generations.
What are you currently working on, and do you have any upcoming exhibitions that may be travelling to Australia?
I've just finished As Immense as the Sky, currently on view at the Ryerson Image Centre in Toronto until August. This project was over two years in the making, and involved the production of many new sculptural elements that were photographed at significant sites across the country. I'm very excited to finally see this work out in the public and to see the conversations that are struck as a result of it.
Some of my new works will be shown at the Australian Centre for Photography in Sydney, alongside James Tylor, in July and August. This exhibition will feature images from As Immense as the Sky along with some complementary works from previous series.
I look forward to continuing this type of work in future projects – further learning the stories of our past and present, and the important places where those stories took place.
Like Australia, Canada has a long history of cultural genocide, stolen generations and mistreatment of indigenous peoples – all of which have societal reverberations today. As a contemporary artist with indigenous heritage, do you feel hopeful for a future of ­reconciliation?
I do feel hopeful; however, the healing needs to continue and the reconciliation that needs to happen may not occur during my lifetime. The list of recommended paths towards reconciliation is lengthy, and each component is very ­complicated.
We are making progress, and I think that the arts can play a role in helping us to understand each other and in enabling conversations that continue to move us towards a better relationship. My images are more about personal reconciliation, but the dreamscapes that I produce hopefully give people an opportunity to enter into and grapple with the difficult history of our country in a way that is more accessible than what the news provides.
Often, we are told of the very practical problems that indigenous people face in Canada – various economic, legal, health and social problems. I hope to give people an opportunity to engage instead with the emotional and personal side of reconciliation by presenting these issues in new ways.
Jess Desaulniers-Lea is a portrait and documentary photographer, writer and image editor based in Toronto, Canada, who has photographed for VICE, Cirque Du Soleil, Alvin Ailey American Dance Theater and Canada-based music publications for internationally touring singer-songwriters.
This article originally appeared in Archer Magazine #12, the PLAY issue.
<! -- WIDGET HERE FOR BUY ARCHER -->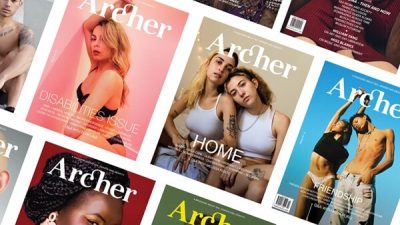 HELP KEEP ARCHER MAGAZINE AFLOAT!