Trans erasure, trans visibility: History, archives, and art
By: Archie Barry
How do you make a picture of something you can't see?
I've been commissioned to create an artwork about hidden queer histories, using the collections of local archives. At the State Library of Victoria, the search term transgender brings up zero results in the multimedia, images and scripts collections. The article and book results are mostly theoretical texts, accessible to people with tertiary educations (and, let's be honest, supernatural attention spans).
The Australian Lesbian and Gay Archives offer localised newsletters, books and television episodes, with the most recent additions from 2011. I'm struck by the quantity of sensationalising trash-talk episodes on file: 'My ­Husband-to-Be Is a Transsexual and Mum's Upset', 'The Most Gorgeous Transsexual Ever', 'Transvestite Hookers', 'Transsexual Family: Leather Biker Turns Lacy Mum', the list goes on.
At first, I find it funny that cis people seem consistently preoccupied with transgender sex lives. But the humour quickly wears off once it sinks in that genuine accounts of the lifestyles, needs, interests and desires of transgender people over time are mostly invisible to society at large.
Scrolling through the search results, I wonder what options I'm left with to make my artwork. Should I excavate these public collections for some skerrick of gender non-conformity and present this as a tenuous genealogy? Or should I let myself succumb to the attractive urge to symbolically erase cisgender history from the archives?
The latter does little more than re­­verse a violent action and perpetuates the binarised logic of cis versus trans, which I don't have much interest in. The former feels like casting a disingenuously optimistic gaze on a history of oppression.
I soon realise that this commission is both fascinating and painful: being asked to find yourself within a categorising structure that has systematically erased you is fertile ground for both critique and re-traumatisation.
The ability to see yourself in the past is essential to forming a sense of belonging in the world. Predecessors confirm that you are not alone in history. They also give meaning to contemporary activism, reminding you that your life and concerns are precursors to other people's rights.
Cisgender people need not search for their lineage because their experiences and bodies form the status quo in advertising, media and art history. All the while, trans individuals remain absent from recorded accounts.
This absence is due to three significant factors. Firstly, defying gender norms in Western colonial societies has largely been illegal (Tasmanian laws against cross-dressing were only repealed in 2001, while physical gender transitions remain illegal in many small nations), so our existence has required 'passing' and trying to 'fit in'.
This means that the search for historical evidence of gender non-conformity is literally the task of trying to find people who (most of the time) did not want to be seen.
Secondly, transgender experience has been thought of as a medical problem – even today, 'gender dysphoria' (formerly 'gender identity disorder') is classified as a mental illness in the Diagnostic and Statistical Manual of Mental Disorders. Due to this stigma, we have been documented primarily as medical subjects: not recognised for our perspectives or contributions to society, but rather as patients requiring a cure.
A notable case in point is Edward De Lacy Evans, a father, miner and blacksmith who became the Australian colony's first documented (and forcibly outed) gender-non-conforming person. Evans was committed to various 'lunatic wards' and 'mental asylums' in 1879, where he underwent forced physical assessments.
Lastly, transgender identity is tied up with language in a way that other marginalised designations are not. The English words woman and man have held consistent meaning for centuries, while the words for people who shift and challenge gender have changed more quickly than generations die out: transvestite in 1922, transsexual in 1957, transgender from 1988, enby (a portmanteau for the initials of the term non-binary) since about 2013. In 1880, the best they could think up was man-woman or impersonator.
In light of this, a lineage of gender non-conformity is buried in terms that are now derogatory, archaic or overly abstract, making it difficult to locate both practically and emotionally.
Does this lack of representation boil down to financial profit? If you're part of the majority population, your gaze is worth more money, so products and services will be advertised to you. Transgender people are a minority, so our eyes are worth diddly squat.
The flow-on effect of this is an inability to see yourself everywhere you look.
During the 2017 Melbourne International Film Festival, I watched The Death and Life of Marsha P. Johnson with a non-binary transgender friend. As the end credits rolled and the cinema's lights faded up, hordes of mostly straight-, cisgender- and white-­presenting people walked by our seats, chatting about the film's plot, pacing and scriptwriting.
How has the unresolved murder of a pre-eminent black trans woman activist become a consumable artefact that is open to critique? More to the point, as I hopped off the tram and walked to my house later that night, two men threatened to follow me home in their car.
The physical will to erase transgender people that existed in the 1970s, which forms the basis for the film, is still a real experience for some people – yet it's mere entertainment for others.
Other related, recent mainstream films such as The Danish Girl and Stonewall are, at first glance, evidence of an interest in honouring the historical struggles of queer and transgender activists. But this mirage dissipates when you discover that these films were, in large part, directed and produced by, and promoted to, cisgender people.
While these films may seek to raise awareness about transgender histories, they often present fetishised versions of the past. The Danish Girl has been dismissed by transgender critics as a shallow account of Lili Elbe's gender transition in 1930, depicting her as materialistic, hysterically inconsolable and selfish, thus presenting the reclamation of her identity through the worst stereotypes of women.
Stonewall received an overwhelmingly negative response from the LGBT community for whitewashing history: it sidelined black and Latina trans women activists by positioning a young, white gay man who is not based on any historical figure as its protagonist.
Moreover, the practice of curating and disseminating transgender history, mostly for a cisgender audience, does not necessarily result in equitable or useful outcomes for the community it supposedly supports. The first (and only) study to examine the qualitative responses of transgender people to media representation of gender non-conformity – undertaken by Chani Wellborn in 2015 – found that, for five of its participants, their first exposure to transgender identities was in negative media portrayals, which formed a psychological roadblock to fully accepting themselves.
This form of symbolic violence is propagated in politics, too. In the US, the now-famously-titled 'bathroom bills' attempted to legally require transgender people to use the restroom corresponding to the gender they were assigned at birth. These pieces of legislation promote fear-based exclusionary thinking, resulting in the slogan "No men in women's bathrooms" – an inflammatory linguistic attempt to erase transgender women.
Conversely, the slogan "The future is female", used by feminists during the Women's March opposing the inauguration of now-president Donald Trump, was intended to invoke egalitarianism. But this empowering phrase – and its loaded history – nonetheless excludes trans people by reducing gender to rudimentary biological ideas about genitals or chromosomes.
This mentality exists here in Australia, too. During the International Women's Day rally in Melbourne earlier this year, a group of radical feminists carrying signage that read, "Transwomen are men and transmen are women", insulted a young transgender woman who was protesting their presence.
The group questioned her chromosomal make-up, addressing her with masculine pronouns and mocking her voice. As the incident was filmed, the incendiary signage was hidden so that the young woman's retaliations appeared unprovoked. This footage went viral on YouTube and Twitter, quickly accruing pages of transphobic commentary.
In this way, both right-wing and some feminist circles actively imagine a world where transgender people do not exist, sometimes consciously and sometimes unconsciously.
While the media doesn't always present accurate information – and can even promote harmful and divisive rhetoric – it makes sense to seek out the stories and opinions written by transgender people themselves.
I remember, when I was 16, I somehow found the blog of a non-binary trans person. They were an academic, writer and musician, and they posted their thoughts on transgender access to public space, everyday stories about their partner and pets, and quirky a cappella arrangements they had composed.
Stumbling upon this content suddenly turned the internet into a mirror that bent time: I could see my future self, reflected back at me.
It seems I've now naturally fallen into a role that many queer and gender-­diverse people fall into: that of informal researcher. We silently horde content – URLs, zines, ads, pamphlets, stickers, mp3s, books, posters – to build a personalised buffer, a kind of archive armour, between the self and the ­cis-hetero world.
Our ability to construct this type of armour is improving, as a number of new initiatives in archiving transgender histories emerge. The Digital Transgender Archive is the first accessible, global collection of documents relating to trans identities. The Canada-based international conference Moving Trans History Forward invites transgender and gender-non-conforming academics, writers, activists and archivists to discuss the cross-cultural preservation of gender-non-conforming histories.
The Melbourne-based film festival tilde and the San Francisco Transgender Film Festival curate new and diverse filmic productions, while the work of contemporary artists such as Spence Messih, Jes Fan, Jesse Darling and Jonah Groeneboer as well as filmmakers like Ester Martin Bergsmark and Wu Tsang offer nuanced and varied presentations of gender-non-normative subjectivities. In Hollywood, Laverne Cox and the Wachowski sisters are staking space for transgender voices.
Back at the library (that state archive I see as sick with erasure), I decide that because the process of searching yields limited results, I should move the archive – as a way to regain agency.
I create a print run of bookmarks featuring Evans' eyes, from the mugshots taken while he was held at the Kew mental asylum. I slip these into books held at the library, a gesture that brings a lesser-known history quietly to the attention of a public readership.
Each bookmark has a URL printed on it, leading readers to a letter addressed to Evans. In it, I tell him about how language has changed over time, how even the name of his home town has changed, and how people now use the word they (a gender-neutral alternative to he or she) so widely that it was elected 'Word of the Year' in 2015 by a panel of 200 American linguists.
I acknowledge Evans' documented silence – written accounts explain that he refused to speak in interviews, and that, when he did speak, he was cordial and concise. This information about his personality links us over time: both ordinary individuals, quiet and straightforward.
I think about a time when transgender people do not need symbolic artwork to assert our status as people with desires, behaviours and interests. I think of when we can be present in media as people with personalities, in the same ways that normatively gendered folks are.

Archie Barry is an artist and writer living on stolen Wurundjeri land. They work primarily in video and performance.
This article originally appeared in Archer Magazine #10, the HISTORY issue. SUBSCRIBE TO ARCHER MAGAZINE
<! -- WIDGET HERE FOR BUY ARCHER -->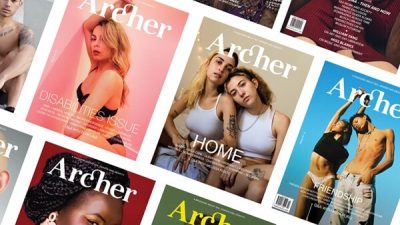 HELP KEEP ARCHER MAGAZINE AFLOAT!