Midsumma sessions: Challenge your queer thinking
By: Sabine Brix

We've pored over this year's Midsumma program to bring you a selection of events that seek to arouse debate and challenge our views on gender, sexuality and the body.
Word is Out
Melbourne queer bookstore Hares and Hyenas has a variety of launches, talks and performances over the course of the next month. More than you can poke a dildo at.
From M/M to mmm: Women Re-wiring gay sex
Author C.S. Pacat joins writers Clementine Ford and Jules Wilkinson in a discussion about man-on-man romance and erotica written by women and the world of 'slash' fan fiction. They will discuss why women love to write and read about gay male sex and relationships, the controversy over women using male pseudonyms and the developments in these genres both in publishing and fanfic communities. More info
Quinn Eades' book launch – All the Beginnings: A queer autobiography of the body
Quinn Eades is a researcher, writer and award-winning poet whose debut novel: All the beginnings: a queer autobiography of the body examines a life marked by both trauma and joy. Join Eades alongside Margaret Mayhem, Essie Thomas, Francesca Rundle-Short, Thomas O'Quinn James and Lily Sawenko.
as they delve into the depths of this poetic memoir. More info
Chilli and Spice, Curry or Rice? Part 2
The Australian LGBTIQ Multicultural Council presents a panel discussion with female speakers from a cross-section of the community to discuss a series of hypotheticals, tackling bisexuality, fetishisation and racism in relation to ethnicity and gender. More info
Censored Nudes
Artist Ross Walker is interested in whether conservatism on social media has gone too far. And he would know: Some of Walker's own paintings and photographs were removed from Facebook for being too provocative. It was this experience that helped to inspired Censored Nudes and prompted him to ask, why do images of flaccid penises have to be disallowed in public forums targeted at adults?
This is a good question, and also a perfect opportunity for Walker to create this collection of new paintings, limited edition prints and photography that celebrate the male form in all its glory. More info
Queer Identities
Queer Identities is a feature of the Queermance Writers' Festival and seeks to explore the experiences of the diverse identities that make up the wider queer community.
Join pansexual author Susan Beck as she hosts a chat about gender diversity, sexuality, asexuality and not always fitting in. Featuring Hespa, Park Ranger and Asexual Awareness Advocate, Amanda Marx, Genderfluid Poet, self described male femme Mark. More info
Breaking the Binary
Same-sex attracted and gender diverse theatre ensemble YGLAM explore the intricacies of authentic gender expression in a world that sometimes fails to remain open-minded. Devised by a group of LGBTIQ young people, Breaking the Binary comes straight from the horse's mouth and lays bare the realities of life for young gender diverse and non-binary people in today's Australia. More info
Midsumma Festival runs from 17 January until 7 Feb.
Sabine Brix is Archer's online content producer and a social media strategist for the Melbourne Documentary Film Festival. She is also a freelance writer and composer. Follow her on Twitter: @sabinebrix
<! -- WIDGET HERE FOR BUY ARCHER -->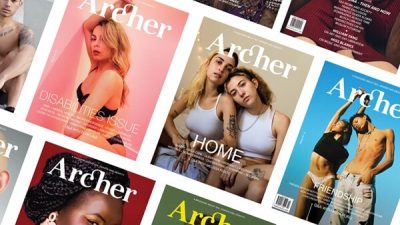 HELP KEEP ARCHER MAGAZINE AFLOAT!