Terms of transition
By: Eloise Brook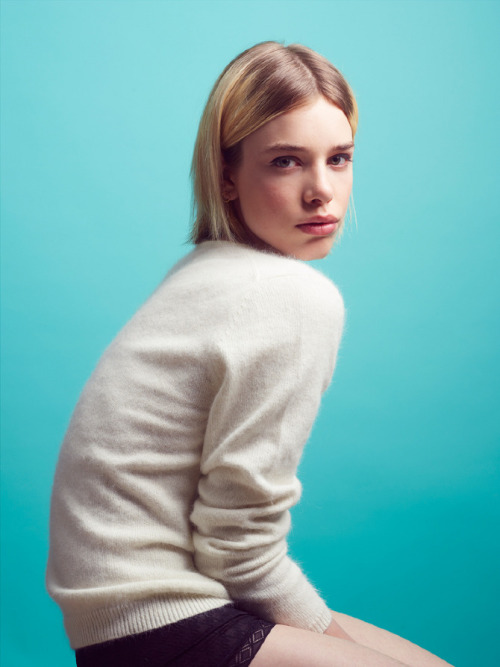 Transgender stories may be complex to tell, but they are crucial in filling the space around 'male' and 'female'.
Here's a concept that needs a word. I am walking my dog on the beach. It's cold and windy. Winter is here and the beach is sparsely populated, the way Melbourne beaches are during winter. A few people are here to watch and think, and there are as many dogs as humans. I'm here for the sea, and to throw the ball for my dog.
I throw like a girl now. If you were on that beach, watching me, this is what you'd see: my right arm goes high, my hand falls behind my head, my elbow points to the sky. I pull my elbow way back in the direction I have just come, then I snap it forward, whipping the ball over my head. I use my whole body so that I finish off on tip-toes, weight forward, slightly over-balanced, tracking ball and galloping dog down the beach.
The ball doesn't go far and to me, that's satisfying. But sometimes, if the beach is empty and no-one is watching, I throw the way boys throw. I do it to remember, and to delight in making my body do something powerful and unchecked. I do it to watch dog and ball fly.
In The Book of Laughter and Forgetting, author Milan Kundera talks about the Czech word litost. The term is not entirely translatable into English, but if you read Kundera this is what you get: litost means the humiliation that a young man feels when his lover swims the last stretch of a river without him. A strong, fit swimmer, she gives into the pleasure of her own strength, and leaves him to dog-paddle through resentment and self-pity, blaming everyone (his parents for making him weak, her for being cruel) but himself.
Throwing a ball on the beach, unobserved and unchecked, is a strange sort of litost. I am both swimming girl and floundering boy; I throw for the pleasure of my strength, and yet I am pained and resentful that something as simple as throwing a ball might anchor me to my past, to a gender I am not. I'm also fearful of what might happen if I am too unchecked in public.
There are other trans concepts that need words – concepts that can kill if they aren't given a means to be expressed. It is this narrative dysphoria, rather than gender dysphoria, that encapsulates a transgender person's struggle for understanding.
Gender dysphoria is a relatively straightforward concept. At its basic level, it describes the experience of a person who can't reconcile the gender assigned to them at birth. The experience of gender dysphoria is a bit like the experience of tinnitus: a constant, background whine; a nagging preoccupation insisting that the sum of your parts is less than the whole.
Like tinnitus, gender dysphoria is a symptom, not a condition. Because of this, it often goes away after gender transition.
The stories that transgender people tell about transition can help us make sense of our experiences. Many of these stories are beautiful and uplifting. In March, model Geena Rocero gave a powerful TED talk about the importance of visible transition. Similarly, in her coming-out article for People magazine in July, transgender model Andreja Pejic talks about the social responsibility of being open about transition.
These self-constructed stories are fundamentally important. The right words protect us, while the wrong words can be harmful. In this way, it is often narrative dysphoria, rather than gender dysphoria, that is a danger to trans lives.
In 1966, American doctor and academic Erwin Straus noted the "remarkable difference" in the throwing styles of boys and girls. He concluded that because girls as young as five were "throwing like girls", there must be an inherent biological difference between the sexes. He believed that the reason that girls throw differently from boys is not due to weakness or the restriction of anatomy, but because of an intrinsic "feminine essence".
In her 1978 essay Throwing Like A Girl, Iris Marion Young demolished this idea, pointing out that women in western society throw like girls not because of anything so vague as "feminine essence", but because throwing otherwise is considered unfeminine, and transgressive of society's expectations of female behaviour. According to this theory, gender is so rigidly policed in our society that it's more important to perform a gender role than it is to be competent, powerful or competitive. For appearance's sake, you are either male or you are female, and the idea of straddling the divide is still deeply confronting for most people, even to this day.
The space between male and female is a kind of narrative blind-spot. Take non-gender-specific Sydney-sider, Norrie May-Welby, whose recent High Court win to be legally considered neither male nor female has led to the recognition of a third gender category in Australia. Reading the reportage about the case was a new experience for many of us, not because there is mention of a third gender, but because journalists struggle to write naturally in the absence of gendered pronouns. The writer avoids referring directly to the subject of the article and creates a lack of gender-based context, a sort of narrative dead-zone that can have far reaching effects.
This confusion extends further than just journalists reporting on gender issues. It's everywhere in society at the moment, as we all struggle to come to terms with the way that rigid definitions of gender are being challenged and re-interpreted.
It's one thing to experience this in a piece of journalism. It's another thing to embody such a contradiction. And it's something else entirely to live with a sense of unease around the legitimacy of your own context.
These gender language dead-zones are where transpeople struggle and stall. This is not because our stories aren't true or valid, but because the space between male and female is still such dangerous, transgressive territory. These are the spaces that desperately need words and stories to fill them up.
As a transwoman – having transitioned from male to female – you live the life of a woman, embodying the gestures, attitudes, reflections and reactions that make up the performance of being a woman. But you also have the memories and experiences of your past, of performing as a male. This creates a clash in which something that you no longer are, that you never wanted to be, overlaps with your identity. It can be confusing and disorientating, especially when stories in the media always emphasise gender difference.
You see it in the way the media reports on beautiful, transcendent trans women (Andreja Pejic, Orange is the New Black actress Laverne Cox, RuPaul's Drag Race star Carmen Carrera) in reductive, it's-hard-to-believe-you-were-ever-a-man arrival stories.
You can see it in the way the media savages transwomen who challenge society's expectation of femaleness; how the media hounds transpeople to suicide, misgenders them, or paints them as freaks or deviants.
And sometimes you can see a strange kind of cultural colonisation that encapsulates the worst of both. This year's ABC telemovie Carlotta idolised the only female-presenting transwoman (played by a cisgender woman), while portraying her masculine best friend as an ambiguous alcoholic in a violent relationship, who is raped during a police raid and finally commits suicide. This kind of narrative is especially devastating. The Carlotta coming-of-age story then becomes a coming-of-gender story, erasing the first-person trans character as the heroine, and replacing her with society. Instead of a trans-focused narrative, we get modern liberal society as the hero, basking in its own tolerance, inclusivity and openness while leaving its representation of trans people as one-dimensional and unfulfilled.
This is the narrative dysphoria that transwomen in particular face. It is an echo chamber in which trans lives are drowned out in a cacophony of harmful media representation. Pass inspection as a woman, and the media will be as restrictive and reductive to you as any other woman, with the added pressure of being constantly presented as artificial. Be gender-ambiguous, however, or show any hint of masculinity, and the media may paint you as doomed, deviant, or delusional; an outcast, or an intruder.
These ambiguous spaces must be filled. The infinite world between male and female must be understood as a legitimate place to exist, and it isn't just trans people who need the restrictions of gender tradition removed. What does a child call a father with a female past? Where is the word for a woman who fathers children? What do we call a child whose gender is ambiguous? Or any gender non-conforming individual, for that matter?
Insisting on the truth of chromosomes, or restricting gender to its origin, is simplistic and ideological. Trans people have children. We have parents, siblings and partners. Man, woman, mother, father, boy, girl, she and he will all continue to evolve in meaning.
To this we must add our own rich, textured and nuanced narratives; stories that speak outside of the binary of male and female; stories that make old words new again, and change our understanding of what it means to be human.
Eloise Brook is a lecturer in Communications at Victoria University. Her writing has been published by The Conversation, Overland and The New Daily.
Photography by Siren Lauvdal. Model is Jakob Landvik.
This article was first published in Archer Magazine #3.
Subscribe to Archer here.
<! -- WIDGET HERE FOR BUY ARCHER -->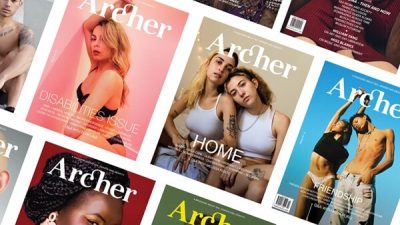 HELP KEEP ARCHER MAGAZINE AFLOAT!