Archer Magazine pulled from newsagent shelves
By: Archer Magazine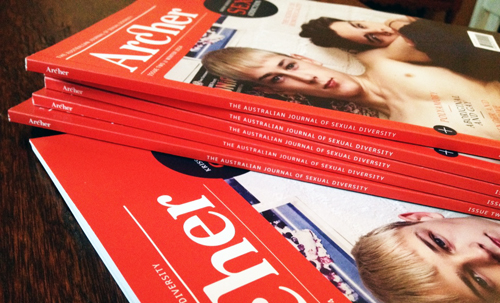 Last week, following a call from our distributor, it came to my attention that a handful of newsagents have refused to stock Archer in their stores.
A friend went looking for Archer's second issue in a Melbourne suburban newsagent, and found it had been hidden in a drawer, restricted from view due to its content.
Archer #2 contains one image of a naked transgender man. Another photo depicts a curl of pubic hair, photographed artfully, bathed in sunlight. The content is not explicit. The articles are intelligent, positive and inclusive.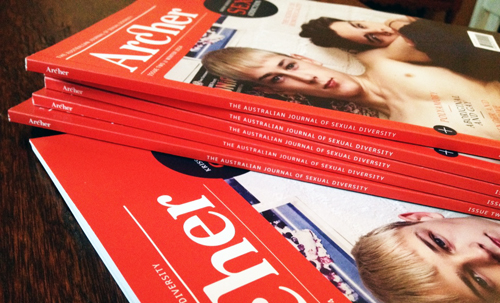 Archer is sent to newsagents in Queensland, New South Wales and Victoria by a commercial distributor. The reach is broad, covering urban and regional centres from Geelong to the Gold Coast.
However, newsagent owners can refuse to stock a magazine. When this happens, they rip off the front cover of each issue, and post it back to us. This already brutal practice is even more heartbreaking when the magazines have not received a shelf-life.
The newsagents in question, my distributor informed me, have not only deemed Archer inappropriate for sale, they also advised that future issues should be 'bagged' (wrapped in plastic), rather than open to viewing by the public.
My distributor says most newsagents are happy to stock Zoo, Penthouse and Playboy. These magazines are usually unbagged, and kept in full view of customers.
My first reaction was, "Great, we're pushing people's boundaries."
Then I thought harder.
It is written in Archer's manifesto that "all articles should be accessible and digestible for any Australian, regardless of their sexual orientation, upbringing or education." At Archer, we edit articles to ensure they are inclusive. We want our message – that sexuality is complex and worthy of discussion – to reach as many people as possible.
I thought about the sexual content found in the commercial titles those newsagents stock without a second thought. And I thought about the sexually diverse kids in those regional centres, whose knowledge of desire, sexuality and body image might now be restricted to those magazines.
Around the time we launched issue 2, an 18-year-old emailed us. Finding Archer had been a breakthrough for him: he grew up in a conservative family in a suburb outside of Melbourne. He knew he was gay. He hadn't told his family.
Before reading Archer, he hadn't realised just how common it is to experience diverse sexual attraction. It was an enormous relief for him because he knew, for the first time in his life, that he would eventually find his community.
If regional newsagents tear up copies of Archer, or stock it in the restricted section, the magazine's reach is cut off from an entire portion of Australians, who deserve the right to read about sexuality, in all its complexity, from an intelligent and positive perspective.
We encourage you to hit your local newsagents this week and ask for Archer Magazine. If it's in the restricted section, or hidden from view, let us know.
None of the content in Archer is unlawful. It isn't a pack of cigarettes – it's a window into a world where sex doesn't have to look like a PG-rated movie; where desire can be complicated, and where consent, acceptance and discussion are valued above all.
Help us keep that window open to all Australians, regardless of where they live.
See the full list of newsagents that stock Archer Magazine. Join the fight to #KeepArcherOnShelves.
Amy Middleton is the founding editor and publisher of Archer Magazine. Follow her on Twitter @Moodleton.
<! -- WIDGET HERE FOR BUY ARCHER -->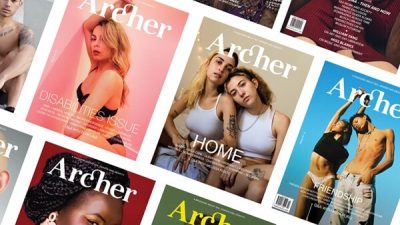 HELP KEEP ARCHER MAGAZINE AFLOAT!