The Matildas' lasting queer legacy: Green, gold and gay
By: Rach Mellerick
I grew up in Melbourne's outer-northern suburbs and attended a local Christian school. While this upbringing was full of opportunity, I never saw a pivotal part of myself reflected in the people around me.
I had no queer role models until I was old enough to seek them out myself. Even then, they were often YouTubers from the faraway land of America.
This was until I found the Matildas. I was 16 years old, wildly unpatriotic and largely uninterested in sport.
I couldn't quite grasp why I was suddenly so infatuated with our national women's football team – having grown up in a strictly AFL family, and never showing any interest in soccer.
The queer-shaped penny dropped a short while later.
This year, the Matildas competed in the FIFA Women's World Cup, which took place in Australia and Aotearoa for the very first time.
Matildas fever caught on early in their campaign. Stadiums were selling out across the continent, starting with the opening match on 20 July. As the Matildas progressed through the World Cup, so did their record-breaking reach.
The semi-final, which pitted the Matildas against England, was the most watched TV event in Australian history, garnering 11.15 million viewers.
Historically, women's sports have struggled to gain support, due to a lack of funding and resources, and the general patriarchal structures that be.
Just eight years ago, each Matildas player received a whopping $750 for making it to the quarter finals of the 2015 FIFA Women's World Cup. Fast forward to this year, the support and viewership has been unprecedented.
So, how is it that our Matildas were able to grab the public's attention? 
Firstly, Australia has never seen a World Cup on home soil. Hosting the tournament inevitably boosts its accessibility and visibility; fans can attend or watch it on TV at a reasonable time.
On top of this, Australia was understandably excited to watch a national sporting team see such success. 
But is there more to it?
When it comes to Aussie Rules, the lack of open discussions about queerness in men's AFL undoubtedly speaks to the culture surrounding the sport. This culture is present in media reporting, fan behaviour and the game at a grassroots level.
For example, a 2019 study from Stand Up Events found that a staggering 73% of male teenage Aussie Rules players reported hearing their teammates use homophobic slurs over a month-long period. 
Gill McLachlan, AFL CEO confirmed in April that there were several gay AFL players out to their teams. He suggested that they likely didn't want to carry the "burden" that would come with being the "first" player to come out to the media.
In other professional Australian sports, it's constantly felt like one step forward and one step back.
In 2019, Rugby player Israel Folau made horrific homophobic statements that saw his Wallabies contract end. In 2021, Joshua Cavallo became Australia's first (and only) professional male soccer player to come out, attracting both support and vile homophobia online. 
In 2022, seven Manly Sea Eagles players opted out of a game to avoid wearing their club's inaugural pride jersey. That same year, basketballer Isaac Humphries became the NBL's first openly gay player.
We have seen progress over the development of the very queer AFLW, as well as some respected former players speaking in support of LGBTQ+ players, and through the introduction of pride rounds in the men's game. However, open discussions about queerness on the elite Australian sporting stage still feels like somewhat of an anomaly.
But then, this year, the public turned their eyes to the Matildas.
The Matildas were unofficially named the gayest team of the 32 teams who participated in the FIFA Women's World Cup: 13 of the 23-player squad are openly queer.
With record-breaking numbers of viewers watching, the Matildas celebrated their wins with their queer partners and families post-game. Some even found themselves in the centre of cross-country lesbian drama (head to TikTok for that – there's simply too much to break down here).
But while women's sports do see more openly queer players and far less homophobia (roughly half the level reported in men's sports), this World Cup hasn't come without its challenges.
FIFA, the governing body of international football, seemingly made clear their stance on LGBTQ+ rights during the 2022 Men's World Cup.
When it was decided the tournament would be held in Qatar, a country where homosexuality is criminalised, many questioned how FIFA would protect and support LGBTQ+ players, staff and fans.
A Qatari government official confirmed all were welcome to attend the event, but FIFA president Gianni Infantino instead encouraged football associations to put political issues aside and "let football take the stage".
In response to Qatar's anti-LGBTQ+ laws, the captains of several European nations elected to wear 'one love' armbands to demonstrate their support of the queer community. Days before the tournament, FIFA effectively banned these armbands, threatening that players who elected to wear them would receive a yellow card minimum penalty.
Alongside FIFA's actions, the Matildas' open queerness has led to claims of a 'lesbian mafia' behind the sacking of a previous coach, as well as homophobic comments left on players' social media.
While the ban on the 'one love' armband remained for this Women's World Cup, the Matildas are thankfully gay enough without it.
The team consistently represent their values through other actions, such as having the progress flag always on display in training rooms.
Their athleticism may be unrelatable to many of us, but the Matildas' down-to-earth, dedicated and compassionate team nature is attractive to those put off by the toxic masculinity of many elite male sports.
Through just being themselves, the Matildas managed to make space for people who never saw football – or maybe sport at all – as a place for us.
The Matildas invited queer people in, showing us we can play and enjoy watching sport. We can even engage in sports banter, ranting to disinterested parties about last night's game – just like I did to any customer at my retail job who dared to show interest in my Matildas jersey.
The level of support and adoration shown to a team with so many queer women has been monumental.
This is a time when queers and parents of queer children can pick up a newspaper with Sam Kerr on the cover: a queer woman of colour who has undoubtedly solidified her reputation as one of the best soccer players in the world.
Hopefully, kids and up-and-coming athletes can now be filled with pride when playing soccer, instead of worrying they'll be teased.
It's hard to envision how the Matildas may have shaped my own childhood, had I found them earlier.
I can say that as a young adult, they have inspired me to play sport and to become more involved in my community. They've made me starry-eyed for the future of Australian sport. 
Never in my 16-year-old-Caitlin-Foord-filled dreams could I have imagined that I would watch Australia v Denmark in a packed-out queer bar in Brunswick.
Nor did I imagine attending the semi-final with 75,000 others and with my girlfriend, who I met at the previous Women's World Cup in 2019.
Regardless of their loss in the 2023 semi-final, in these queer eyes, the Matildas won.
Want more queer soccer?
Support the A-league Women
22-round season, with Round 1 commencing 14 October.
Memberships for most teams under $100 – use the link here to find your team.
Next Matildas matches in Australia
The Matildas have three upcoming games in Perth. They will happen 26 October – 1 November for the Paris Olympics Asian Qualifiers.
Watch our Matildas abroad
A lot of the Matildas are in international squads, find your faves here!
Rach is an environmental conservation educator living on Wurundjeri land. They are an avid sports watcher & a professional queer. Find Rach on Instagram @yeah.ihaveaforester.
<! -- WIDGET HERE FOR BUY ARCHER -->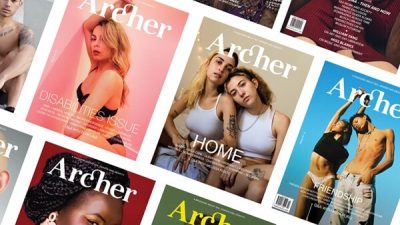 HELP KEEP ARCHER MAGAZINE AFLOAT!