Camping without the kids: Travelling solo as a queer mum
By: Lisa Habermann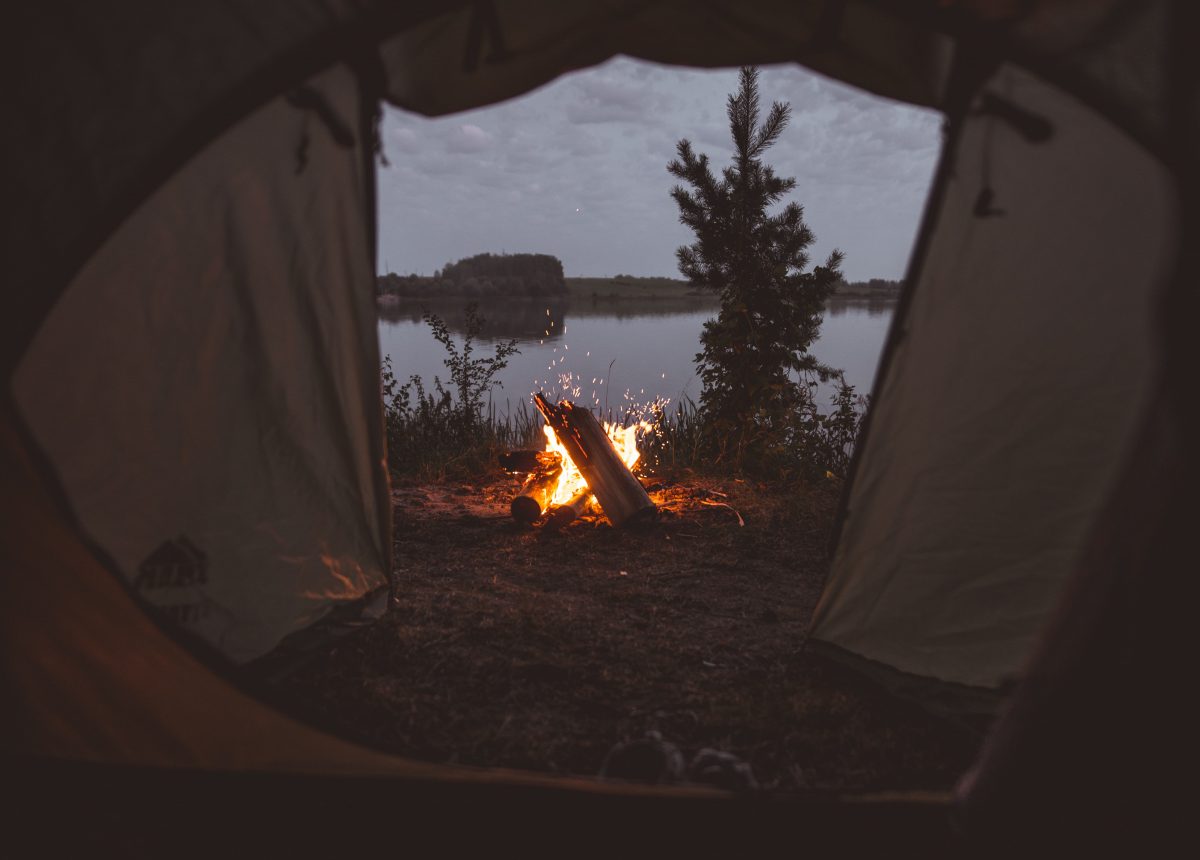 As a single mum for the last 16 years, summers with my kids were pretty much like those of many other divorced parents: awkward end of school concerts, Christmas across two households, and a holiday split in two. When the kids were with me, they would bundle into the car and trailer combo, and we would head to a seaside camping destination.
This year was the first time that the kids were no longer at school. Being young adults, they had things of their own to do, and so I decided that I too would take advantage of the mid-summer break. The world—well, Victoria—was my oyster.
I'm no stranger to solo travel. Pre-kids and as a student, I travelled up and down the east coast.
I spent a whole week driving around Tasmania, staying at backpackers and meeting intriguing individuals along the way. When the kids were young and on holidays with their Dad, I was even lucky enough to travel to India (but unlucky enough to get Giardia and to spend most of my time in close proximity to a toilet bowl).
This year, with a bit of that experience behind me, I set forth with initial plans to visit a mate on the NSW Sapphire Coast and to camp along the way. But, when the borders snapped shut, I decided to stay strictly on the Victorian side.
I figured I'd push it as far as I could and travelled to Marlo, about an hour down the coast from Mallacoota. Armed with a fourteen-year-old nylon tent, my son's old camping chair, a little gas burner, and a lesbian memoir from the library, I bravely set forth to two holiday camp sites chock full of families, kids, and dogs.
But would I be comfortable? Would I look and feel out of place? Sans kidlets or a partner, did I have any right to be there? Did I really want to be there?
"Will anyone talk to you?" my sister, married to a man with a kid at home and a dog, had asked.
"Of course," I replied. "Have you ever known me not to talk?"
I was hardly a social outcast. Not married? Sure. Kids no longer hanging with Mum? No problem.
I was looking forward to solo camping with nothing but a book about a lesbian in a psych ward and bottle of low-alcohol champagne. The book was great and the champagne was delicious. I knew it would taste even better with a view of the sunset from under a gum tree.
Surely not all of the happily marrieds I would encounter in the campground could be straight. And, even if they were, would it matter? I'd had heaps of fun camping with my kids when they were young.
Did it matter that I wasn't married, and now didn't have younger kids or a dog to bring along? I only had three backyard chooks, and I could hardly take them camping.
I could have stayed home. I could have enjoyed more queer memoirs in the shade of a tree, swum in bodies of water closer to home, and caught up with a friend for a refreshing beverage and a cheese platter. Instead, I decided to press on and attend my two unpowered camp sites.
"One person?" the receptionist at the holiday park said when I first rang to book.
"Yep," I responded. "That's me."
"OK, well, we'll put you in as a tentative booking."
"But I'm definitely coming," I said.
A small pause at the end of the line.
"Let's start with tentative and go from there."
Luckily, when the borders closed, I was upgraded to a permanent booking and a deposit. Whoo hoo! I thought. I've made the cut.
I was trepidatious arriving at holiday park number one for my first night. I was warned that the park would be full and that the tent site was next to a main road, so quiet sleeping may not be possible.
On arrival, I saw some totem tennis poles – my daughter's favourite summer game as a six-year-old – embedded in the lawn in the circular grass area near reception. I took that as a good omen.
When my daughter was six, she broke her leg at the start of summer. She was too little for crutches—centre of gravity and all—so we played totem tennis with her in a wheelchair. Each game culminated with us chasing her brother around the backyard, bumping over tree roots and laughing so hard we nearly wet our pants. These are great memories of a difficult time.
My site at camping locale number one was under a big tree with a vacant possie next to me. Two guys in a 1963 Ford Fairlane convertible were parked in the vacant spot.
"Hello. Nice car," I said admiring the powder blue beauty. They nodded.
"Would you mind moving it so I don't hit it? I have a history of backing into things."
My new friends promptly moved their collectible automobile, giving me a big wave when they later drove off.
At the start of the summer, I'd listened to the audio book version of Queer Intentions by UK journalist Amelia Abraham.
This is Abraham's take on queer lives: they burn hard and fast. Big parades, big love, big bust-ups. You can't expect straight and staid to naturally grow out of that, all the time, every time.
I had never thought of it that way. I wasn't straight, I was queer. I loved being queer, and I burned bright! What was the point of comparing myself to people who didn't live in the same world as me?
And so, I stopped doing it. I stopped comparing myself to straight people and concentrated on being me. I focused on having fun and doing what I do best: enjoying the moment.
I chatted to the randoms who crossed my path, floated like a starfish at the beach, and read my book under a tree as dark clouds rolled in. By the time I got to the second holiday park, the predicted thunderstorm's even darker clouds were crowding the sky. Fat droplets started to fall, and I knew I had to get my tent up quick.
But I was expecting a little too much of the fourteen- year-old elasticised sticks to continue with their stretch and support, and they slowly started to fall apart. My formerly impressive tent building skills also fell into rapid decline as I Meccano-ed my way to the erection stage.
It was at this point that my neighbours, two inner city women, decided to chip in and cheer me on. Soon, the job was done.
Later that day, I met a mum and three pre-teen boys. We chatted in the BBQ hut as we made dinner, water teeming down around us.
One of my other neighbours, a family man who was part of a caravan of caravans, also started to chat. He asked me to move my car this time, because he really wasn't a camper and couldn't manoeuvre his borrowed pop-up van.
"Are you here with family?" I asked, indicating the two other groups who had already set up camp.
"Um… With the missus and kid," he said coyly, indicating his wife who was watching us talking. I smiled and gave a friendly nod.
The rest of my time was spent surrounded by friendly faces until the constant rain, my sodden tent and deflated mattress, and the cold hard ground got the better of me. I packed up camp one morning before anyone awoke.
"Goodbye, my new friends," I said quietly as I drove away. "Leave nothing but memories."
Then it was my turn to give them a little wave, and to continue on my gay way.
Lisa Habermann is a writer and memoir coach who lives with her three chooks in the foothills of the Dandenong Ranges in Melbourne. With an interest in screenwriting and life writing, she's an advocate for later-in-life lesbians and queer storytelling. Find her on Twitter, Instagram, and Facebook.
<! -- WIDGET HERE FOR BUY ARCHER -->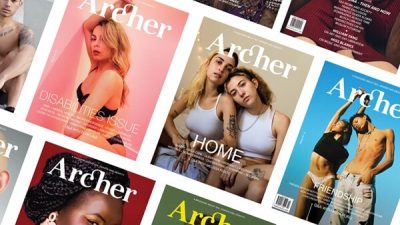 HELP KEEP ARCHER MAGAZINE AFLOAT!