Catching the light: Reclaiming opera as a trans Arab
By: Zeyn Joukhadar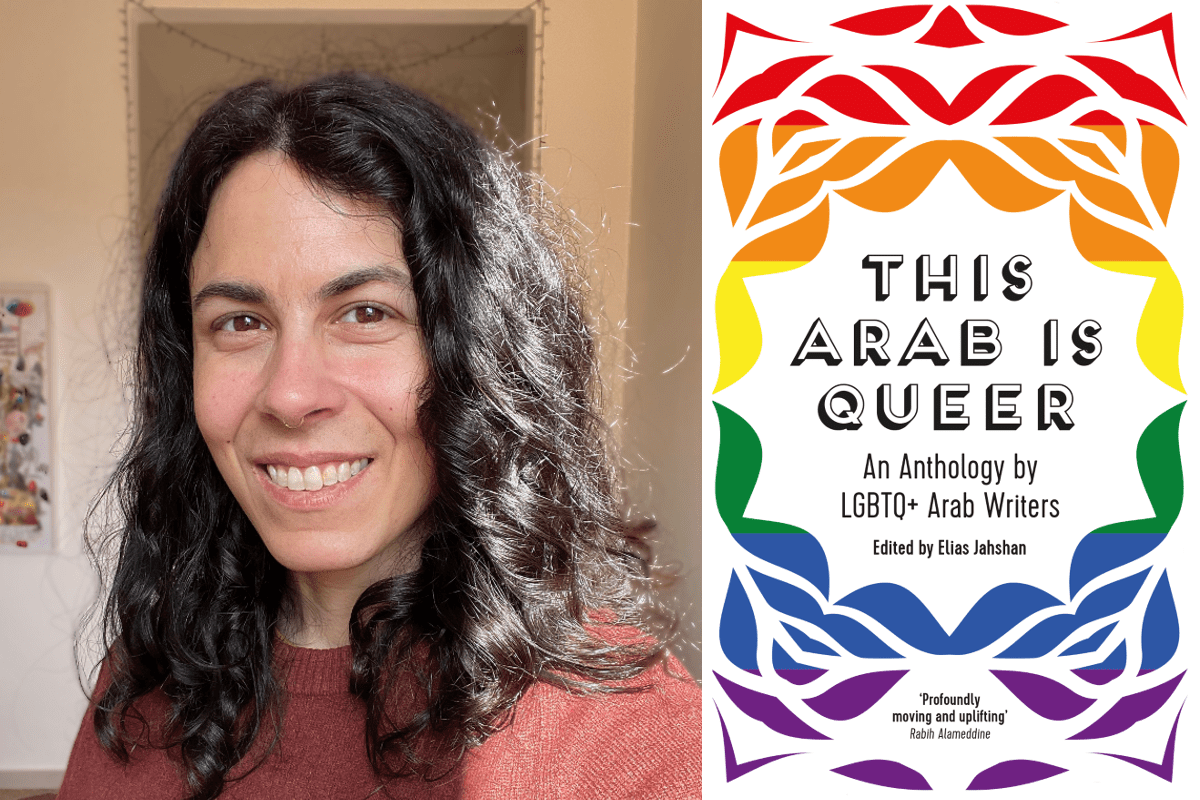 This is an edited excerpt from This Arab is Queer, edited by Elias Jahshan, is available to buy now online and in all good bookstores. Publisher: Saqi Books.
Under the stage lights, performing femme made me die a little inside. You could tell I'd left my body when I had to play ingénue. I didn't expect you to be so rigid, directors would tell me after auditions.
On YouTube, that high chin and those heels are haughty and self-assured, but you can tell, if you know me, that I'm stuffing down a particular feeling, an enraged sadness. Like I might open my mouth and yell 'Fire!'
While I was growing up in New York City and, later, in Connecticut, music was always more for an audience than it was for us. My sister and I knew when company were coming by the click of my dad's hi-fi, the whirring to life of its wheels, the plaintive cry of violins.
Tchaikovsky and Chopin signified the kind of family we were supposed to be. You had to yank open the CD-stuffed drawer, and that made all the china in the breakfront rattle, so we didn't touch it. After the guests left, my father would unleash his private angers on us, and there was no music.
Opera signified culture and respectability because it belonged to white people. Back when I sang semi-professionally, opera meant performances with rules: medium heel, black skirt, thin blouses in freezing venues.
Winter was high season: school holiday concerts, Christmas services, winter weddings. Music directors would hand me a photocopied aria, and I would sight-read it. I learned my first archaic Italian at a music stand, my voice teacher correcting my pronunciation. To watch a whole opera, though, performed live? We never had the money for that.
When white people gushed about operas, I pretended I'd seen them, pretended that taking a cushy theater seat in a pashmina was part of my cultural context. I didn't know 'Opera'; I knew fragments of operas I'd been taught to sing.
Onstage, I was a class imposter; at times, a racialised trespasser.
By the time I started studying opera at fourteen, I'd been singing in my mom's church for several years. After my dad died when I was in elementary school, my mom gave us children's Bibles, had us baptised, and sent us to the children's choir.
Neither of my parents had been religious before my dad died. My mom had read to us, once, from the Book of Revelation, for its angels and beasts. My dad had never taught us how to pray: my teta's sajadah was draped over a piano bench.
I disliked singing in church because white people always wanted an explanation for my presence, both as a child and an adult. A church music director in Massachusetts once tittered at how my name 'sounded like a sneeze'; people would brag about my Arabness and my Muslim father as though their churches had saved me from myself.
I often felt that music stole as much as it gave me in my teens and twenties. Singing in choir lofts, something clambered into my body while I trumpeted the high notes over the organ, an eerie presence heaving me out of my skin.
An angel, people used to exclaim afterward, damp-eyed, it was like an angel singing, as though divine decree had thrust me to the side and hinged open my mouth.
Shortly after puberty, I entered a permanent state of dissociation and remained there for nearly twenty years. During that time, my voice was my one consolation for being forced to live in my exhausting body. Singing was the one embodied act that imparted real, but also painful, joy.
Years later, after a single week on testosterone, my Italian partner and I will come into my in-laws' living room as they watch a live performance on the RAI, the national public broadcasting company of Italy, of Verdi's La traviata.
Cuban American soprano Lisette Oropesa's Violetta, a sex worker, is about to receive an ill-fated visit from her lover's father, Germont, played by baritone Roberto Frontali. He will demand that she end her relationship with his son. Violetta will not be expecting him. She will enter the house fresh off a horse, wearing men's pants, riding boots and cloak, her moral transgressions signified by her gender nonconformity.
Her lover's father will try to convince her that his son will grow tired of her, that she is not the kind of person a man could love. Germont sings:
Un dì, quando le veneri
Il tempo avrà fugate,
Fia presto il tedio a sorgere –
Che sarà allor?
One day, when your charms
Have been put to flight by time,
Boredom will be quick to rise –
What will happen then?
I knew – there was no escaping it – that soon my voice would drop and deepen. People I loved had begun pre-emptively mourning my voice, the one they'd heard floating up from the backs of churches and drifting out of the shower. Maybe my voice hadn't felt as if it belonged to me, but it was one of the only things about me that other people deemed worthy.
The truth is I never really loved opera for its own sake. I didn't study sacred music to outrun God or my father. I sang opera because my father repeatedly forced me, as a child, to confess my own worthlessness, and I thought if I could belt out those songs hard enough, it would dislodge the knot of condemnation.
Like many queer children, deep down I knew my existence was a transgression, that if I lived long enough I, too, would be asked to step aside for someone else's respectable happiness.
But oh, when I sang, my voice, at least, freed itself. My voice could fill a room and people listened. I spent so much of my life clamouring to be heard. When I sang, I entranced them all. When I sang, I was extraordinary.
If I had known about Rossini's Aureliano in Palmira as a teenager, I probably would have hated it. Though Aureliano deals with the life of the Syrian queen Zenobia, the work isn't even primarily about her, but about two men fighting over her affections.
On the stage of La Scala in 1813, Rossini transformed Zenobia from the ruler of Palmyra rebelling against Roman rule to a woman more concerned with saving her lover than her people; all so that, in the final scene, Aureliano can show mercy on the lovers, and they will sing a song to praise Roman rule.
Rossini's opera twists the warrior Zenobia described in the stories of the scholar and historian al-Tabari – the same Zenobia who supposedly refused marriage by showing her suitor her astonishingly long pubic hair – into a figure Europeans could accept as an appropriately grateful, heterosexual woman.
In a 2011 recording of Aureliano at the Festival della Valle d'Itria in Martina Franca, the duet between Zenobia and her lover Arsace, 'Se tu m'ami, O mia regina' ('If you love me, oh my queen'), is sung by Argentinian countertenor Franco Fagioli and Cuban-born coloratura soprano Maria Aleida, both wearing white.
Fagioli wears a thobe with an agal and white ghutra; Aleida dons a white abaya with gold embroidery and bell sleeves. The cast's ambiguously styled hoods and embroidered necklines veer, at times, uncomfortably close to Renaissance-Faire territory. But the countertenor – he opens his mouth and angels fly out.
If you aren't familiar with the sound of a countertenor, you might mistake one for a soprano. In fact Arsace, Zenobia's lover, is a travesti role, originally written for the famous castrato Giovanni Battista Velluti.
Italian opera is full of these roles: men sung by high voices, women sung by low voices. In Handel and Mozart we sometimes see mezzo-sopranos cast in roles originally written for castrati; then there are male roles specifically written for mezzos, such as Cherubino in Mozart's Le nozze di Figaro, Octavian in Strauss's Der Rosenkavalier, or Romeo in Bellini's Capuletti e Montecchi.
Soprano travesti roles, or breeches roles, were mostly young men or boy characters, and you often don't have to dig deep to find queer undertones.
Just take the erotic charge in Figaro's 'Non più andrai, farfallone amoroso' ('Never again will you go, amorous dandy [literally: big butterfly]') when Count Almaviva, a baritone, admonishes the young page Cherubino for flirting with the ladies of the court, tearing the fancy clothes from his body one at a time.
I was never asked to sing Cherubino's arias, but Susanna's. I stood under spotlights and willed myself into the body of an eighteenth-century Italian woman, singing coquettishly in the garden to make Figaro jealous. (Sometimes, even as a teenager, I was paid for it.)
I learned fierce femme on the recital stage because camp was my only defence against forced femininity. I couldn't escape it, so I made it queer.
Under the lights with painted face and a sweater slipped down over the bone of each shoulder, I learned how to wrest a kind of power from the people in the front row, secretly taking each performance as far as I could bear. The audience didn't know how low my speaking voice was; they knew nothing of the teachers who told me I should not only sing but speak in a higher register.
Back then, I could step on stage and be the thing they wanted. I could be invisible, and only I would be in on the joke.
Later, when I am on testosterone, no one will warn me that the enlargement of the vocal cords can hurt even as it heals. I'll learn new arias as a baritone, and the timbre and the pronouns will be bewilderingly different.
I will know I am alive to myself when masculinising the lover's pronouns in an aria brings on first shock, then pleasure, then the flush of shame.
There are a great many Orientalist operas: Mozart's Die Entführung aus dem Serail, Bishop's Aladdin, Rossini's Il turco in Italia, Semiramide and L'italiana in Algeri.
In this last, The Italian Girl in Algiers, the role of Bey Mustafà is written for a bass to suggest aggressive, racialised sexuality. High voices are generally reserved for the lovers and the heroes; low voices are mostly reserved for the powerful, the brown and the villainous – those the audience is made to fear.
In a 2003 issue of the Italian magazine, The Classic Voice: Opera, Bruno Cagli writes of the final scene in The Italian Girl in Algiers where Mustafà – a role often played in brownface – loses his senses over food, drink and beautiful women:
'A scene so well contrived introduces better than anything could […] the departure toward the shores of the [Italian] fatherland […] where intellect and art triumph to lead things rationally.'1
The opera's plot follows a cast of Italian characters who outsmart the hedonistic, hypersexual Orient, with Mustafà written as a foil for European moral superiority to conquer. As music scholar Nasser al-Taee writes, 'only a Western hero possesses the courage and the moral values to […] liberate the Orient and its people from their tyrannical and corrupt system'.2
I'd like to say this has nothing to do with me, except that I've never read Orlando because Virginia Woolf, too, donned blackface, called herself Abyssinian as a joke and established Orlando's gender by his aspiring to do violence against Black and brown people:
'He – for there could be no doubt of his sex, though the fashion of the time did something to disguise it – was in the act of slicing at the head of a Moor which swung from the rafters.'3
Because the cisgender binary is an invention of white supremacy, white bodies are the only 'correctly' gendered bodies within the logic of whiteness – all other bodies are foils.
I've discovered on my skin that the trappings of Western masculinity invoke whiteness by design. Button-down shirts; boots once worn by the British to colonise my ancestors; expectations of a certain kind of corporate-friendly haircut.
Power structures and their gatekeepers so often conceive of transness, as Susan Stryker and Paisley Currah put it in the introduction to the 'Decolonizing the Transgender Imaginary' issue of Transgender Studies Quarterly, as 'points on a map whose prime meridian runs through the United States, whose road signs are in English, whose background color is white,'4 with damaging and deadly results for trans people who do not conform to this strict grid.
There is a link I've been trying to articulate between how I am gendered and how I am racialised. The best way I can express it is as a kind of constant failing: failure to conform to whiteness, failure to conform to the gender binary.
How, though, to explain the way whiteness tried to swallow me when I expressed masculinity in a body read as female, then spat me out once I began to express femininity in a body read as male?
The femmeness I express in my new embodiment, since starting testosterone, is perceived as less white and more dangerous, and thus received with more violence, than when people perceived me as a butch woman.
I feel it's important to say that I cannot pretend to see or understand the full scope and history of people's perception of me, or how they will perceive me in the future. For now, though, I think often of what Jasbir K. Puar writes in Terrorist Assemblages of 'the queer terrorist': 'terrorist masculinity [is] failed and perverse, [and] these emasculated bodies always have femininity as their reference point of malfunction'.5
The more my masculinity is perceived, the more I am condemned, as a queer gender-nonconforming Arab, for failing at it.
I need language to shape this into something I can carry with me, like a sharpened tooth. For so long, even the language I had for myself displaced me towards the territory of whiteness.
When I first came out, I didn't know about the queer collective Mujadarra Grrls, their magazine Bint el Nas, or  مثلية، مثلي، مزدوج/ة، مغاير/ة – مممم  as an alternative to LGBT.6
At first I didn't even have queer, even if in queer I was already an outsider, a Western invention. I did not always find in that word enough room to talk about a free Palestine, to talk about my trauma and my father's without white saviourhood using it against me, to talk about brownface at the Metropolitan Opera as recently as 2020.
In opera, a performer must be transparent enough to allow the audience to see what they expect to see. The singer is the vessel, and the role itself is determined by signifiers: boys in pants and short hair, rich ladies in pearls, the poor in patches, and – though Paris Opera staff forced a Muslim woman who was wearing a face covering to leave a performance of La traviata in 2014 – Muslim women are uniformly signified by their veils.
The gaze can move in only one direction. There are rules about who gets to look, and what they are supposed to see.
Of opera director Giuseppe Sarti's use of costume in performances for non-Italian speaking audiences in the eighteenth century, scholar Christine Jeanneret writes, 'apparel is a visual performance that shapes identity by signaling rank, status and taste, in addition to presenting a narrative about the body inhabiting it … clothing is a "body technology" that functions as an identity marker, creating a "visible self"'.7
On the stage of the Western imaginary, Zenobia does not reveal her hairy body. Russian bass Ildar Abdrazakov dons black chest and back wigs to play Mustafà and plays a caricature reviewers will describe as veering uncomfortably close to brownface.8
If critics find themselves able to laugh at such a caricature, it's only because it touches on a narrative still very much alive in Western imaginations. European colonisers once wrote about the perverse Orient, the tyrannical Orient, the Orient that needed to be saved from itself, and in the United States and in Europe – I am already bored of writing it – white people condescend to congratulate me that I am finally safe.
Today, I have music videos on YouTube, Instagram feeds and TikToks, but child-me never saw the glory of a Buraq tattoo arcing its way across a trans friend's skin, or dreamed of celebrating top surgery scars over Zoom with a fellow trans Arab.
For younger me, growing up in NYC and, later, its distant suburbs, it was impossible to miss what society thought about queers of colour and/or trans people, impossible, even, to talk about them out loud. The first time I saw another trans Arab post a thirst trap in eyeliner and velvet, I cried for days.
I know, I know: I'm supposed to tell a story with me in the centre, but I'm not at its heart.
The heart of this story is a karaoke booth in LA's Koreatown where four queer Arabs are belting Queen at the top of our lungs.
The heart of this story is the balcony of my friend's Beirut apartment with its orange kitchen, the dance party in Hamra with the hanging net of rose petals and the white VW Beetle with its hood stuffed with flowers.
It is crockpot maqluba in the home of a trans friend. It is the afterparty at RAWIFest, Nour Ballout's photographs of me three months after top surgery, a roundtable of trans Arab writers organised by Ahimsa Timoteo Bodhrán for Sinister Wisdom. It is me trembling as I write the foreword to Mizna's Queer + Trans Voices issue during the first summer of the pandemic.
It is changing outfits every ten minutes in the glow of the Zoom screen during the Mizna x RAWI Hafleh I co-hosted with fellow queer Arab American writer Fargo Tbakhi from a cramped corner of my apartment, dancing on my desk chair in red lipstick and a bralette in creamsicle lace.
It is a hot tub at Wi Spa where I am spun by the hands of friends on the night of a Pisces full moon as we cry out to the universe to be healed.
In the music video for Khansa x Zahzah's song 'Khayef ' ('Afraid'), directed by Mohamed Sabbah, two dancers enter a living room before an assembly of elders, dressed in outfits that transgress gender: a smooth-faced, long-haired dancer in a white men's shirt and black sneakers, the other with shaved head, berry lipstick, pearl collar and a crisp shirt over a pair of boxers.
Family lower their eyes in dismay, or cover them. The title of Muhammad Abdul Wahab's original is ' جايف أقول اللي في قلبي ' (I'm afraid to say what's in my heart). The dancers place their bodies in front of these eyes. The music is not for the audience, but for them.
Before Rossini wrote Aureliano in Palmira, before Britain and France criminalised homosexuality in Southwest Asia and North Africa, well before the Egyptian Ministry of Culture burned 6,000 copies of Abu Nuwas's poetry at the dawn of the new millennium over his homoerotic verses, SWANA peoples of all genders adorned themselves and danced.
It is often still easier, lining my eyes in black or fumbling the post of an earring into my ear, to repeat the word queer like a mantra than it is to allow the words خوال or مثلي to rise, like questions.
I was taught as a child that society shames those who adorn themselves. We are shamed for making ourselves objects of desire because the world loves to rain violence on the heads of femmes.
Is it such a crime to be wanted?
I would rather tell you how I learned to catch the light. Watch me drape coins and pearls over the black hair on my belly, wrap my veined arms in lace, paint my eyes for the mirror.
The first and only time I tried to run away from home, my father beat me because I had ruined, as he said, his reputation. I did not know the word. Now I know, too, of عيب. I know the sting of it on the flesh.
I also know the sweetness of its smoke, how its song rings in the throat, how to tilt the head back and open the mouth, how to let the first note blaze out.
Footnotes:
1 Bruno Cagli, The Classic Voice: Opera, vol. 12, W.W.S. Publishing, 2003.
2 Nasser Al-Taee, Representations of the Orient in Western Music: Violence and Sensuality, Routledge, 2016.
3 Virgina Woolf, Orlando, Penguin Classic, 2006.
4 Susan Stryker and Paisley Currah, in Transgender Studies Quarterly: Decolonizing the Transgender Imaginary, vol. 9, no. 1, Duke University Press, 2014.
5 Jasbir K. Puar, Terrorist Assemblages: Homonationalism in Queer Times, Duke University Press, 2017.
6 See Gabriel Semerene, Bint el Nas: Muqadeema/Introductions, issue 10, 2003 and 'The Words to Say it', Mashallah News, July 2020.
7 Christine Jeanneret, 'Costumes and Cosmopolitanism: Italian Opera in the North', Cambridge Opera Journal, vol. 32, no. 1, 2020.
8 Corinna da Fonseca-Wollheim, 'Review: 'L'Italiana in Algeri,' a Comedy With Coloratura and Pasta', New York Times, October 2016.
Zeyn Joukhadar is the author of the novels The Thirty Names of Night, which won the Lambda Literary Award and the Stonewall Book Award, and The Map of Salt and Stars, which won the Middle East Book Award and was a Goodreads Choice Awards and Wilbur Smith Adventure Writing Prize finalist. His work has appeared or is forthcoming in Electric Literature, Salon, The Paris Review, [PANK], and elsewhere and has been included in anthologies such as Kink, Letters to a Writer of Color, and others. He has been twice nominated for the Pushcart Prize. Joukhadar guest edited Mizna's 2020 Queer + Trans Voices issue, serves on the board of the Radius of Arab American Writers (RAWI), and mentors emerging writers of color with the Periplus Collective.
This Queer is Arab is a ground-breaking anthology featuring the compelling and courageous memoirs of eighteen queer Arab writers – some internationally bestselling, others using pseudonyms. Here, we find heart-warming connections and moments of celebration alongside essays exploring the challenges of being LGBTQ+ and Arab.
From a military base in the Gulf to loving whispers caught between the bedsheets; and from touring overseas as a drag queen to a concert in Cairo where the rainbow flag was raised to a crowd of thousands, this collection celebrates the true colours of a vibrant Arab queer experience.
This is an edited excerpt from This Arab is Queer, edited by Elias Jahshan, is available to buy now online and in all good bookstores. Publisher: Saqi Books.
<! -- WIDGET HERE FOR BUY ARCHER -->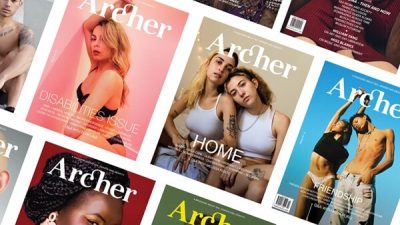 HELP KEEP ARCHER MAGAZINE AFLOAT!