'The L Word: Generation Q' S303: "I'm looking for The One"
By: Jess Ison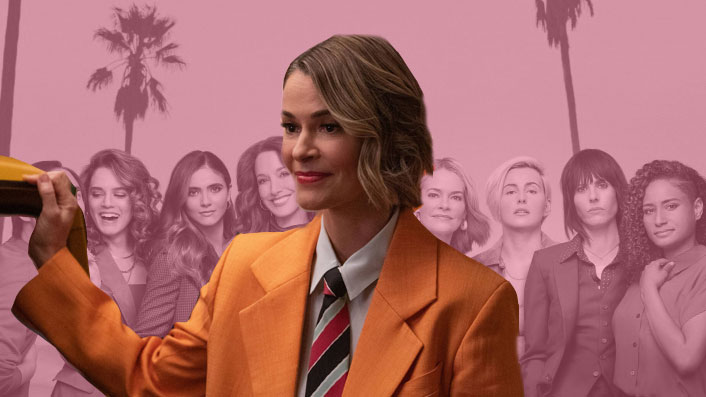 This article contains spoilers for The L Word: Generation Q. It is recommended that you watch the show before reading.
Welcome to my weekly review of Season 3 of 'The L Word: Generation Q'. Each week, I'll go over the characters' narrative arcs and pick out sections that suit my agenda. I'm not sorry to say that these will all be thinly veiled pro-communist rants. You can read my thoughts on earlier episodes if you need refreshers.
Image credit: Showtime, 2022
So this season is all about everyone finding 'the one'.
This episode of Gen Q was some extreme 'the one' propaganda. Who is writing this shit? There is so much good queer culture stuff we haven't seen: not a single strap-on, debate about Marxism while drinking chamomile tea, or someone adopting a high-needs elderly cat. Instead we have been foisted with literal non-stop toxic monogamy.
The central event is the 100th episode of Alice's talk show, Al(i)ce – in which she hosts a dating game so she can find The One™.
So the episode opens with Gigi in an ambulance. Somehow Nat is there? Why wasn't she just taken to the hospital? Why is this ambulance so big? Why did Nat kiss her when she was out of it?
Unsolved mysteries.
Then somehow Dani turns up and is a TOTAL jerk to Nat. This is the entire tension of their narrative arc for the episode. We cut later to Gigi at home, all bruised up from the car accident and resting on the couch. Dani is rushing about because she has to work. I am unclear on what her job is, but it's something to do with the 100th episode of Al(i)ce. Then Nat turns up to help Gigi out, and Dani is absolutely rude as hell about it. She is such a spoiled rich kid.
Gigi complains about how bored she is and that she has never had a week off. God, I hate how our society glamorises 'the grind'.
So later in the show, Gigi and Nat show up together to Alice's show and are being so cute – honestly, these two actually have a lot of chemistry. Gigi reveals that when she got hit by the car, she thought of Nat and the kids. Dani keeps watching them from across the room and is just in general being a rude shit.
Gigi says she is going to go home, because she, you know, got hit by a car. Dani goes off because Gigi is getting a ride with Nat. So Gigi tries to have a calm convo with Dani about how she had that flash of Nat and the kids and she needs some time to think about it. Instead of listening and giving Gigi space, Dani acts like a toddler and is all "take all the time you need because we are done".
Like, okay, Princess, I guess when you're used to getting everything you want thanks to opioid money, it's hard when someone tries to express needs that don't directly correspond to yours.
Then, Dani throws oranges at Nat's car.
I hate this shit so much. We are sold the idea that love equals possession and when that possession is no longer yours, you are allowed to act violently? TV shows do it all the time, including The L Word – a few examples spring to mind, including the one where Jenny throws a wine bottle at the house Marina shares with her wife after the world's most awkward dinner party.
As an aside, why was Marina married to someone so awful? Actually, Marina was also married to that man who owned The Planet and then sold it to Kit along with money from Ivan.
Anyway, back to Dani. Violence passed off as passion, that's a hard no from me.
Sophie invites Dani back to their house and the episode closes with a scene of Micah, Finley, Sophie and Dani eating some cake. Honestly, this show is at its best when it is exploring queer friendship.
The episode also explores toxic monogamy through Shane and Tess. So, Shane is at the new bar with Finley, demolishing stuff. At first, I was there: those shots with their hands holding the hammers, smashing shit – like, finally, some athleticism to fill the hole left by A League of Their Own ending.
But then, they start dancing and it is a bit awkward and weird – like, mates, stop. They accidentally smash through a pipe and Tess starts being an entirely different person and is an absolute jerk to Shane. Er, okay.
Shane leaves to go to Alice's show and, of course, there is Kehlani. They finally hook up and, again, I was ready. But it cut away after a seductive hand down pants.
Tess shows up to apologise just as Shane is walking out of the room and, grrrl, wash your hands (and hopefully face).
Another Shane cheating storyline. Sigh.
Finley stays back at the bar to deal with the busted pipe and, for some reason, talk with Tess's AA sponsee. Turns out, Tess's sponsee is Carrie.
Then Carrie hits it off (literally) with the plumber, whose name is Misty. So what happened was, Misty accidentally smashes Carrie in the face with the toilet door and has to shove tampons up Carrie's nose. They get to talking and they have chemistry. It is hot. Eventually, Finley tells Carrie that she has to ask for Misty's number and if she does, Finley will apply for college. They both do and Carrie comes back with an AQO (ambiguous queer outing) to join Misty's bowling team.
Okay, I have something to say. This show is absolutely fucked on class. They yet again make a point of Carrie being working class by having her talk about how she got a discount on food. As you remember, she talked about a food discount when she first met Bette.
There is also something to say about how rarely the other characters are ever eating, yet the one and only larger person often is (and, sigh, her storyline is around having disordered eating; not judging Carrie for her disordered eating, just judging this cesspit of a show and its fatphobia).
Then, the working-class character who is a plumber catches Carrie's eye and she ends up joining her bowling league.
I'm not against this. I would watch the shit out of a TV show centered around a working-class queer bowling league. I'm just pointing out that they are building a whole season around finding 'the one' and they make a very clear point of demarcating this across class lines.
Every way that Bette was foul to Carrie wreaked of classism. God, this show is horrible.
Speaking of horrible, the person Angie kissed is her tutor. Jesus, no. This better not turn into a fucken professor fantasy.
Something about Alice getting with the barista, blah blah "my person".
Right mates, last night I went to a queer party and there was a reenactment of Tipping the Velvet so I am going to go watch that. At least that involves some class analysis and a gold strap-on.
Read Jess' recap of the next episode here!
Jess Ison is an aficionado of queer media and loves every bad lesbian film ever made. In her professional life she is a researcher at La Trobe University. She lives with her dog on Wurundjeri land. Find her on Twitter.
<! -- WIDGET HERE FOR BUY ARCHER -->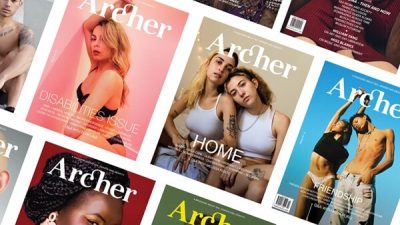 HELP KEEP ARCHER MAGAZINE AFLOAT!