Sydney WorldPride: Archer's Top Picks
By: Dani Leever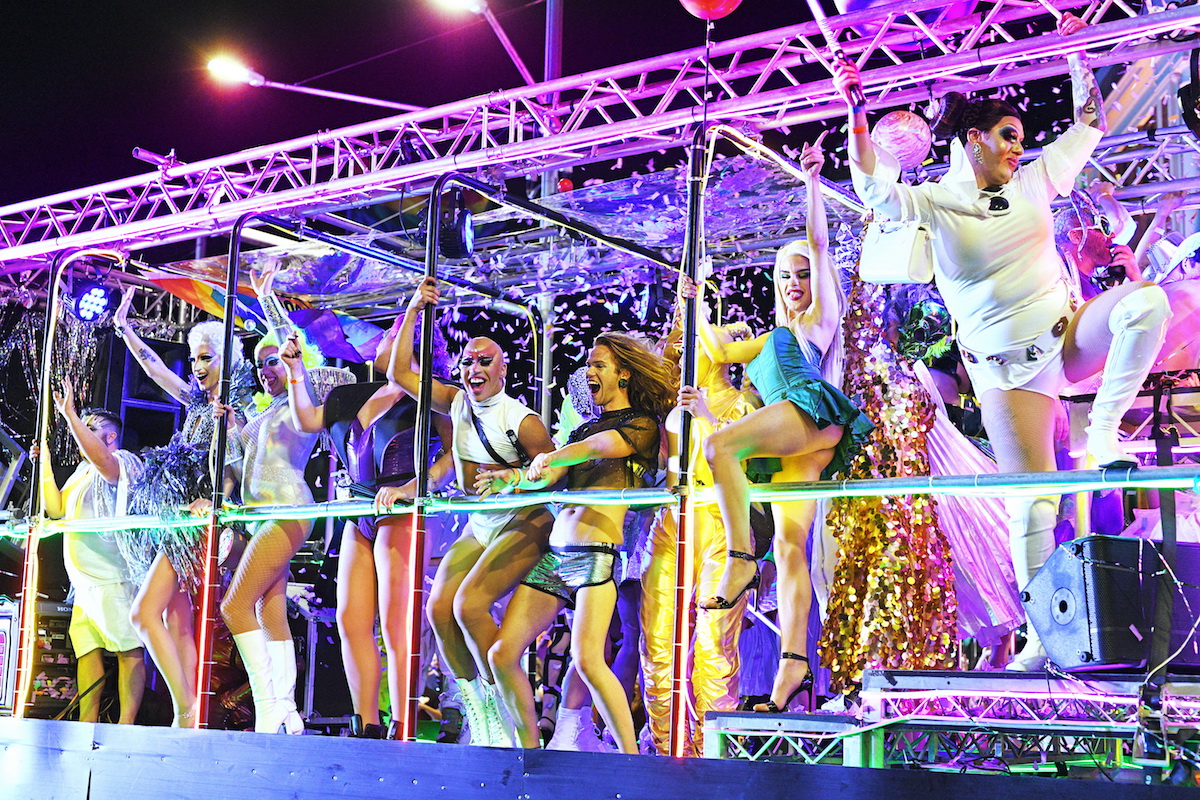 Hello, queers!
Sydney WorldPride is just around the corner, and it'll also be encompassing the events of 2023's Sydney Gay and Lesbian Mardi Gras. We're more excited than Heidi Klum at Halloween, or Mariah Carey at Christmas.
Sydney WorldPride will feature over 300 events, across the Official program, WorldPride Arts, WorldPride Sports and open-access program Pride Amplified, so there's a lot of queer amazingness to choose from. WorldPride is a perfect opportunity to connect, reflect, celebrate and indulge in queer excellence. I'm Dani, Archer's Online Editor and loyal queer-event-attender, here to help you find your perfect WorldPride journey. 
While queers from around the globe descend on Sydney like a glittery wave, those with prominent Earth placements in our astrological charts are likely poring through the program and polishing up festival schedules.
To help you narrow down your shortlist, we've compiled a list of our Archer Magazine top picks for Sydney WorldPride.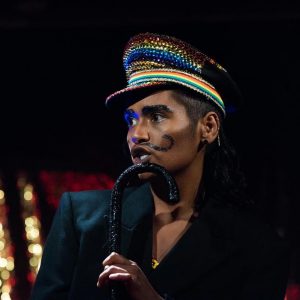 Marri Madung Butbut: First Nations Gathering Space
The importance of First Nations voices can't be understated in festivals and events such as WorldPride, particularly considering the often downplayed First Nations history of Mardi Gras and the fact that the entirety of the festival will take place on stolen land. The Gathering Space will be a celebration of global First Nations creativity through a variety of events and performances. It will feature two of our most anticipated events: the iconic Miss First Nation: Supreme Queen and Klub Village, brought to you by the Haus of Kong!
From free exhibits, to theatre, dining and drag, Marri Madung Butbut: First Nations Gathering Space will be the place where everyone is welcome to experience the rainbow heart of the oldest surviving culture on the planet. This is Marri Madung Butbut – Many Brave Hearts.
Tickets: Free, event ticket prices vary
Where: Carriageworks, Everleigh 
When: Thu Feb 23 – Tue Feb 28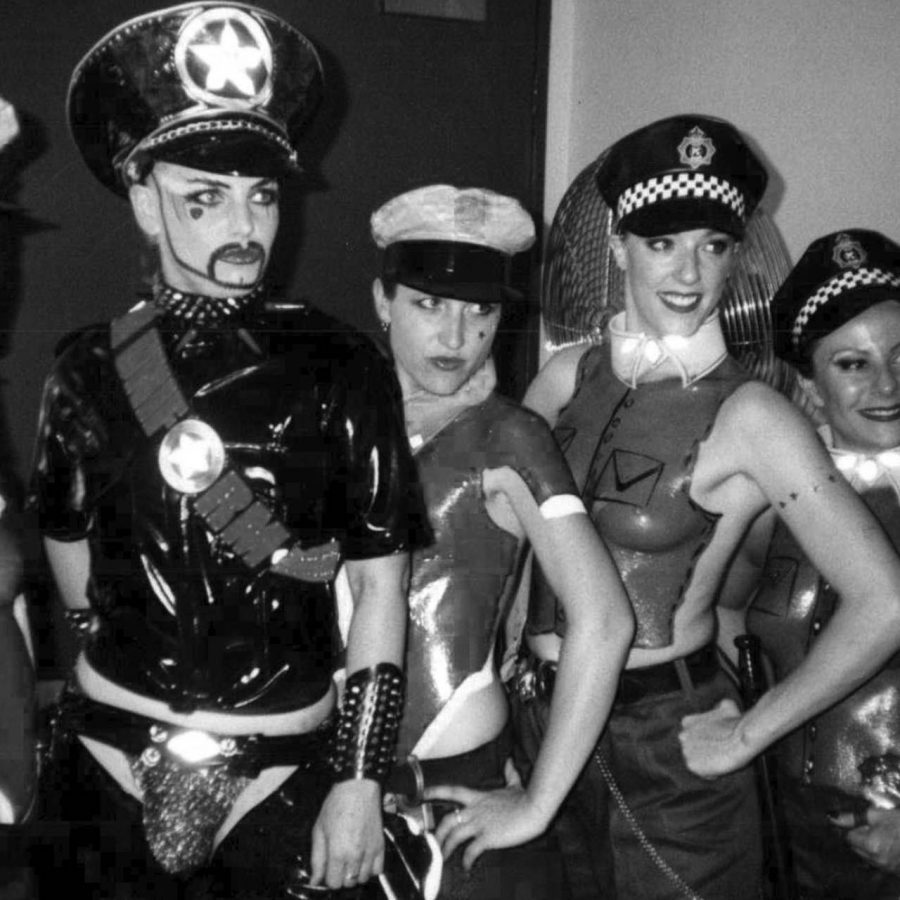 Behind the Zip – An Australian Drag King History Exhibition
Drag kings getting their own exhibition, panel and party space? Yes please! The drag king scene has a rich history of breaking gender norms, tackling toxic masculinity and creating subversive queer performance art. Created by Sexy Galexy and Kerrie Stanley, Beyond the Zip will feature an exhibition, a panel, workshops and an opening night party.
Behind the Zip is a curated, free, multi-media exhibition of Drag King materials, photographic collections, video art and object installations. Opening night will include Drag King performances by Sexy Galexy, Guy Alias and First Nations Rock Hard. There will be a DJ set by Drag King Jayvante Swing.
Tickets: Free
Where: Chrissie Cotter Gallery, Camperdown
When: Thu Feb 16 – Sun Mar 5, with Opening Night on 16 Feb, 6pm

Dylan Mooney: Still here and thriving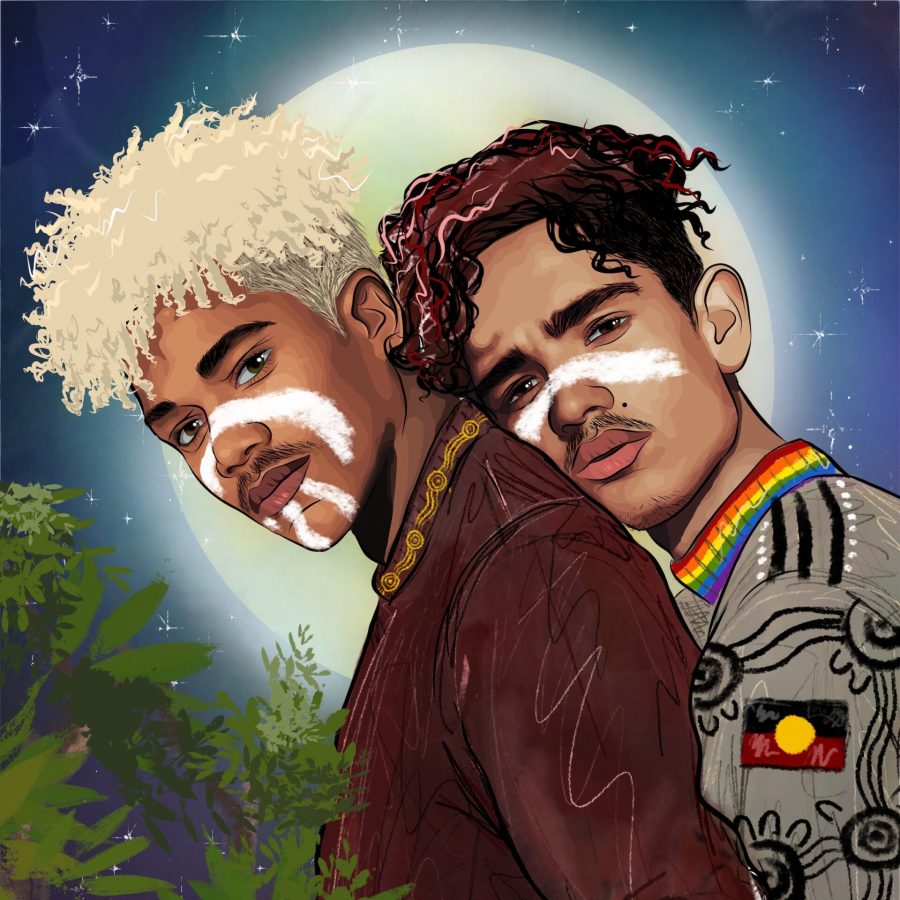 You may have seen Dylan Mooney's incredible artwork before – his rich and vibrant queer portraits are endlessly eye-catching and moving. We're big fans here at Archer. Soaking up some visual art can be a great, free and wholesome way to spend the day during WorldPride. 
In Dylan Mooney's Still here and thriving series, five large-format portraits focus on love in queer communities, deftly illustrating issues affecting Mooney's lived experience in ways that are poignant and very much of our moment. Here, the artist narrates his personal experience as a proud queer Indigenous man. 
Tickets: Free
Where: N.Smith Gallery, Paddington
When: Wed Feb 8 – Sat Mar 4
Okay, I'm very intrigued by this play. Incorporating queer histories, murder, corruption, love, liberation and rebellion? It's set over five decades, and inspired by so many stories from our community that might otherwise go untold.
CAMP, a new play by Elias Jamieson Brown (Green Park), welcomes you to the punk lands of the 1970s, and the birth of Australia's fierce gay rights movement. CAMP chronicles the struggles, successes, and legacy of early Pride activists who risked family, careers, and imprisonment to achieve social change in Australia.
Tickets: From $36 
Where: Seymour Centre, Chippendale
When: Wed Feb 15 – Sat Mar 4
I absolutely love what All The Queens Men do with their Coming Back Out salons. Their events are designed to bring older LGBTQIA+ folks together and provide them with a sense of community, connection and quality queer care. Check out the heart-wrenchingly beautiful The Coming Back Out Salon on Netflix in the meantime, and prepare to CRY. 
The Coming Back Out Salon is designed to be a gift; one that acknowledges the resilience of this community, a gift of visibility to LGBTQIA+ elders who have lived through it all and a safe space for those elders just discovering themselves.
Tickets: From $40
Where: Sydney Town Hall, Sydney
When: Sat Feb 18, 2pm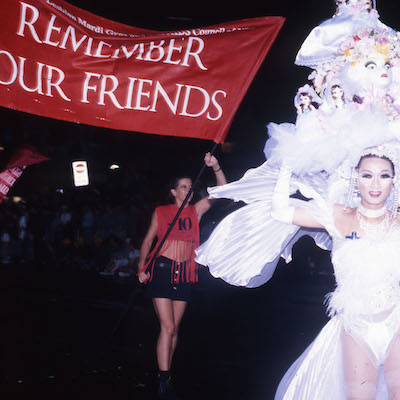 Positive Musings – Reflections of HIV in Australia
Developing a deep understanding of the history and the current era of HIV is crucial for standing with the queer community. I'm really into the idea of this panel: offering a discussion of Australia's dark history with HIV, and looking at the present – a space where Undetectable = Untransmittable is becoming more commonly understood, and giant steps have been made thanks to the tireless work of activists. 
The panel discusses the impact [our evolving relationship with HIV] has had on how HIV is represented in the media in Australia, while looking to international representations of the AIDS crisis and how well they serve Australia given our unique positioning in the history of the pandemic.
Tickets: Free
Where: Customs House, Sydney
When: Tue Feb 28, 6pm
One of the signature events of WorldPride is the Mardi Gras Sissy Ball – a celebration of ballroom culture and queer excellence. Featuring the Godmother to the original House of Slè, Kilia Pahulu will be continuing her reign as Curator. I'll personally be fighting tooth and nail to score a ticket to this one. 
Witness the regal, the ravishing and the revolutionary battle it out at Sissy Ball. Who will take their 10s and who will get the chop? All will be unveiled as legendary houses from across the globe compete in Australia's biggest vogue ball.
Tickets: From $65
Where: Sydney Town Hall, Sydney
When: Sat Mar 4, 6pm
Mo'Ju with the Sydney Symphony Orchestra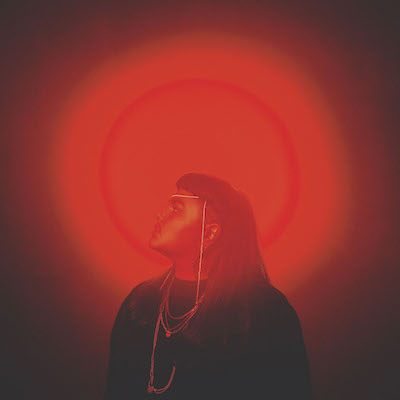 For one night only, catch the incredibly talented Wiradjuri and Filipino singer-songwriter Mo'Ju, with the whole power of the Sydney Symphony Orchestra behind them. Their mesmerising vocals and deep songwriting hit hard no matter the size of the room. I honestly can't wait to see them fill the entire Opera House with their brilliant sound. 
Award-winning artist Mo'Ju joins forces with the Sydney Symphony Orchestra in a special Sydney WorldPride 2023 event. Experience their electrifying music, including brand new tracks from their upcoming album, live at the iconic Sydney Opera House.
Tickets: From $49
Where: Sydney Opera House, Sydney
When: Tue Feb 21, 7pm
Every queer deserves to have a good party. Rainbow Republic will be truly facilitating the dancefloors of our dreams, with an unbelievable line-up featuring queer icons such as MUNA, G Flip, Peach PRC, Alter Boy, Keiynan Lonsdale and more. It's the finale of WorldPride, so we can use whatever's left in our tank to dance until the sun comes up. 
Seven hours of live music, DJs and performances await you at The Domain, for a queer megamix of international and local acts. With food outlets and bars on site, dance the day into night as we come together for one last time, handing the baton to the next WorldPride hosts.
Tickets: From $129
Where: The Domain – Phillip Precinct, Sydney
When: Sun Mar 5, 3pm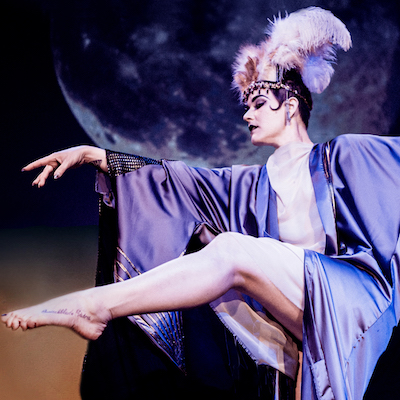 Archer Magazine Queer Ideas Forum: Gender, Sex Work and Polyamory
I promise I'm not being biased when I say this event will be extremely good. We're talking readings, interactive presentations and performances from the very team who bring you the Archer goodness all year round. With queer icons like Themme Fatale, Gala Vanting, Dani Weber and Liz Duck-Chong, all Archer Magazine contributors at some point over the years, I personally am counting down the minutes till this one. 
In collaboration with Museum of Contemporary Art, we are bringing to life the topics of gender and drag, sex work, and polyamory. Our expert line-up will deep dive into the magazine's most wanted topics, sharing insight and amplifying lesser-heard perspectives. 
Tickets: From $15, but NOTALOF (no-one turned away for lack of funds)
Where: Veoila Lecture Theatre at Museum of Contemporary Art
When: Wed Feb 22
Go forth, book, dance and celebrate. Happy WorldPride!
For more information, visit sydneyworldpride.com
If you're visiting Sydney, the camp folks at WorldPride are also letting you bundle your major event tickets with flights and accommodations for bookings made by 30 Nov via Approved Travel Providers!
This article was produced in partnership with Sydney WorldPride, proud supporters of Archer Magazine.
<! -- WIDGET HERE FOR BUY ARCHER -->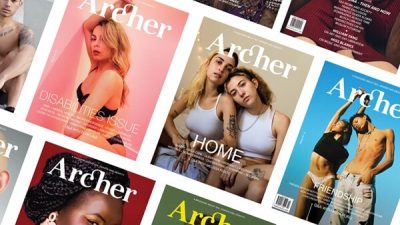 HELP KEEP ARCHER MAGAZINE AFLOAT!