Doing drag with my best friend
By: Nick Preston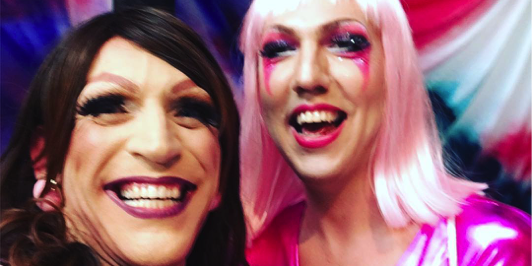 Like many gay men, Christian and I became friends in a colourful way. I doubt we would have connected had we not been on the same flight travelling from Sydney to Los Angeles to attend the Cleveland, Ohio 2014 Gay Games, both of us part of the Sydney Silverback Wrestling Club.
That trip established the foundation of our lifelong friendship. When we landed back in Sydney, we moved into a townhouse in Darlinghurst together.
During that time, one of our favourite pastimes was to watch RuPaul's Drag Race – the fabulously flamboyant reality show that documents RuPaul's pursuit of the next "American drag superstar".
Image: Supplied
Christian and I were infatuated by the series. It was glorious. It normalised drag. To borrow a RuPaul neologism, it helped us open the dialogue of who we really were, "regardless of our gender".
At the end of each show, RuPaul is adamant. "Learn to love yourself," he says. "If you can't love yourself, how the hell you gonna love somebody else?" We were converts. In this show, femininity – not just appearance – was both celebrated and worthy of imitation.
When I was growing up, I found I was often under pressure to be more masculine. Embracing drag provides an opportunity for feminine boys like me to let their barriers down.
I could express myself freely and openly, with no prejudice. I could rejoice in the feminine aspects of my personality.
After hours binging the series together, Christian and I turned to each other with excitement. We decided we just had to hit the town, dressed in drag!
We would make our debut at Sissy Ball at Carriageworks, Eveleigh – a night of fabulous lighting, music, and community dressed up to the nines, and definitely one of the highlights of the Sydney Gay and Lesbian Mardi Gras.
The first step in the process was to come up with our characters. Christian's transformation was into a mature woman who looked like a librarian. The origin of this character is a secret that he keeps to this day!
For my character, I chose the '80s cartoon icon Jem, from Jem and the Holograms. The series explored themes around identity, through the main character adopting the persona of Jem with the assistance of a holographic computer.
Looking back, I wonder if Drag Race provided me with the same type of escapism that Jem had all those years ago.
I knew I wanted to look exactly like Jem, with a wraparound hot pink dress, big hair and huge earrings. But where would I start? I called my mum in a panicked state and she knew exactly what to do. A talented dressmaker, she set to work.
"Just send me your measurements, love," Mum said. This eased my meltdown and gave me a new appreciation for the drag community who do this as a full-time hustle.
When it came to make-up, we had so much to learn. Correct contouring was everything, and my first attempt went terribly wrong.
To contour properly gives you a slimmer face and sexier cheekbones, a cute-as-a-button nose, and reality TV-ready lips that make you look like you've just walked into an episode of Bachelor in Paradise. Unfortunately, our contouring efforts were a hot mess, so we employed the services of Coco-Jumbo, a courageous and outrageous drag performer who was prepared to help us.
Once I was trimmed and tucked, my costume shimmied over my corseted form, and my gorgeous face perfectly drawn, I suddenly realised that I had to get from Oxford Street to Waterloo in full costume. It was at that point that my inner saboteur kicked in.
RuPaul warns that the "inner saboteur" is simply your fear, determined to stop you from having a good time. I took a deep breath and resolved to embrace the exquisite experience of drag.
I got into my Uber. My driver did a double take. "I didn't recognise you," he said. He started the car and looked at me in the rear vision mirror. "You look pretty." My blush became a smile, and we were away.
Unfortunately, no one had warned us about the shoes. Let me tell you, high heels are a bloody nightmare, and Christian and I were forced to take off our kitty heels to dance. How women and drag queens do this in stilettos, all day every day, is a mystery to me.
Our decision to attend the ball in drag was rewarded by the fun we had, and the looks we got as we blended into the beautiful crowd. From the minute we set foot into the ball, we felt like we had achieved "glitters and gold" success.
At the end of the night, we were more than a little chuffed to be mistaken for professionals and asked if we going to kick on at Star Casino.
I asked Christian what that night meant for him. "Going through the whole process with my best friend was empowering," Christian said. "It was a totally eye-opening experience, one of the best days we've spent together and one I cherish."
I couldn't agree more. Not only do I now have a deep appreciation for the craftsmanship that is drag, but I am so grateful to have experienced this rite of passage with my best friend. It was a defining moment in our relationship.
Nick Preston is a freelance writer interested in men's and mental health, queer community and pop culture.
RuPaul's Drag Race streams on Stan.
<! -- WIDGET HERE FOR BUY ARCHER -->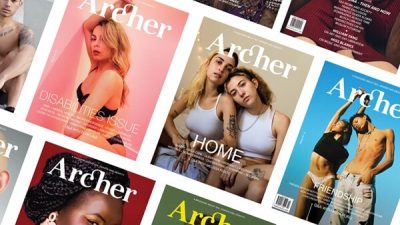 HELP KEEP ARCHER MAGAZINE AFLOAT!