Archer Asks: Stone Motherless Cold
By: Trè Turner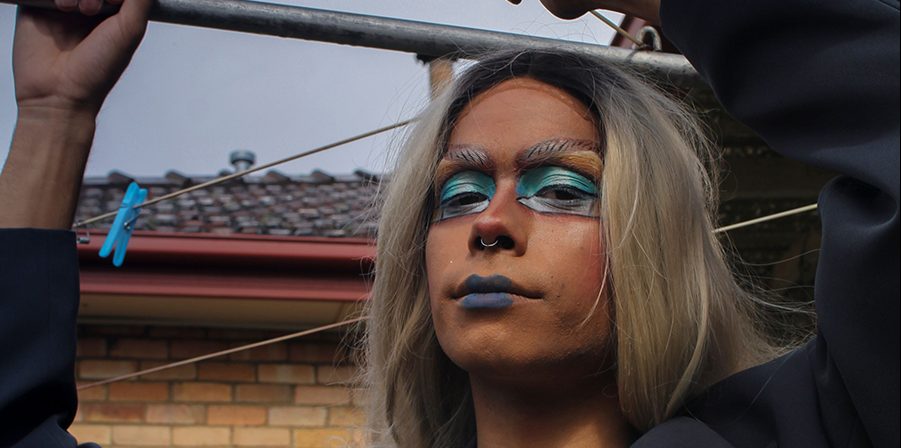 An Arrernte drag artist based in Narrm/Birrarung, Stone Motherless Cold is a combination of blak excellence and club kid aesthetics, here to celebrate and highlight WOC and blak queerness. She was part of disrupt at Hamer Hall and was one of the winners of the Vic NAIDOC LGBTQIA+ Pride Crown in 2019.
Trè Turner is an Arrernte drag performer/queer artist.
A sit-down and self-exploration with Stone Motherless Cold.
After exploring the alleyways of so-called Melbourne
I stumbled upon this
Crystalline humanoid
With broken heels as guards
And strings of pearls embellishing their nest
A drag creature
They call themselves Stone
Stone Motherless Cold
Why drag?
Well, on one of those sick days from primary school, I was watching daytime TV re-runs of Just Shoot Me!, a terrible ´90s American sitcom following those that worked at the fashion magazine 'Blush', parodying Vogue. A former model and now the fashion editor, Nina Van Horn (played by Wendie Malick), told her fellow staff that if you dance with your arms up, it means you're gay.
Well, fuck.
I was less than 12, but I was already thinking about my performativity. Nina Van Horn had called me out. I became conscious of how I danced, how much enthusiasm I put into it, how high I would swing my arms up. In the fear of looking feminine, I was loudly announcing to the world I was queer.
Flash forward to moving to so-called Melbourne, where to dance comfortably and be truly me, I had to be drinking.
The allure of drag to me was that it was an artform where I got to embrace my femininity and be celebrated for it. In terms of the arms, I now flail them about as much as I can in my performances.
And nowadays what keeps you chasing drag?
When I first started drag in 2016, there weren't that many First Nations artists around in Melbourne; I could think of one or two other artists who were starting around the same time as me. I was the first Indigenous drag queen to have performed at Babydrag at Mollie's, a popular drag event that only allows for baby drag artists to show off their stuff.
There wasn't a platform (online or in Melbourne) that was widely known that I could look to and be like, Look! There are people like me, doing what I want to do and being successful and happy.
The first Miss First Nation pageant premiered in 2017, opening my eyes up to these beautiful queens, succeeding in our field.
I had already spent years attempting to justify to myself that I could be both blak and queer, growing up thinking they were mutually exclusive. When I started drag, I only attributed it to my queerness.
The faboriginal First Nations artists that are booming, and exploding, and being great examples in our community, are loud and proud in being both blak and queer. So before, I was internally battling these parts of my identity, but there are these people, these blak queer people (who have been on this land since day dot) and they're getting celebrated for it?
I still chase drag because I know that there are still kids out there, kids that aren't happy with themselves because they're taught that who they are is wrong or unnatural or uncultural.
I am lucky I found this artform because drag requires you to embrace and celebrate who you are.
I think it's amazing that a queer artform demands those conversations with yourself, that you and all of you deserves love. I want to pay it forward, and to be out there, so that the next generation of queer blak kids can see me, and see me doing drag. So they can clasp onto the glamour and artistry, the self-creation of a personal fantasy.
At what point during a performance do you feel the fantasy?
The combination of an audience and the song starting. I find myself in a sort of trance a lot of the time, so I really lose myself in performances.
I come back to earth when the audience woos, that moment of encouragement makes me pretty aware of where I'm at and what I'm doing.
What do you like to do to relax after a performance?
I'm pretty antsy afterwards about what my performance looked like so I need to get out of drag and watch my performance on repeat a few times. Lol.
Can you explain your drag name for us?
Oh sweetie, darling, it's a combination of this malaphor that my grandparents say, "Did you heat this over a candle!? It's stone motherless cold!" And, I was really into Ab Fab when I started drag.
What are some of your drag influences from your family?
Mum was very into skincare, she was where I got my obsession for Dr. Pimple Popper, and taught me how to look after my face.
But I knew showing an interest in make-up would just be dancing too close to the closet door. So I would wait till my mum was gone to run to her bathroom to just assess the make-up. I rarely touched it – I wouldn't have even known what to do – so I just fiddled with the brushes in awe and fascination. Mum worked very hard to instil a sense of fashion in me, which I'm very thankful for.
How have your influences changed since you've done drag?
In high school, thirsty for queer history and just to see queer people, I would try and watch as many queer things in the secrecy of my room. So like Paris Is Burning, Party Monster, Kinky Boots and really, really gay foreign movies, which were always conveniently raunchy.
I was really into the idea of club kids and so would go out trying out some lewks to the clubs.
I didn't really get into drag until I watched a season of RuPaul's Drag Race, leading onto Instagram drag and make-up.
It wasn't actually until my first performance that I purposely went to a drag show. Now that I've been around and seen a lot more drag, it's definitely the scene that's influenced me now.
So would you say that RuPaul was a large factor in the beginning of drag for you?
There was this effeminate black man that was running this drag empire, so of course I did idolise him. I loved RuPaul's Drag Race as a reality TV show. I loved the queens, the ridiculous competitions, the platform it was providing for these queens to show off their artistry.
Over time I've thought about RuPaul as a role model. But after his transphobic comments and exclusionary practices I can't see him as a suitable role model. I can't get around his negligence to address the problematic behaviour in the fandom. Because of his position, he holds so much power and influence.
It's beautiful there's been this mass inspiration to do drag because of the show, but it's created this toxic hierarchy that has seeped its way into the local scene of drag, with the Ru girls on top, the local scene midway and AFAB performers on the bottom, if included at all.
How would you describe your experience with using drag as a form of escapism?
I can definitely relate to the escapism aspect of drag. There is a kind of comfortability that I can achieve in drag, because I'm in drag. I'm not escaping from being queer; I'm not escaping from being a blak queer person. I'm escaping from the negative socialisations that smother me on a daily basis.
Candy Bowers, a radical black feminist, shared this snippet in one of their Political Lyrical Theatre-making workshops: "If you don't transform the pain, you'll just transmit it." Looking at drag as a form of transformation, I transform into Stone. Transforming my body, how I see myself, how I feel about myself. Transforming my perception. Changing those looks of disgust into looks of envy. Changing those car honks into sounds of adoration.
Drag artists are leaders, idols, preachers, teachers, role models in the queer community. And perhaps a reason that drag has reached this level of respect is because it's a queer artform that heavily relies on a transformation. Transform the way you look, the way you walk, the way you talk, the way that you now navigate the world in this entity you've created for yourself.
Drag can be a glamour spell, an act of armour that allows you to hide, show off, quieten and strengthen yourself at the same time. Quieten the negative views that can hold so much power over your non-drag character. These are the different ways that drag can transform us, allow for strength to emanate, and enable us to be the leaders and role models in our communities. For me, my glamour spell works in strengthening my femininity and my gender performativity.
This article first appeared in Archer Magazine #13, the FIRST NATIONS issue. SUBSCRIBE TO ARCHER MAGAZINE
Image: Edwina Green
<! -- WIDGET HERE FOR BUY ARCHER -->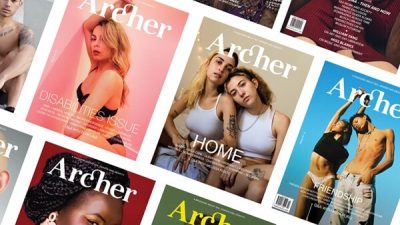 HELP KEEP ARCHER MAGAZINE AFLOAT!