Queer-friendly tattoo studios: Disrupting the straight masculinity of the tattoo industry
By: Dani Leever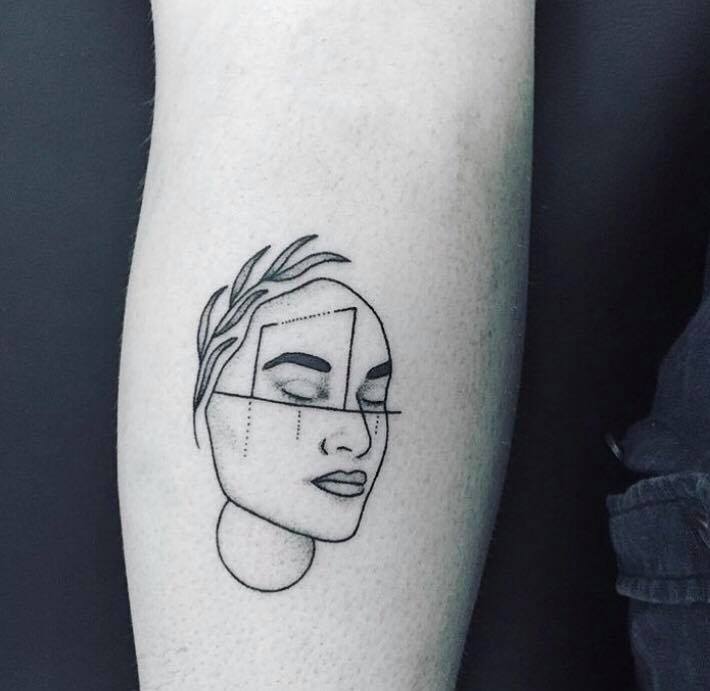 The first time I walked into a tattoo parlour, a brawny and stand-offish middle-aged man was scoffing at a young female client, telling her that her tattoo idea was never going to happen. I could barely hear him over the aggressively loud metal blasting through the shop speakers. Disheartened, she left, and I was next in line. He asked me what I wanted, and he could barely control his eye roll when I told him the small dainty tattoo I wanted on my wrist.
The pain of the tattoo was made more unbearable by his judgemental comments. As much as I loved it, its stain on my skin reminded me of the unpleasantries. I covered it up a year later.
Despite having history in non-Western cultures around the world, the current tattoo industry feels dominated by toxic masculinity, heteronormative 'toughness', and is mostly white. Studios can feel unwelcoming and aggressive: a byproduct of the 'bro' culture that tattooing has become.
They can be intimidating spaces for anyone, particularly queer people, femmes and people of colour. When you're talking about making a mark in somebody's skin forever, especially for people with complicated relationships with their bodies, it can be really complicated.
That's why, across the globe, queer tattoo artists have been making noise and making space: carving inclusive spaces and working hard to change the industry's culture.
Allie is a transfemme tattooer and illustrator living and working in Melbourne. She specialises in stick and poke technique, and operates under the name Stick Around Tattoo. Allie is one of the queer artists creating safer spaces in the tattoo industry, focusing heavily on an inclusive and comfortable tattooing experience for all of her clients. She now works at Little Gold Studio, which is a queer-friendly and inclusive tattoo parlour in Brunswick, Victoria.
"The tattoo world, like any culture, is huge and diverse, so I can only make broad sweeping generalisations about the mainstream tattoo industry – but boy howdy I have a few," she tells me. "Tattoo culture has a pretty sordid history of cultural appropriation and exclusionary behaviour. It's still very much a white boys club, but I think things are improving a lot."
On the importance of queer spaces, Allie says that "people who previously would have felt uncomfortable in the hyper machismo aggressive tattoo spaces are finding solace in more friendly [queer] spaces. They're starting to realise that their tattoo experience doesn't have to be a sleazy fuckwit imposing their views of what should happen with your body."
"These days there is so much choice when it comes to getting a tattoo that good quality work is no longer the only factor; people want a well-done work of art and not to feel objectified or marginalised at the same time – wild, right?"
Noel'le Longhaul, a trans non-binary tattoo artist told i-D in an article why queer tattoo artists are so important in an industry struggling with its toxicity. "Largely, I have found that queer tattooers acknowledge their craft was born out of Indigenous, black, and brown societies and now is an industry almost defined by racism, fat-phobia, homophobia, and sexism, whereas the majority of straight white tattoo artists do not," they said.
My transness is not defined by a constant discomfort in my body, but the relationship I have with my body is strained and delicate. Altering it in any way, particularly having another alter it for me, is an intense thought.  I spoke about this with Brody Calypso, who is an artist at Crucible Tattoo Co., Melbourne's first queer/trans owned and run tattoo studio.
When talking about why queer spaces are particularly important, they tell me, "another element… is the connection between the experience of trans and queer people using tattoos and body modification to finding a sense of home in the bodies they inhabit. This process is an inherently vulnerable one, especially considering the prevalence of sexual assault, body dysmorphia, gender dysphoria and other kinds of body trauma that have been inflicted on queer bodies."
But how do we create queer spaces within the masculinity and the heteronormativity of the industry?
Allie comments that "because queer identities are so broad and diverse, it's not so much a matter of changes to the actual environment, as changes to the perspective and culture within the space. I mean, sure, there's some simple things you can do like not gendering bathrooms and making the space accessible for people with disabilities but more than anything it's just a golden rule thing. Treat everyone how you want to be treated."
"Ask people what their pronouns are and use them. Ask people what they are comfortable with and accommodate it. And take suggestions, we only have our own experiences to go on so listen to clients, 'cause they are literally the people who give you money so you can buy pizza."
Allie's studio Little Gold is exemplary of a safe space – bright and welcoming, plants lining the floor and walls, and each tattoo artist has radically inclusive methods and practices. I recently got a tattoo there from Maddy Young on Little Gold's studio fundraiser for Blak Rainbow, an Indigenous LGBTIQA+ organisation.
Brody tells me that one of the main ways they queer up their tattoo practice is by incorporating radical consent.
"The process of tattooing has more scope for traumatic experiences than people might think. It is a process that involves bodily contact, intimacy, and pain. I therefore endeavour to incorporate all the negotiation of consent that those experiences would usually necessitate in my personal life," they say.
I lay down in Allie's studio one day and as she asked me, "how's your day been, chook?" she began to poke into my leg. I winced in pain and she offered me a numbing cream and soft words of encouragement. She had showed me multiple designs she'd created for me that morning and after asking her to make the face of the tattoo a bit more androgynous, she excitedly sketched away.
For an hour, we spoke through our pains, our joys and our queerness. It was the warmest I'd ever felt with someone prodding and poking into my body. The sketch that she etched into the back of my calf is always there, filling me with a calming sense of appreciation and adoration.
Knowing the care Allie has for her art, the spaces she carves, and knowing that on my body is something that will always connect me to my trans siblings, brings me so much pride.
It helps me feel compassion toward my body and reminds me of the queer change makers who are creating space across countless industries. Allie's art is more than just art to me: it represents an industry that's changing to make way for all of our queerness.
Dani Leever is a writer, DJ and youth mental health advocate. They've written for Archer, SBS Sexuality, Pedestrian.tv, Voiceworks, JUNKEE and VICE. They're a drag king DJ under the name DJ Gay Dad and like writing about feelings and gay stuff. Find them on Twitter at @danileever
<! -- WIDGET HERE FOR BUY ARCHER -->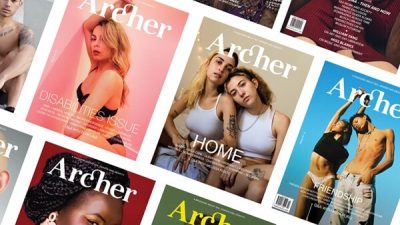 HELP KEEP ARCHER MAGAZINE AFLOAT!