Trans spaces: Left out
By: Laurie Hopkins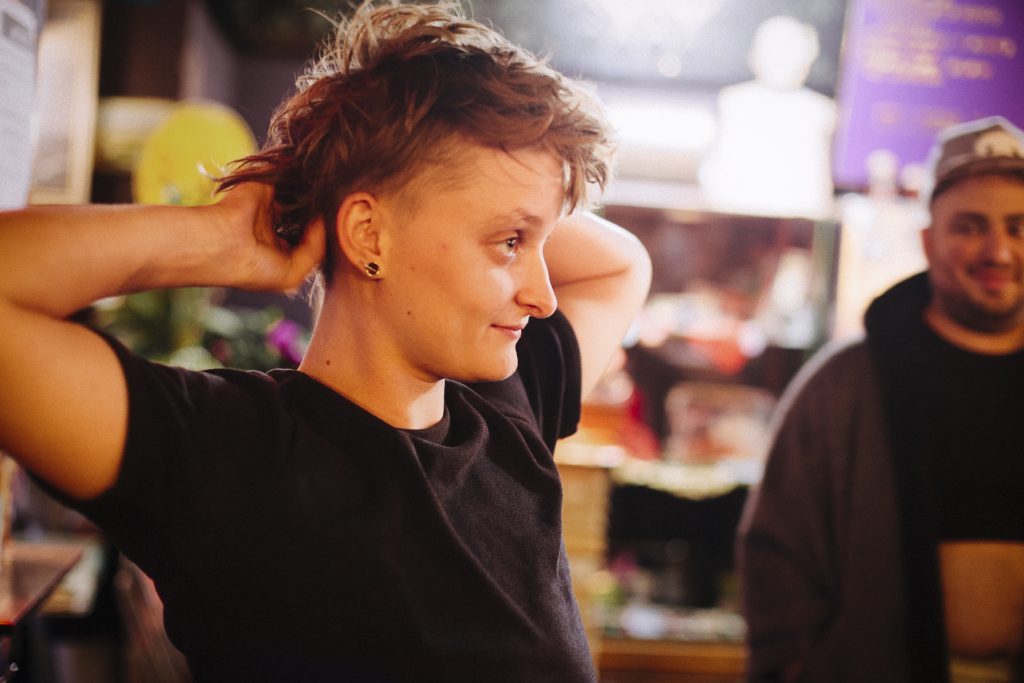 It took me five years to feel comfortable and respected in my gender.
Five years of learning and unlearning, blog posts and academia, art, protest, music, grime, sweat and dancing. Five years of blood, scars, assault and forging ahead, despite a lack of understanding, even from the few trans friends I had.
And it's only in the past two years (that's seven all up) that I've really felt like I had a transgender community around me, and it's one I've had to forge for myself.
Accessing our spaces isn't easy, particularly because they're so politicised. When I was 20, I looked on in awe at visible, proud, out transgender people at parties and events, and yearned for them to see me, to give me a smile, a nod, or a knowing grin to say, "I see you there, you're not alone."
Instead, I felt like I didn't meet the 'cool' quota, and shuffled on.
I felt like my gender identity wasn't seen because I didn't have the social capital, the fashion knowledge or the right friends to socially demarcate myself as trans in the way the 'scene' understood. I felt like there was a way to be noticed as gender-diverse, and I just wasn't able to achieve it.
I was burning with a thousand questions for other trans people: how can I get my birth certificate changed? Do I have to go on testosterone for top surgery? How do I safely assert my boundaries? Where do you get your hair cut? How do I come out to my family? How much does a psychiatrist cost?
I didn't even have words for a lot of the things I was experiencing. I didn't know the names of the things I wanted access to. I didn't know what I didn't know.
Not having a language for the things we experience can be really tricky. Not having community to talk about these things with, just rubs salt in the wound.
I'm now legitimately friends with some of the people I remember feeling spurned by, and I realise it was social anxiety, or shyness, or that they were distracted by a cutie. Whatever it was, I wish they could have managed a smile. I try to give everyone a grin, for my younger self.
Slowly and unremarkably, and excruciatingly alone, I showed the world that I was transgender. I didn't come out: no emails were sent, no Facebook posts made, not even a request for people to change the pronouns they used for me.
I went through a dozen political upheavals: Trans people are more evolved! Trans people are just like you. The differences between transgender and transsexual are very important. The differences do not matter! Trans guys don't belong in women's spaces. Wait, trans guys still experience sexism as a by-product of misgendering! We should have more trans spaces. Trans people belong in all queer spaces! Wait, do they? And if they don't, where do I belong?
Something that constantly surprises me is the amount of bullying transgender people do to each other – for not being feminine or masculine enough; for being too concerned with passing; for having passing privilege; for being 'fortunate' enough to not 'need' to pass.
Some people say that gender is redundant, while other people assert that it's very important for their day-to-day functioning.
I want to acknowledge that the real struggles facing trans folk and gender-diverse people are sexism, of course, but also classism, the beauty industry, years of cultural appropriation, the mechanised and systemic devaluation of femininity, bills, inclement weather… you know, like, everything. The last thing we need to do is to turn to our peers and claim that they are the reason for our oppression. But, it happens.
Some of the prickliest arguments arise when people talk about who belongs in which spaces. This policing can be completely transphobic – for example, when some 'feminists' think trans women don't belong in women's spaces. It can also be misguided – for example, letting all trans people into women's spaces, which actually kinda invalidates the identity of trans guys.
There are some spaces that are explicitly for everyone except cisgender men, which can be useful for some, but some people dislike the way it 'others' everyone it's meant to include.
Everyone has opinions on how these borders should be sketched out, but I don't know if it's as simple as people think.
I'll use myself as an example, because I feel that's always safest, and, let's face it, I love talking about myself. I had a birth certificate with a female sex marker up until roughly a year ago. I was raised a girl and treated as a woman, and I still am much of the time.
This is not my truth, this is not who I am.
I am a person of all genders, greedy as fuck and filling all the social roles I can, because who are you to tell me I can't? I present as masculine because that's how I'm comfortable. I've got original plumbing and a strong foundation, with a renovated balcony, sometimes changing the paintjob on the outside to champion the fierce faggy femme that lives inside, but, mostly, I'm just Laurie.
Sometimes I'm a gay man, other days I'm a gay woman. Sometimes I feel genderless – heck, sometimes I even feel straight, if we really want to get into it. I'm a complex web of lies and deceit when you try to put me in a box, and a very basic organism when you let me be.
There are days I wish my life could be 'simple' (ha, what a fallacy): that I could be a strong, gentlemanly, butch lesbian, or a sassy, femme-fresh gay boy. Then I realise that I not only can, but I already am.
A certain amount of validation from my community, my friends and family, even perfect strangers, is needed from time to time. But my insistence to myself that I exist, that I belong, and that all my blended genders are valid, is usually enough to keep me going.
Although I get read (incorrectly) as a woman day in, day out, I am still acutely aware of the privilege I hold for being masculine-presenting. Having a short, boyish haircut means I don't have to tie my hair up to look 'neat' when I work as a nurse in a hospital. People trust me with power tools when I work as a bushcare landscaper. People listen to my ideas a little more. People trust I have the experience I say I do. I interrupt people more. I take up more space. I feel more confident in social and administrative circles.
This means that it's my responsibility to be aware of the impact I'm having on women and women's spaces. It's not just a matter of not speaking over women and femmes. It's about consciously speaking less (hard for a chirpy fucker like me), and stepping back from positions that are granted to me on the basis of my masculinity.
I try to not re-inscribe sexism through my experience as a transmasculine non-binary person in the world, at work, at uni, in the hospital, in my social life, and in my love life.
But this gets difficult when I need to access specific services and community spaces that, politically, are just for women.
Where do I go to talk about sexism? Because my gender is so routinely dismissed, I do experience institutional and social sexism. I certainly have experienced acute sexism in the workplace.
What about if, much more simply, I want to be a part of the fight for women's rights without taking the space away from femmes and women themselves? It's not quite right for me to go to a group of male feminists, but it's not right for me to join an autonomous group of women and femmes, either.
There aren't dedicated transmasculine spaces I can go. I can't access those resources elsewhere; I have to simply accept that maybe that's a space I can't access anymore. This has been a big learning curve for me, to write myself out of these spaces because of a self-imposed political ideal. It feels right, but it's still hard.
When it comes to sexism, I, personally, am lucky enough that I can debrief without needing a dedicated support group or collective space.
I'm at a loss, though, for where I would go to access a support group to talk about my experience of rape during my past, when I was gendered female. Sometimes a single therapist or a loving friend or partner isn't enough, and peer support is the structure we need to move through these experiences.
We can all acknowledge that a men's support group for rape survivors is a radically different space. So where does a person like me go? A women's group would probably have me, but I don't know if I would feel like I was having my gender respected.
In a similar way, my gender is fluid enough that I  might be able to comfortably be part of autonomous feminist collectives when I'm feeling particularly 'female', and not attend on days when I'm feeling particularly 'male'. But would I feel like I was being honest to the group, or to myself? Again, would my gender be respected if I only put forward this half-truth of myself?
Is this even a morally justifiable action to take? I am clearly passionate about women's rights, and more than an ally, I suffer alongside women, as do all my trans siblings, regardless of how we identify.
Still, trans people police each other in regards to which struggles we can partake in. We should be forming supportive frameworks for discussions, community groups, monthly or weekly hangs, from the ground up. We should be workshopping ways to make these available to everyone seeking to participate in our community culture, not just those with social capital.
If I'm not aware of an event because I don't have the right Facebook friends, or I haven't made contact with a particular agency or organisation, how do I find out about it?
Transgender people don't have much space in society. We may (or may not) be loud and assertive on Facebook, but this advocacy is necessary in a world which doesn't listen to us, doesn't respect us, and largely doesn't realise we exist.
There are no clubs, bars, or cafés we go to. We have fought for our own very infrequent support circles, but these are often held in public spaces (not ideal) and we're not explicitly written into anti-discrimination literature.
Most people report that online spaces are best. For example, in one of the Facebook groups I'm in, a 16-year-old trans guy who had been admitted to hospital asked for help getting out of his chest binder, and another member of the group (a total stranger) drove a few hours up the coast to help him out.
Most of the groups are filled with supportive comments on posts: "Welcome to the group!" and "Hope your day is excellent!"
Our online spaces can be incredibly rewarding and valuable, and serve as legitimate places for us to exist and be seen as we truly are. We need to make these communities and spaces more available, and be more accepting of those in the trans community we may not already be connected to.
It's a difficult task, to be sure, not least because of the incredible lack of resources and funding within our intersectionally oppressed minority.
I'm fortunate enough that my super-fluid gender identity allows me to feel comfortable in lots of situations. Coupled with a relatively outgoing personality, well-earned confidence, and the benefit of being white, middle-class and educated, I was able to push through the immense loneliness of being transgender, and build my own human brick wall of community around me.
Now, swaddled in our bricky bosom, I can turn my attention to the community around me, and use our foundation to build bigger support structures.
We are on the brink of a cultural revolution in gender – in eroding sexism and increasing visibility for sex- and gender-diverse folk, on an international scale.
My hope is that the individual efforts of members of our community to nourish and cherish each other will help that revolution grow.
I hope we learn to banish the bullying thoughts, and turn instead to fighting our real foes: sexism, the gender binary, and cisnormativity. I hope someday we will have access to diverse peer support networks, without the stress of whether our gender will be respected; and that I can go to the shops and be gendered correctly at least some of the time.
For me, I'm gonna keep smiling at strangers, inviting them to be part of a community that welcomes newcomers. My plan of attack can't work for everyone, but we need many different approaches for a goal as big as developing strong, resilient and supportive communities. What's yours?
Laurie Hopkins is an explorer of (stolen) land, a lover of dogs, and popcorn's biggest fan. They are a bush regenerator, a registered nurse, a volunteer with Camp Out (a camp for queer youth) and a member of PASH.tm – a group that promotes the sexual health needs of gay, bisexual and queer trans men and transmasculine people. Laurie has optimistic dreams for their future and yours.
This article originally appeared in Archer Magazine #7. SUBSCRIBE TO ARCHER MAGAZINE
<! -- WIDGET HERE FOR BUY ARCHER -->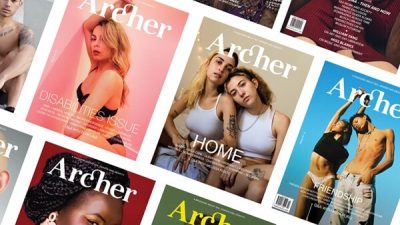 HELP KEEP ARCHER MAGAZINE AFLOAT!