No justice for sexual assault victims: Sex workers 'less than citizens'
By: Georgie Wolf

Content warning: this article discusses sexual assault.
One Summer afternoon in February 2018, Anna* sat opposite a police officer in the interview room of a suburban station in Brisbane. As her husband waited at reception, Anna explained that only hours earlier, she had been sexually assaulted.
The response was unexpected. "Where's the crime? What is it you want from us?" the police officer asked.
Anna is a sex worker who was 'born and bred' in Brisbane. She is an escort of twenty years' experience; her confidence is obvious to me, even though we're only talking over the phone. But as she continues to share her story, her voice turns bitter.
In recent weeks, the Queensland government has announced that it is considering the decriminalisation of sex work. Anna's experience demonstrates that reform is long overdue.
Sex workers who are attacked by clients are disadvantaged in Queensland, where the policing regime discourages victims from reporting, and workers who try to report are sometimes turned away.
Anna can't discuss her assault, as the case is before the courts. But she reveals that her alleged perpetrator was a client – a fact that should not have affected her right to seek justice.
"I said, there has to be a crime, it's sexual assault. It doesn't matter that I was getting paid, because even though you're getting paid, you still have the right to say no."
Despite this, the officer wouldn't take her statement. He suggested she visit a different station and asked her to leave. "My husband said, that was quick. And I said, yeah, they're not going to do anything."
Anna's complaint progressed only because she had a contact within the Queensland Police via her work as a brothel manager. They assigned her a different officer who took a statement and laid charges.  She says, "If I hadn't had that contact, I would have given up."
Sex work – the exchange of sexual services for payment – is not a crime in most Australian states, but laws and regulations for each state differ wildly.
In Queensland, the Prostitution Act 1999 permits licensed brothels and sole operators who see clients in private. But conducting sex work in Queensland means following multiple pieces of legislation involving complex laws and regulations.
A sole operator, such as a private escort, is prohibited from having another worker on the premises and from telling a friend who they are seeing as clients, if that friend is also a sex worker.
Queensland laws are regularly criticised for endangering workers.
Respect Inc. is a community-based association focused on Queensland sex workers' rights. State coordinator Elena Jeffreys tells me, "Police openly admit they are targeting sex workers for petty crimes or implementing safety strategies that should not be illegal."
Licensed brothels are supervised by the Prostitution Licensing Authority (PLA) but escorts are overseen by police.
Undercover officers routinely pose as clients asking for prohibited services. These practices are more likely to sow mistrust than encourage cooperation; Anna tells me of friends who refuse to report crimes, simply because they're afraid of law enforcement.
Sophie* is an independent escort and a Social Studies student. Around January of 2017, she says, she was 'stealthed' by a client; he removed the condom covertly during sex. After visiting the sexual assault unit at her local emergency department, a social worker suggested calling the police.
Sexual assault is defined in Queensland as any unwanted or forced sexual act or behaviour without consent. According to NSW Law Society president Pauline Wright, "stealthing is essentially a form of sexual assault because there is no consent."
The officers who interviewed Sophie disagreed. "After I'd told them of the events of the assault, [he] went straight for the classic, 'Well, did you say no?'
I said, 'I couldn't say no, because I didn't know he'd removed the condom.'
And he just got stuck on the point of 'If you didn't say no, how did the client know you weren't okay with that?'"
Her experience horrifies me. Sophie tells me, "There was no compassion, no recognition that I'd obviously gone through trauma." The questioning continued until she became distraught and asked them to leave.
Sophie's contact with police didn't result in charges being laid, or a statement being taken. She requested the collection of forensic evidence, planning to approach police again later. But she was told that evidence couldn't be taken unless she gave a statement immediately. She was then required to sign a document stating that she wouldn't be taking the matter further.
Sophie regrets her attempt to report. "I think my experience with the police that day was actually worse than being assaulted."
Respect Inc.'s Elena Jeffreys believes that police attitudes towards sex workers hamper their efforts to report. "When a sex worker makes a report at a police station in Queensland it's a lottery on what skills, knowledge or attitude they will encounter. But generally, it's a bad experience and sex workers need to attempt to report the crime several times before identifying a supportive police officer."
Jeffreys sees decriminalisation as the solution, citing New Zealand, where sex work is not in the criminal code and sex workers are 70% more likely to report crimes.
I speak with a Queensland Police Service (QPS) spokesperson, who assures me that its members are required to comply with stringent codes of conduct.
The spokesperson states, "Our first priority will always be the wellbeing of victims of sexual violence and the QPS works closely with support agencies to ensure they are supported through the legal process."
Similarly, Judge Tutt, chairperson of the Prostitution Licensing Authority (PLA), advises dissatisfied victims to "make a complaint through the appropriate channels."
But Sophie describes herself as too traumatised to pursue matters further. "I didn't want to go anywhere near the police system again."
And although Anna's case went to trial, her first contact with police left her devastated. She says, "It made me feel less than a citizen."
Hearing these stories leaves me in anguish. These women have had their rights violated twice over – once by their attackers, and again by a flawed legal system.
Until Queensland decriminalises sex work, this culture of fear, ignorance and judgement will continue to damage our community. I'm convinced that reform is not only necessary, but long overdue.
*Some names have been changed to protect the privacy of individuals.
Georgie Wolf is a life adventurer, writer, and independent escort based in Melbourne, Australia. Her writing efforts include articles in the Sydney Morning Herald, online courses that teach clients to treat sex workers respectfully, and 'The Art of the Hook Up' – a book promoting consent and communication as essential ingredients for good sex. You can read more of her work at georgiewolf.com.
<! -- WIDGET HERE FOR BUY ARCHER -->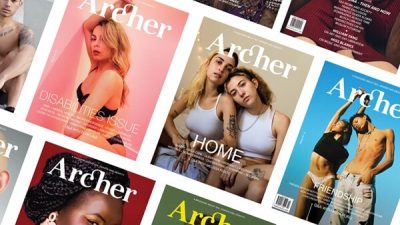 HELP KEEP ARCHER MAGAZINE AFLOAT!