Pashing in public for Archer
By: Jax-Jacki Brown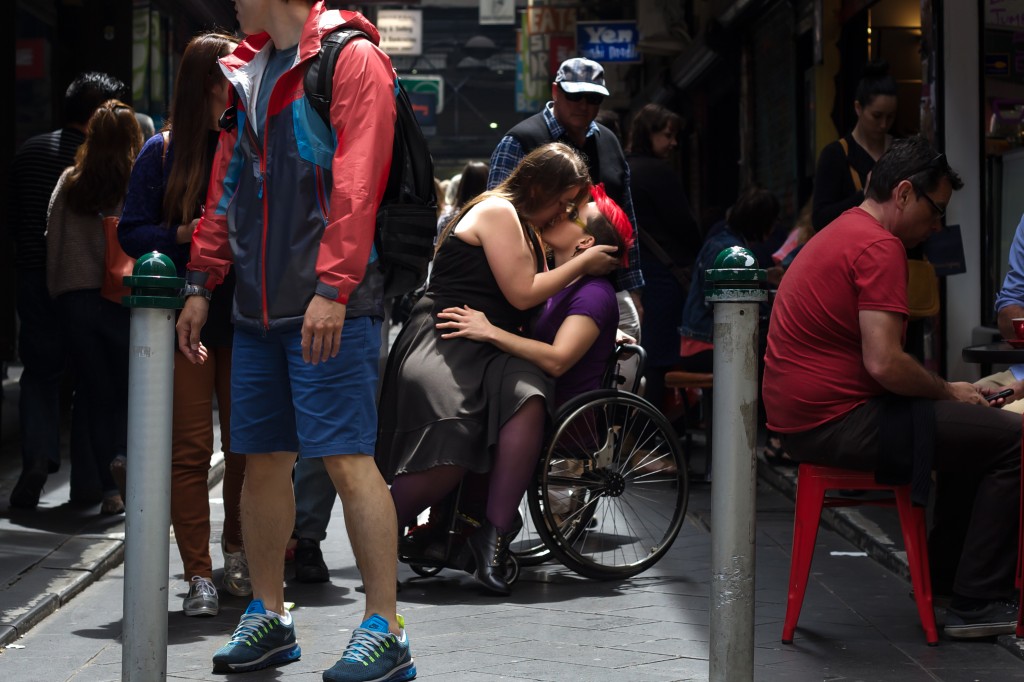 I wrote an article for Archer #3 on the politics of pashing, which explores my experience of pashing my girlfriend in public as a wheelchair user.
I thought I was comfortable with locking lips in public; that was what my piece was on, how kissing as a queer woman in a wheelchair is an eye-catching and inherently political act.
I used the word pash because it created nice alliteration, but when we were directed to pash in the crowded café, on the train or out the front of the steps at Flinders Street Station on a busy Saturday morning, I realised up until that point, what I'd actually been doing in public was kissing, not giving it my all and diving in for the pash.
What's the difference between a pash and a kiss? A kiss is a quicker, whereas a pash is prolonged, possibly more passionate and usually involving more tongue.
As my girlfriend sat down on my lap and we lost ourselves in the moment for art, I embraced the 'personal is political' mantra and pashed with all my activist passion, to dispel the myth that people with disabilities don't have sexual desire: I had it.
When we headed into the trendy alleyway café, ordered a coffee and started pashing while being snapped, I wondered if the presence of a photographer gave our subversive act some legitimacy. Did it signal that we had some artistic reason for doing what we were doing?
Archer #3 is out now. Buy a copy here.
Did being two women afford us some kind of momentary privilege? These days it's hip to be queer in the CBD. If we were two cisgender guys, would we have encountered homophobic responses? Did my wheelchair and display of sexuality place me so far outside the expected that we were beyond comment?
Our eyes were closed to any shocked reactions but the camera lens wasn't. We managed to get some interesting shots, which captured the reactions of strangers seeing such an unexpected display of lust.
At one point some guys to the right of us walked passed in the crowd outside Flinders Street Station and remarked, "What? Is that a wheelchair?'' as though the presence of a person in a wheelchair kissing made my wheelchair unintelligible: this couldn't be real, this couldn't be happening, a person with a visible disability couldn't be doing that, and with a woman wearing fishnet stockings!
Our final location was in a park, and these shots are my favourite. They capture the intimacy and tenderness between us while still framing important aspects of my identity and lived experience: my wheelchair and bright red, queer hair.
Jax-Jacki Brown is a disability and queer rights activist, spoken-word performer and rabble-rouser. She produces and MCs Quippings: Disability & Deaf performance nights in Melbourne.
Image by Marina Bonofiglio
Archer #3 is out now. Buy a copy here.
<! -- WIDGET HERE FOR BUY ARCHER -->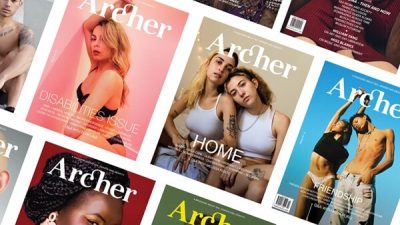 HELP KEEP ARCHER MAGAZINE AFLOAT!