'The L Word: Generation Q' S301: "Let's buy another baby"
By: Jess Ison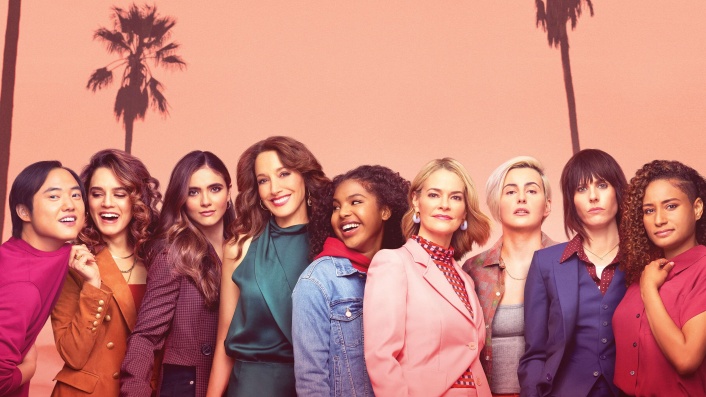 This article contains spoilers for The L Word: Generation Q. It is recommended that you watch the show before reading.
Welcome to my weekly review of Season 3 of 'The L Word: Generation Q'. Each week, I'll go over the characters' narrative arcs and pick out sections that suit my agenda. I'm not sorry to say that these will all be thinly veiled pro-communist rants. You can read my thoughts on earlier episodes if you need refreshers.
Image credit: Showtime, 2022
My queers, it's that time of year again, renewed hopes and dreams for The L Word: Gen Q delivering us some Jenny-level drama.
Alas, no one sailed away on an inflatable raft only to return with a millionaire backing the film production of her thinly veiled autobiographical novel.
I didn't know what to write about for this review. Should I focus on the bad makeup? The tiresome dialogue? The lack of a coherent plot?
So it all starts with Tibette* (are we still doing couple names in 2022?). They admit they love each other and Tina storms out – poor Carrie, honestly – and Bette screams.
Despite it all, I can never get past how nice Bette's mouth is.
Then, it's a year later. And through some extremely arduous expository dialogue we start to find out what they've all been up to over the last year.
In no particular order:
Alice is hooking up with a cutie but isn't that engaged. Not sure what happened with her editor but, okay. She is wanting to meet someone, cue the pointed shots to Alice on a certain dating app.
Dani is no longer on trial for her role in promoting opioids. It seems the show has decided to stop engaging with the opioid epidemic. It was extremely badly done, but at least it was something. Now Dani is just in her soulless apartment with Gigi, who she wants to move in. Gigi has to check with Nat because they have two children. Dani seems annoyed by this, which is weird and shows how self-involved Dani is.
Micah is going to propose to Maribel. Mates: it's ANOTHER MARRIAGE PLOT. Maribel turns him down but says she instead wants a baby. I have always championed these two but am nervous about this normie storyline that's being foisted on yet another couple.
There's an extremely cute scene in which Angie is dropped at college by Alice, Shane and Tibette. I loved this sweet scene of queer family. More of this please.
So, turns out that Shane and Tess (Shtess? Thane?) aren't broken up – instead, Tess's mum has moved in with them. There are scenes of domesticity that are clearly building up to a plotline of Shane cheating. We've been here before. (Sidenote, did youse all see that shot of Shane's dog? Happy to know that cutie is doing okay.)
Finley is back from rehab. Look, I don't get how she has been in rehab for a year, given her lack of income, but whatever. And Sophie has no storyline other than in relation to Finley, a fact that I've sufficiently lamented in previous reviews.
The drama all comes together at Dana's, where there is another gambling night.
Finley is walking around trying to apologise to everyone. Weird behaviour, mate. She apologises to Shane and Tess and they give her a job back. She asks if it comes with benefits and they brush her off.
WHAT THE FUCK? PAY YOUR WORKERS. Honestly, I can't get past these two arseholes firing Finley because she had alcohol dependency issues, instead of offering her support. And now they offer her a job, without benefits. Fuck the rich.
Shane and Tess are stalling on paying Finley a proper wage and yet Tess suggests to Shane that they should "buy another baby" – a.k.a. another bar.
Please factor proper wages into your business model, you jerks.
There is tension though because Kehlani is, for some unclear reason, hanging out in the back of Dana's. Kehlani knows who Shane is and asks for a hairstyle from Shane. There is extreme sexual tension between them and some closeups of Shane's hands on Kehlani's hair and no one is mad at this.
I really can't wait to see them hook up – hoping it is reminiscent of a certain poolside sex scene with a certain Cherie Jaffe. But also, storylines of Shane being a player and cheating are so tiresome. This will go one of two ways: either Shane will cheat on Tess and it will be the end of their relationship with plenty of drama; or Shane won't cheat and it will be some boring redemption piece on how Shane has grown.
Honestly, Shane needs to just be polyamorous. I am starting a campaign: Shane for Polyamory! First protest to be held at the CAC.
Bette and Tina flirt at Dana's overly expensive artwork, because this is how rich people live. They go back to Bette's house and finally it is on on on. Look, we have been here so many times, my friends, but no one can deny their chemistry. Sort it out already.
Just as they are about to sort it out, Angie walks in. What a fantastic ending to an otherwise extremely boring episode.
Alright. That's it. Lacklustre as it was, I am already deep in it. Will Shane cheat? Will Gigi continue to sell real estate? Will there be more obvious advertisements for a certain dating app?
These are important questions and I can't wait to find out.
*My girlfriend checked the spelling of this term on Autostraddle, in case you want to confirm just how gay I am.
Read Jess' recap of the next episode here!
Jess Ison is an aficionado of queer media and loves every bad lesbian film ever made. In her professional life she is a researcher at La Trobe University. She lives with her dog on Wurundjeri land. Find her on Twitter.
<! -- WIDGET HERE FOR BUY ARCHER -->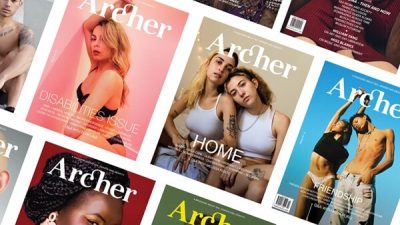 HELP KEEP ARCHER MAGAZINE AFLOAT!