Lingerie and kink: Alyssa Kitt on dress ups, stripping, burlesque and kink clubs
By: Alyssa Kitt Hanley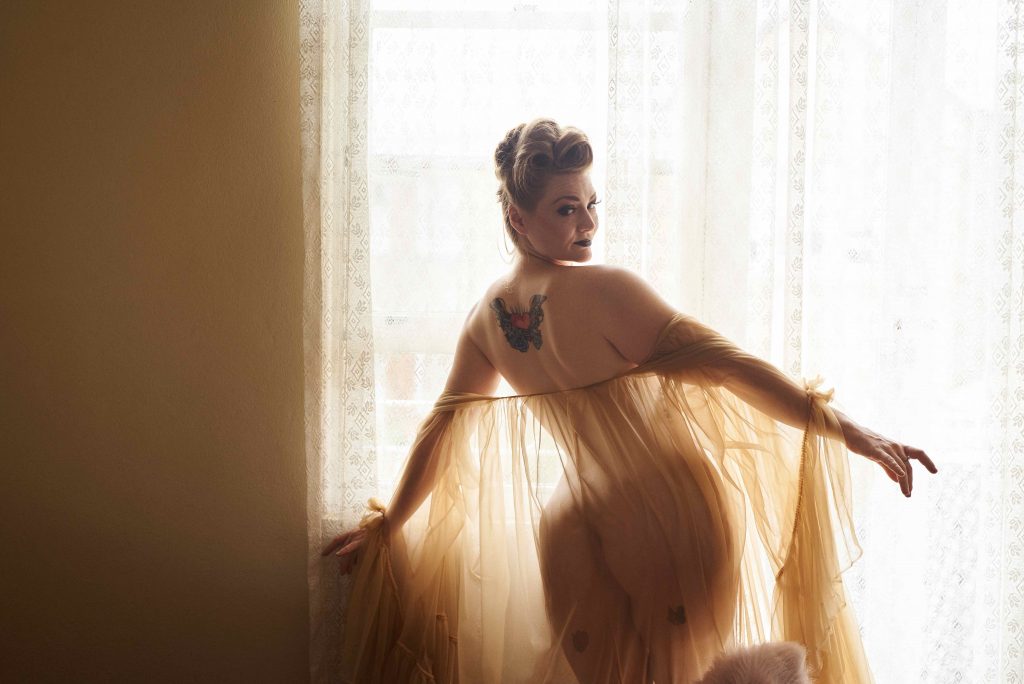 As a child, I used to sneak into my mother's room and try on her things; nothing gave me more of a thrill than rifling through her drawers. My most coveted items were tucked away – a ­veritable treasure trove of hidden silken garments: camisoles, teddies, bras that I would stuff with tissues.
I'd try them on and, dripping with a decadent feast of femininity, top off the look with her costume jewellery. I'd then roll around on her bed, pretending I was Marilyn Monroe in Gentlemen Prefer Blondes.
I loved the way these delicate items – the ultimate embodiment of womanhood – felt when they rested softly against my skin. But because they were deemed to be of a sexual nature, they were restricted to the adult world: 18+, closed doors and, for the most part, unseen, with the exception of that ­special someone (or, awkwardly in this case, my dad).
So while children are encouraged to play dress-ups with clothes from their parents' youth – back then, it was musty '70s velour, taffeta bridesmaids' dresses and shorter-than-short '60s miniskirts – they aren't generally encouraged to venture into lingerie drawers. My mum caught me perusing hers on so many occasions that she must have known she was raising a little deviant.
At 13, while grocery shopping, I spotted a maroon G-string for $8.99 in the aisle next to the socks and feminine-­hygiene products. The bad fluorescent lights did nothing to deter my desire. I mustered up the courage to ask my mum to buy it for me. Asking turned to quivering-lipped begging and she relented on one condition: "You're not to wear it out of the house. Imagine if you fell over wearing it at school!"
When I got home, I ripped off the tags and pulled the G-string over my thighs. Its thin straps hugged my hips and created a dramatic curvature accentuating my already-ample behind. At the time, I did swim-squad training eight times a week, so most mornings and afternoons my butt was already exposed. But this G-string was just that little bit more obscene: 10 centimetres of sin, cut to exaggerate the feminine 'asset'.
I never wanted to wear full-bottom briefs again.
My obsession with lingerie amped up after I got my first job at 14. I'd spend all my hard-earned $9-per-hour pay at the town's lingerie store.
I revelled in my secret delicates. I'd amassed a collection of matching sets: fuchsia lace, creamy white push-ups, mint-green polka-dot soft cups with frills. Every set made me feel special – different from all the other girls, who, I knew from the school changing rooms, were wearing boring, flesh-coloured, sexless bras.
When I turned 15, I found a corset in a friend's dress-up box; I knew it had to be mine. I asked her if I could have it – and I'll never forget the look that she gave me along with the response, "Take it. What would I want that for? Only sluts wear things like that." For the first time, I felt ashamed. How did this piece of clothing make someone slutty?
That night, after everyone had gone to bed, I stood in front of my mirror and laced myself into the corset. With the ribbons pulled tight, the slightly warped boning cinched my waist. I felt constricted but curvaceous; it took my breath away.
I did a little saunter around the room and let my hips naturally sway, like a beguiling womanly pendulum. I faced the mirror and said aloud, "You're a slut." The words cut the air with a tinge of den­igration. They were demeaning, but I loved how they made me feel: dirty.
Over the next few years, I continued to collect pieces and began to experiment with different lingerie textures and configurations. Each one unlocked a new feeling, a new part of my personality – new 'intentions' and desires, even though I didn't have an audience for them.
On top of all this, I was curious about sex shops. Each week, I would make my parents drive past a particular street across town from our regional Queensland home in Rockhampton so I could sur­­reptitiously check out the new outfit on display at the local sex store, Loveheart. I longed to venture inside, imagining a paradise of frilly accoutrements.
But the '18+' sign over the doors was a morality barrier that my timid, innocent self couldn't even imagine crossing. What if they questioned what kind of young lady would be in there? Indeed, '18+' barriers like this held me back from a long list of things that I wanted to do.
You know what they say about girls who wear black lingerie – well, black lingerie was my favourite.
My coming of age unfolded in Brisbane. Turning 18 marked the realisation of a list of things that I'd been waiting to do, all of which would firmly put me in the realm of 'bad girl': get drunk, get a tattoo, get my nipples pierced, start working in a strip club. Needless to say, the day after my birthday, I was rather sore. Not only was I nursing a bad hangover, but my new ship tattoo was still healing, as were my nipple piercings.
It took me a few weeks to descend the stairs surrounded by black mirrors into Club Minx in Brisbane's CBD. However, I thought someone who was size 14 couldn't become a stripper, so I began working in reception instead, counting dollars and greeting clients.
My uniform – a see-through mesh dress emblazoned with a red 'X' – didn't compare to the stripper's outfits, and it certainly didn't satisfy my need to show off my lingerie collection. I knew what I had to do and convinced management to let me give dancing a go.
The promotion to stripper meant that I needed to choose a new name, so I chose 'Lexie'. I also shaved off the right side of my hair, donned a little blonde mohawk, and wore Bond Girl–esque black evening gowns with crotch-high slits that flashed when I walked in my six-inch heels.
I'd given birth to a new character – a femme fatale. At Club Minx, I felt like I had permission to mould myself into whoever I wanted to be; it was the ultimate identity playground.
I knew about burlesque through Dita Von Teese's book Burlesque and the Art of the Teese, so when I saw a sign at Mad Dance House advertising classes, I immediately signed up. Under the tutelage of veteran striptease artist Lena Marlene, I performed my first routine to Christina Aguilera's 'Nasty Naughty Boy'.
With newfound confidence, I started playing with a burlesque persona at the club as well, wearing vintage French knickers, pearls and beige silk stockings, and playing with puffy marabou boas. I began attracting a different kind of clientele – ones who were intimidated by sexy Lexie but drawn to the softer demeanour of 'Miss Alexia'.
On top of this, I channelled yet an­­other hidden character – coquettish, flirtatious and flippant, representing the 1950s cheesecake style of ­burlesque – all by donning a new outfit and ­different-coloured lipstick. I created my first solo burlesque routine and performed under the name 'Cutie Catarina'. While Lexie would stare men down with the gaze of a sharp-shooter, Cutie's gaze would dart about and tease in a different manner.
But burlesque isn't just about the performers on stage. In an era when we hardly ever get to wear ballgowns or tuxedos out, the audience, too, are encouraged to play dress-ups.
In 2009, at a big annual event called The Burlesque Ball, I spotted Mistress Kalyss and her posse; these costume aficionados were the best-dressed people I'd ever laid eyes on. They were members of the kink scene, and the night culminated in a basement dungeon in an unassuming suburban Queenslander filled with toys that made my eyes widen with disbelief: That goes where and does what?
Soon, I became part of Mistress Kalyss's posse and she invited me to my first kink event, Brisbane Hellfire. I had no idea what to wear to a kink party, so I pin-curled my hair and put on a puffy black tulle lolita skirt, a white corset and big, exaggerated doll eyes. I was joined by my friend Alan, who, zipped into a black latex catsuit, transformed into the statuesque rubber mega-femme 'Lolita Latex'.
Arriving at the event, Lolita asked me to polish her suit – which turned into the first spanking I'd ever given. Here I was, feeling excited in a room full of people dressed as ponygirls with bits in their mouths, or monochrome jesters in black lingerie and black latex. These were the outfits of my dreams.
Doing a little public play unleashed the inner demon inside me. Lingerie was my gateway to this treasure trove of titillation.
In the gold private room at the club, I disclosed to one of my reg­ulars that I'd started going to kink clubs. This initiated an unparalleled string of gifts – knee-high Bettie Page boots, books on rope bondage, my first latex pencil skirt – to the envy of all the other dancers.
I felt like I'd gone from an 'innocent' country girl to a cosmopolitan kink connoisseur. The only place I'd been able to show off my outfits in Rockhampton was at the local shopping fair, but now I had a slew of spaces where I could parade my true, underlying colours.
None of these were quite public, but there were always eyes on me. Paid spaces teetered on the edge of semi-­private, but I felt more protected in them than in a private room with a man.
But while the public spectacle of my sexual self-expression was thriving, it didn't sit well with my very vanilla boyfriend at the time. Burlesque was acceptable, and stripping was tolerated because it paid the rent, but going to kink clubs was somehow deemed a big no-no.
"What goes on behind closed bedroom doors is one thing" – he was alluding to the fact that he secretly loved a good spanking – "but whipping men dressed as women in public just isn't right. At what point do you think all of this traipsing around like a hussy is going to affect your career as a journalist? What happens when your family finds out? When are you going to stop playing dress-ups and grow the fuck up?"
"Never," I responded then – and "never" is my response now.
I changed my name to Alyssa Kitt – 'Alyssa' being my real name, and 'Kitt', my childhood nickname. I decided to invite my parents to all my burlesque shows; I wasn't going to hide. My mum and I began going lingerie shopping together, and she has even assumed her own burlesque persona: 'Mama Kitt'.
It's been 11 years since I first stepped onto the burlesque stage. I describe myself as a purveyor of the naked arts, and my exhibitionism has evolved to a grand scale – I've performed in Las Vegas at Miss Exotic World clad in costumes designed by some of the world's top artists.
While I've outgrown the items in the musty dress-up box, I never outgrew my desire to dress up. My collection no longer comprises '70s velour nor does it have that insipid mothball stench I remember from my childhood.
Whether at a kink club, at a burlesque show or even just putting on a 'professional' costume for an office job, everyone should have the freedom to play with their identities. I very much believe that there isn't a single person on Earth who doesn't want to don a new character and flaunt their inner deviant on occasion. As I've always said, one can never be too old to play dress-ups.
Fierce. Formidable. The Feminist Fatale. Alyssa Kitt Hanley dances across the lines of a dual identity. She is both an artistic and intellectual chameleon. A powerhouse of Australian burlesque, feminist, writer, journalist and purveyor of the naked arts, she writes regularly on the public presentation of the body, burlesque, BDSM, sexuality and identity politics.
This article originally appeared in Archer Magazine #12, the PLAY issue. SUBSCRIBE TO ARCHER MAGAZINE
<! -- WIDGET HERE FOR BUY ARCHER -->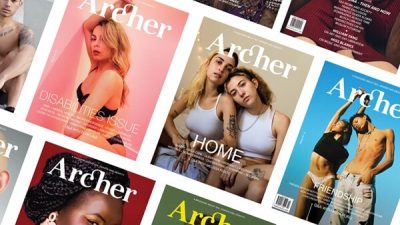 HELP KEEP ARCHER MAGAZINE AFLOAT!