Born out of fire – The Hellfire Club rises again
By: Alyssa Kitt Hanley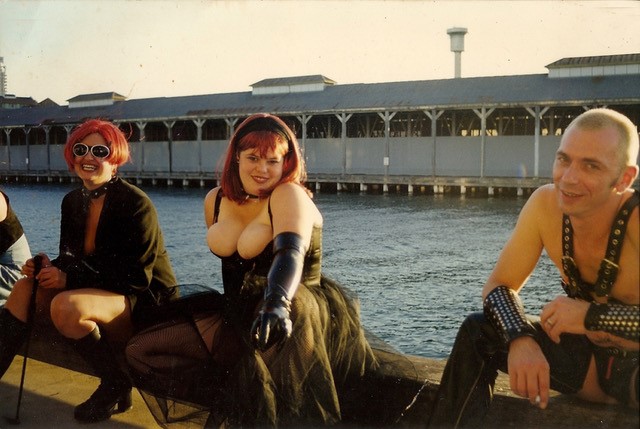 Just months shy of celebrating their 25 year anniversary, legendary Sydney kink party The Hellfire Club made the shock announcement that they would be having their final party, prompted by the sudden closure of their most recent Oxford Street home, iconic gay Sydney club The Midnight Shift. Party-goers were devastated, some having attended for most of their lives.
I had just released images of myself writhing on the Brisbane Powerhouse stage in rose gold leather and towering headpiece from the debut my newest burlesque show Icarus Fallen, when a Facebook message pops up from Jackie McMillan, one half of the duo that behind Hellfire.
"Can Icarus be done on a very small stage? Would you like to perform for our 25th anniversary?"
It's built for the big stage, with a height of 6"5' and a wing span of 5 metres, but I happily agree to make it work for such a milestone.
Despite the earlier announcement, Australia's friendliest kink party was set to battle on, relocating underground to the old-school King's Cross venue Candy's Apartment.
Hellfire has moved venues 11 times over the past quarter century, the most recent changes due to venues struggling under Sydney's ludicrous Lockout Laws. Changing legislation and increasingly ridiculous hoops to jump through makes the 25 year notch on Hellfire's studded leather belt more impressive.
The Hellfire Club was born during the world-wide interest in BDSM that came in response to the AIDS crisis in the early 90s, where people were looking into alternative ways to have sex.
On a Thursday night in March 1993, The Hellfire Club held its first Sydney party. At Blackmarket in Chippendale, every freak and weirdo in town packed into a two-story extravaganza of anarchy. All squeezed together like a bubbling hotpot of BDSM, subculture and sexual progression.
25 years later, people continue to need places to rebel and challenge normative stereotypes about sex, gender and sexuality. Hellfire's producers have maintained their unfaltering commitment to cultivating a physical place for this community of societal outcasts, all looking to find equally freaky minded sexual fiends and perverts.
It's clearly a place where everyone is welcome. Sneaking a peek at any one of their posters from over the years shows an incredibly diverse presentation of people, representing different kinks, sexualities and body types.
"Back in 2002, instead of using images from fetish magazines (as was common in those days), we started using photographs of Hellfire patrons on our posters. We quickly realised that we were onto something, and through our poster choices, we could reinforce our personal politics about diversity and inclusion. Most of the posters actually say: all sizes, all shapes, all sexualities, all ages 18+," Jackie McMillan, aka Ultra, tells me.
"We've actively resisted just being for the beautiful people, or the thin people, or the straight people, or the white people. We think what makes Hellfire so good is that it's a club where nobody in particular fits in, so everyone does," Ultra says.
The kink scene used to be hidden away from general knowledge, but could be found by those likeminded individuals interested in taking part. There continues to be the long-held stigma that deviant behaviour will infect the morality of surrounding communities.
Liquor licensing laws have made it difficult for public events like this to survive, and numerous noise complaints and claims of indecency have been used to strangle parties into submission, forcing them to eventually move on, or shut down.
Hellfire has been an easy target. Its fetish shows have been targeted by police in the past for violating a piece of legislation from 1943 called the Disorderly Houses Act. This Act was basically designed to prevent brothels from serving alcohol, by making a law that kept sex and booze separate.
There are a myriad of reasons why a large amount of Sydney kink parties take place in private spaces, however, the fact that Hellfire decided to be public facing says a lot. They laughingly call themselves the McDonald's of BDSM – an entry-level fetish club where beginners are welcome.
"Hellfire has a role in connecting people to those smaller private parties when or if they're ready to explore fetish further," Ultra says. "We also have a role in reducing stigma against those who have fetishes or interesting sexual practices, which is why we decided to come out of the shadowy underworld and fight to maintain a place on Facebook along with everyone else."
Although only four years ago, The Hellfire Club was the first Sydney kink party I attended in 2014. I remember standing in a line five deep to the bar next to towering women enduring the heat in head-to-toe latex bodysuits, thigh-high patent black stiletto boots with six inch heels just screaming to trample on those doormat inclined.
The faces of these glimmering creatures were obscured into alluring anonymity underneath full facial hoods with inflatable horns. Inch long lashes protruded from feline cut apertures around their eyes, their heavily blackened eyelids brushing open and shut – revealing searing gazes and dilated pupils.
I wondered how they were going to consume said alcoholic beverages with their mouths fully encased behind latex, but as it turned out, the tiny punctured breathing holes were just ample to squeeze a straw through. It visually transformed them into mosquitoes – their needle-like stylets sucking up sweet alcoholic nectar from their glasses.
As I admired this peculiar scenario a bearded gentleman wearing a dapper waistcoat and toting a wiry moustache came to stand next to me. He could've been going to a show at the Sydney Opera House save for an intricate rope cuff he'd wrapped around his wrist.
"Do you tie?" I asked, scoping him out.
"No, not at all," he responded. I laughed, assuming he was flirting with me and was actually an accomplished rigger.
Four years after meeting that fateful night at Hellfire, we are now engaged – and he still can't even tie a single column.
According to Ultra, my fiancé Lachlan and I are not alone. There are many love stories like ours that started on, or around, Hellfire's trusty old A-frame.
"We can count at least fifty Hellfire relationships that have sustained long term, resulting in marriage, children, or other forms of permanence or commitment. More importantly Hellfire curated and created tens of thousands of friendships, fuck buddies, friends with benefits, play partners and unicorns," Ultra tells me.
It's Hellfire night and I park on Ward Street, feeling perfectly safe in the Cross wheeling my silver suitcase the block and a half to Candy's. There's a huge line over a block long curling out the front door.
As I carry my suitcase down the front steps a waft of dampness hits my nostrils – that sweet, mildewy, earthy smell that anyone who's ever lived in an old terrace house is all too familiar with. It smells like original King's Cross underground – a venue untouched by time or refurbishment. Candy's is a place that everyone I speak to during the night says has remained untouched since their teen clubbing days back in the 90s.
As I'm directed backstage behind the DJ Booth, the deep bass beat permeates my skin and rattles the inner cavity of my chest. I realised that for many in this room, these tracks are the club anthems, the audio history of growing up an outcast and finding one's tribe under the flashing strobes and sweaty dancefloors mushed up with semi-clad leather daddies.
My performance tonight is a burlesque reimagining of the fall of Icarus. I can barely see as I take to the stage – my eyes obscured behind an elaborate half-mask. I'm guided by my leather clad assistant, Eva Devore. I feel the horns of my towering headdress clip stage lights on the ceiling but maintain my composure.
On the dancefloor below I see the faces and hear the hollers of my kink family. As I slut-drop and writhe onstage I soak up the applause, and feel the love and support of such a strong community.
After my show I swan about in just my leather g-string, and party with the other attendees.
As I leave, I wheel my suitcase out of the best dressed crowd of freaks in Sydney and exit into the comparatively vanilla nightlife of King's Cross. The outdoor air lacks the pungent underground aroma of Candy's but it retains a certain seedy scent.
I get to my parked car and steer clear of a seagull feeding on what looks like vomit. King's Cross is still dodgy as fuck and that's just the way I and many others like it.
No matter the venue or the numerous difficulties facing the prolonged existence of this iconic kink party, Hellfire has indeed found its perfect home in King's Cross. This suburb remains a meaningful meeting place for all us freaks and weirdos, and the perfect home for The Hellfire Club to rise again.
Fierce, formidable and a feminist fatale, Alyssa Kitt is one of Australia's foremost burlesque performers. She is the Director of the Australian Burlesque Museum, as well as a trained journalist and historian. Alyssa has recently completed her Master of Publishing at the University of Sydney. She writes regularly on the topics of burlesque and the naked arts, sex, BDSM, sexuality and body politics. She is a practicing kinkster residing in Sydney.
Archer Magazine #10, the HISTORY issue is out now. Buy it here.
<! -- WIDGET HERE FOR BUY ARCHER -->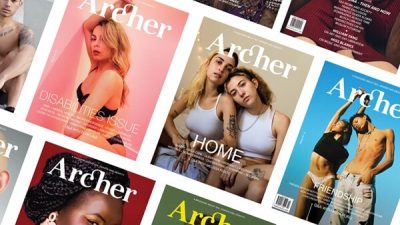 HELP KEEP ARCHER MAGAZINE AFLOAT!