Archer Asks: Candy Bowers, Performer, Producer, Activist
By: Angela Serrano
Sponsored post: One The Bear is a proud supporter of Archer Magazine. For more information about the show, including tickets, click here.
Candy Bowers is a queer South African-Chinese-Australian performer, director, dramaturg, producer, activist-artist. She graduated from NIDA in 2001. As co-founder and co-director of the Black Honey Company, her many career highlights include touring her political work in Queensland schools, performing in South Africa, and collaborating with Lisa Fa'alafi to create women of colour burlesque troupe Hot Brown Honey, which won the 2017 Helpmann Award and the Total Theatre Award for Innovation, Experimentation and Playing with Form at the Edinburgh Festival in 2016. Her newest project is One the Bear, a fairy tale about two best-bear friends seeking to honour their roots amid their pursuit of adventure and stardom.
AS: Tell me about One the Bear. How did you come up with the concept of fairy tale hip hop?
C: I wanted to go back to the idea of allegorical storytelling – with a modern twist. Fairy tales tend to be cautionary tales with strong moral overtones. Yet inside my indigenous culture, storytelling wasn't quite as moral as the European ones.
If you unpack every single one of the European fairy tales they're really saying 'don't have sex ever.' Or 'men are men and women are women and gendered shit.'
I was more interested in reflecting on the idea that if you don't define yourself for yourself what could happen? What does it feel like to be crunched into other people's fantasies? Which is inspired by an Audre Lorde quote. When I talk to kids I always tell them what Audre said: 'If I didn't define myself for myself, I'd be crunched into other people's fantasies and eaten alive.'
I created 'One the Bear' with the next generation of queens in mind. But when we debuted the show in Campbelltown, older folk who didn't get to see this stuff as teenagers almost go back to a childlike state.
They're almost rowdier and more expressive, they cry more and laugh more, because when they were growing up in Australia, they never, ever saw themselves on-screen or onstage.
AS: In some of your previous interviews, you've mentioned that you did your dough, studying classical acting at NIDA. Yet when you graduated, agents and casting directors said they couldn't book you because you didn't "look like an Australian woman" – without even bothering to look at your experience and abilities.
C: I barely recognise some of the women I went to NIDA with. Many ended up being thin with blonde hair and I still get so shocked because people are used to them being blonde but I know they're not blonde. They can lose themselves completely, some of these folks, because they were trying so hard to get that gold star that's highly oppressive and deadly.
I was once booked to do this commercial. So I'm sitting down at the makeup station and they go, 'we don't know how to do your hair'. I remember thinking at the time, 'I'm probably making more money than the entire makeup team to be on this commercial. And you have got no idea how to do my hair.'
If you're not white or thin, you're so absurd for them, you're such an anomaly, that they reckon they're allowed to be really rude to you.
In the Black Honey Company, we keep bucking the system, creating spaces where they can see something alternative, like two black women on stage. Like six black women on stage. Aboriginal women and African women and Asian women and Tongan women and Samoan women on stage together.
In Australia, this stuff is breakthrough. And it shouldn't be. It's 2017. Come on! And people who run the theatre companies will say they just don't know how to deal with diverse audiences. Well then, I would question their authority and their leadership. I would question why they have the role.
AS: Aside from staging more work by diverse writers and featuring diverse performers, it seems there is a problem engaging diverse audiences as well.
C: A lot of queer folk and a lot of people of colour don't traditionally go to the theatre because the theatres haven't traditionally invited them or marketed to them. Because if you look at the Australian Bureau of Statistics, who general Australians are is not the same as who the theatre companies are saying the general public is.
The general public to them are people who have traditionally bought tickets. And the people who have traditionally bought tickets are often people who are older, white, middle-class or upper-class folks. So if they want to kowtow to a crowd that, according to their research, refuses to support work by people of colour, go for it but name it. Don't pretend that you're making theatre for everybody.
So I decided to raise my own money and support to begin to talk to the audiences I wanted to see. Because as we got more and more popular, and performed shows at the Sydney Opera House, we saw less and less of our people in the crowd.
All those elites who feel very comfortable in these spaces are buying up all the tickets. So with Black Honey Company, in our radical approach to everything, we are going to do the heavy lifting on that as well.
Australian media and stage are probably one of the last bastions of segregation. After NIDA people told me I didn't look right for their jobs so I said OK, I'm gonna make my own work I'll find my own audience.
Got a gig at the Opera House. Toured the country. Toured the world. People definitely wanted to see what I got to give. But the cultural gatekeepers were the ones telling me no, they don't.
AS: Hamilton is probably the most famous English-language show with a truly diverse cast. Have you seen it?
C: I haven't seen it but I met Lin-Manuel Miranda years ago, in Edinburgh. We were running a late-night improv hiphop comedy show called Freestyle Love Supreme.
The style of Hamilton is very Broadway, it's different to the way I make stuff but there's definitely synergy. Of course, what he's done, I think, is so simple. Cast diversely. How easy. How straightforward. And once you build the platform, then the accolades. Then the audiences.
So I say to anyone holding back on diverse casting, is it based on analysis and your experience? Or are you actually racist and you like it this way?
Think of the consequences of taking a risk on something like Hamilton. The most awarded show in the world. The wealthiest show in the world. The biggest return.
Catch One the Bear at La Boite Theatre in Queensland, from 10 – 17 October 2017. One The Bear is a proud supporter of Archer Magazine. For more information about the show, including tickets, click here.
This interview has been condensed and edited for brevity.
Angela Serrano is a Melbourne writer and fine-art model. She was a 2017 Wheeler Centre Hot Desk Fellow. Pronouns: She/her/they/them. Twitter: @angelita_serra Instagram: @angelita.biscotti 
<! -- WIDGET HERE FOR BUY ARCHER -->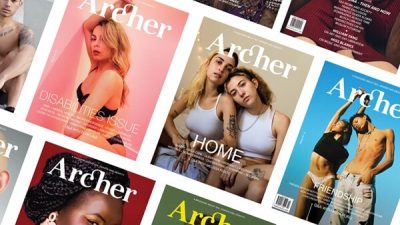 HELP KEEP ARCHER MAGAZINE AFLOAT!