Don't let them erase the faces of homophobia: Tony Abbott and the good victim myth
By: Madison Griffiths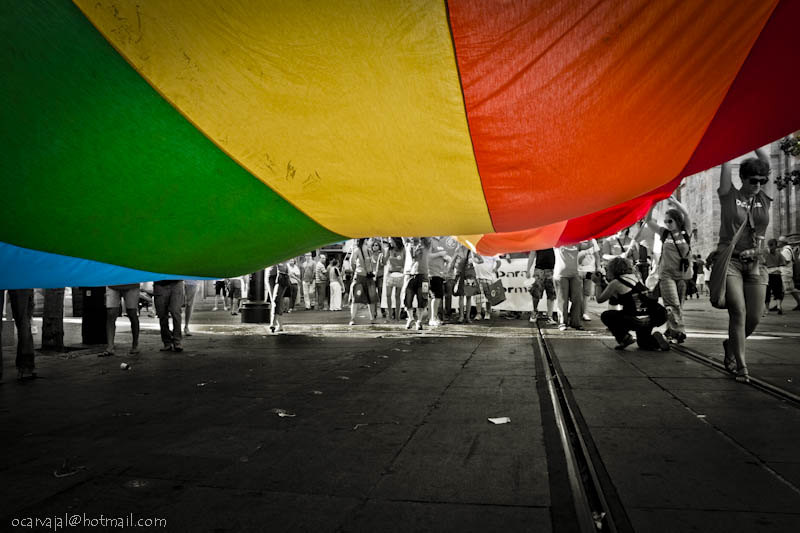 After being head-butted by a self-proclaimed anarchist named 'Astro Labe' in Tasmania, who readily divorced his actions from the same-sex marriage debate, Tony Abbott smugly declared that "all the ugliness seems to come from one side." Later that same day, swastikas were pasted onto train carriages and other hate speech was messily sprawled in black ink on trains, reading "vote no to fags" and "faggots not welcome."
Rainbow flags in mailboxes and taped to front doors throughout Brisbane were ripped, vandalised and destroyed. Large rocks were aggressively thrown toward homes with "yes" banners blue-tacked to their windows.
Thalia Black, a 16-year-old transgender teenager, was interrupted in a shopping mall just 24 hours after Tony Abbott's assault, by a man who—after attacking her with slurs—put his hands around her throat and started squeezing. A friend of mine had the saliva of a man—livid and determined—spat onto her cheek after he left the tram she was sitting on. "Fuck you, dyke" were his parting remarks.
While LGBT folk are recovering from wounds much deeper than Abbott's cut lip, homophobic violence is being erased from public discourse.
I've already memorised the face of Abbott's attacker—his sideburns, his facial piercing, his nonchalant expression and his sneakers. I know the sound of his voice, and the fact that, one fateful evening eight years ago, he regrettably didn't call an ambulance when his friend fell down a set of concrete stairs.
Abbott has spent copious amounts of time on radio and television reflecting on being attacked, in what feels like a national the-day-Abbott-was-headbutted-tour, while there is no exposé on perpetuators of homophobic violence. There is no burgeoning inquiry into their past. No fresh angle, no media frenzy, no appalled audience.
Homophobia is faceless. It is reported in ways that suggest it happens someplace far away, like bad weather in a part of town you don't frequent. Like a stray animal with no name or footprint, that rips and tears into rainbow flags in the evening, and come daytime, returns home, as though everything is fine again.
If the media were to accurately describe the face of homophobia with the same attention-to-detail that they used to capture 'Astro Labe', they wouldn't find a caricature-cut out of a Tasmanian DJ who smokes rolled cigarettes and has an unconventional display of facial hair. They'd find plain-as-day Australians: the sort that occupy political parties, family dinners, and Facebook feeds. The ones we see represented in Australian soap-operas, and reading the news on free-to-air TV at dinner time. Our own grandfathers and work colleagues.
There'd be no illicit backstory the Daily Mail could discover, just an insidious amount of homophobia translated into policy, our constitution, and the kind of society debating same-sex marriage in the first place.
Lisa Pryor of the NY Times wrote, in her article 'Is Naming and Shaming Rapists the Only Way to Bring Them to Justice?', that "the problem is not that we do not take rape seriously; we take it so seriously that we demand silence about perpetrators unless we are reporting on a court case and, as a result, very few perpetrators face any consequence at all."
I am reluctant to apply her reasoning to homophobia, as I don't wholeheartedly believe that homophobia is taken seriously at all. The misconception is that homophobia is to be taken seriously only if violent slurs against the LGBTQI+ community are scribbled onto the inner-workings of public transport systems.
Popular belief is that it hides only in dark corners at night and vandalises homes when the rest of us sleep, that it is kept alive by graffiti, rocks and posters being taped up in university corridors and on street posts.
If we assume that homophobia only comes in the shape of gratuitous violence, we are remaining intentionally ignorant. We are causing harm. Homophobia doesn't have to be physically threatening to be dangerous. It comes in the shape of nonchalantly assuming that a male work colleague has a female partner, or commenting on how somebody 'can't be' queer, because she's only ever been in relationships with men, or how surprising it was when Ed came out because he can kick a football. Homophobia arrives, perhaps most insidiously, in an envelope in our mailboxes. This, we mustn't forget.
As has always been the case, perpetuators of homophobic violence come in all shapes and variances, and the faces of most aren't exhibited in all of the ways Astro Labe's face has been. Most are able to freely hurt LGBT folk without any consequences.
But even more disturbingly, they are able to freely hurt LGBT folk without even public recognition that their actions are homophobic. The'no' vote is not neutral. In reality, it translates to the shape of "fuck you, dyke". It equates to a passing comment on a crowded tram, a broken window, ripped, rainbow coloured flags left on the sidewalk.
Madison Griffiths is a freelance writer, artist and poet whose work has been published in the likes of VICE, SBS, Daily Life, Overland, pedestrian.tv, Catalogue Magazine, Catapult and Broadsheet. You can find her work here.
<! -- WIDGET HERE FOR BUY ARCHER -->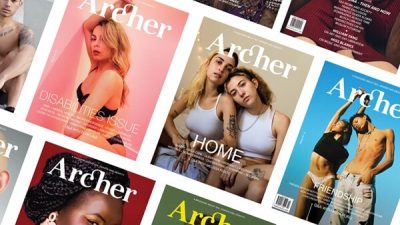 HELP KEEP ARCHER MAGAZINE AFLOAT!