Sex in public: keeping parties fun, queer, and safe
By: Lucy Watson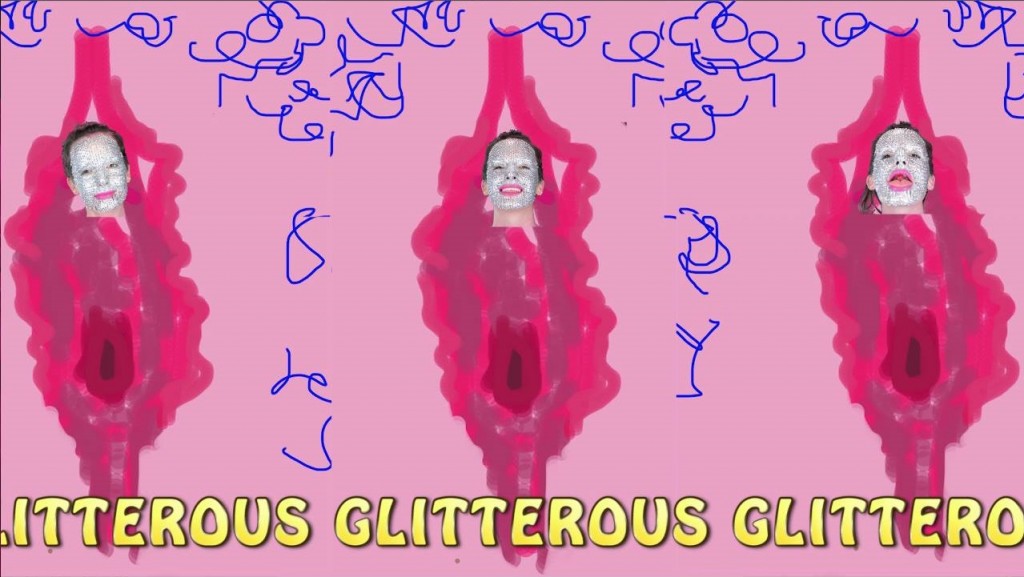 Over the past year, I've found my party second wind. After a few years of being horrified at the thought of going out two or three times a week, suddenly I won't consider anything less. As a result, I go to a lot of different parties. Gay parties, lesbian parties, queer parties. Parties in warehouses, cafes, clubs. House parties. Even [very occasionally] the odd straight party.
By far, the most fun parties are the ones with a sexually charged atmosphere. The parties that publicly, without shame, acknowledge and celebrate the sexuality of the room and its occupants, and have fun with it. There's something about watching two women feed each other, pull on each other's hair and braid themselves together with it, all in silence, all in their underwear. It changes the vibe in a room, for the better.
According to Viv McGregor, the woman behind Claude, simultaneously an online visual art project and a sexual health resource for kinky women, it's because these types of events build community. "There's nothing like watching… a scene, or a show, or a challenging performance to bind people together and make them talk," she says. This can happen in a number of ways – be it the building of community through the celebration of sex, of bodies (all bodies), or even the development of awareness around consent.
Viv tells me, "there's nothing like witnessing a body-like-yours being objectified, sexualised, celebrated and set free on the stage – for all queers, but I think this holds especially true for trans, sex and/or gender diverse folk, and women." The amount of body shame we are taught to feel for being too fat, too thin, too hairy… to witness someone publicly refute that is empowering.
On a dancefloor at one such party, the crowd was shedding their clothing, revealing scars, skin folds, hair, nipples, belly buttons, tattoos, piercings. I thought about my unpierced nipples, and mentioned to the woman beside me (a stranger) that I felt uncomfortable removing my shirt because my nipples had no metal bars through them. Her response was to cover her own pierced nipple and simply say, "there. Now we're the same." Although not exactly a body-positive response, her willingness to facilitate my inclusion in the action was enough to help me realise my discomfort was a little silly.
The public celebration of sex and sexuality that party spaces can unleash helps reduce the shame and stigma around queer sex. For Viv, "we need to talk about sex. All the time. And this includes kinky acts and BDSM play. There's still a stigma and silence about sex in our culture, let alone kinkier shit, so the discussions have to happen – so that people lose their shame, for one, but also so we can learn how to take care of ourselves and our partners. We learn by watching, as well as by doing, when it comes to all kinds of sex and play, so a public act has the potential to open a space for discussion as well as titillate."
Sometimes spaces like this can be seen to demand a kind of active and permanent participation in discussions of sex and sexuality. This is an issue particularly for the queer community – as one so permanently fixated on sex – and an issue that is not solved easily. However, one thing that sexually charged spaces can work toward is better highlighting the difference between presence and participation: just because someone is on the dance floor when everyone else is taking off their clothes, doesn't require their participation. It may encourage and facilitate a shedding of the shame that might initially lead someone (like me) to decline, but ultimately, a no is always a no, and participation is never compulsory.
 *
The intersection of artistic performance, sex positivity and education around safe, caring and consensual sex is important to Viv, and to Claude, which is why the project is throwing its support behind a relatively new Sydney party, Homosocial.
While these kinds of discussions and community building have been going on in queer party spaces for years, what distinguishes Homosocial is its mostly younger audience. Anecdotal evidence indicates that problems around sexual shame and issues with consent are more prevalent in younger parties. I used to organise events for a university-aged LGBT crowd, and we were constantly faced with issues of sexual assault and body shaming, as well as the odd bout of sexism and racism. The distinct lack of community in these spaces was clear. The sense of community at Homosocial events is in stark contrast to this.
Viv sees Homosocial as a party space with "a camp joyfulness about the messy, fluid, parts of our sexualities and an openness to all identities and practices, which is what Claude also stands for." Jack, the party's organiser, is keen to collaborate with Claude not only because of its artistic merit, but also because of its sex positivity and safe sex resources. The party will feature sexy and silly artistic projections and live performances, go-go dancers, and the opportunity for a public paddling.
For Jack, it's important to maintain a queer, sex positive and fun vibe around Sydney parties in the face of a shift toward the big and bland, a movement not unique to Sydney. Everywhere you go, small venues are being replaced by corporate groups that are more interested in promoting to a bigger audience, and staying "safe" (and I don't mean sexually) in order to earn the big bucks. "It's important that there remains a queer presence in our inner western neighbourhoods," Jack says.  "It's great to see that are still lots of us celebrating queer performance. I recently went to another party where the guys organising it had their poster was censored by Facebook as it displayed a lovely set of low hanging testicles. Ten points to them I say! We should never censor ourselves."
In the face of a changing venue atmosphere, where parties are becoming increasingly vanilla to appeal to a broader audience with a thicker wallet, it's heartening to see that trend being defied. Even though Facebook censored those "lovely" testicles, the posters were loud and proud on the night, encouraging a celebration of sex, sexuality, and balls.
Public performances and displays of sexuality, particularly kinky sexuality, needn't be considered risqué, or attract censorship. Encouraging publicity for all our kinds of sex, and all our kinds of bodies builds pride, respect, and community, and reduces shame. The reason I go to parties is to have fun. And what could be more fun than that?
Homosocial in Uranus, in collaboration with Claude, is on this Friday June 5 in Enmore, Sydney. Catch Viv McGregor speaking at our Sydney issue 4 launch event, next week.
Lucy Watson is Archer's deputy online editor, and a PhD student at the University of Sydney. Lucy also DJs and performs at Homosocial events.
<! -- WIDGET HERE FOR BUY ARCHER -->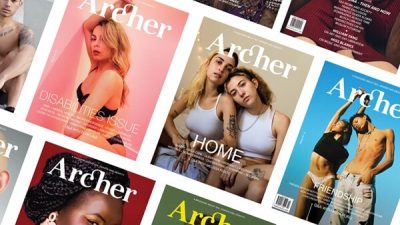 HELP KEEP ARCHER MAGAZINE AFLOAT!