Navigating the World as a Trans Man: It's All About Aly (Part 3)
By: Finnegan Shepard
This is the third part of "It's All About Aly", a series about friendship between a trans man and a cis man living together in New York City.
This article contains graphic sexual content and discussion of body dysphoria. Please use reader discretion.
For the next few weeks, every time Emily and I hung out, Aly was there. Sometimes it was because I invited him, sometimes it was because Emily asked us both to hang out, and sometimes it was because he invited himself, but the result was that Emily and I were never alone together.
My first opportunity came one Tuesday night, when she texted me around seven, asking if I wanted to come sleep over.
I was in philosophy class in Bronxville, but I texted back saying "for sure" and left class at the break, sprinted to the train station to catch the 7:37 to Grand Central, took the 4 to Union Square, dashed up to our apartment to retrieve the strap on, then grabbed the L at third, grateful that Aly hadn't been home to delay me.
By the time I got to Lorimer it was ten past nine, and I was anxious about a long wait for the C, so I caught a cab and arrived at Emily's at 9:22 flat. She was sleepy.
We made out on her couch for awhile and then she went to take her bedtime shower.
I checked my phone. Aly had texted Where are you? Just got home.
I listened to the patter of the shower and thought about how when I was young, images of this type – one adult on a couch waiting for another adult taking a shower, in an apartment in a large city– had struck me as indicative of an entirely different phase of life, one in which the problem of my body not matching my self would have been solved.
And maybe it was true, or at least halfway true; Emily was the first girl that made me feel like perhaps I didn't need Aly, perhaps my body was enough.
I wanted her to myself. I turned my phone off.
In bed, I fucked Emily with the strap on and fell asleep still wearing it. Her bed was high off the ground and too soft. The sounds of the city mixed with Lana Del Rey on repeat, making its way through skimpy walls from an apartment somewhere above us.
Around five I woke pressed against her. A kind of bulbous pressure lit just below my belly button.
What's interesting about using a strap on is that it isn't entirely without sensation. It's as though there is a blurry physicality to it that has to be accessed through the imagination but which ultimately is, or can be, rendered into the material.
Given the right imaginative perimeters and encouragement, I can actually feel myself inside a woman, can feel the tightness, the warmth, the wetness. It's like driving through thick fog; precarious, but possible.
Waking up that morning and moving against her, feeling her press back, and entering her while we were both still half asleep, was the highest form of sensation I had ever experienced. I still didn't come, but I was very close.
Afterwards, she kissed me with a wide mouth and got dressed. I slipped out of the harness while she was in the kitchen, my pubic bone sore from the pressure of the dildo against me all night.
At Union Square, when she expected me to take the 3rd street exit, I walked with her to the four instead. "I'll buy you your latte-muffin treat," I said. It was rush hour. I hadn't slept well, and it felt like cement was drying behind my eyes.
I paid for her coffee at Financier, but she was already running late for work so she gave me a quick kiss and then strode off across the hall.
It was evident from her walk that it was just another morning for her. There were more mes in the world than hers. She didn't need me the way I needed her.
On the subway I'd been imagining what our first apartment together would look like, even as she talked about a trip she was taking to Portland with a new 'friend' I was pretty sure wasn't just a friend.
I watched the masses of people swimming through the hall, all of whom desired and were desired; maybe they were broken hearted or didn't have the kind of sex they fantasised about, but they fit inside their bodies without a hitch. I watched women asking for two percent milk and was jealous of their weight issues: even hating your body was better than feeling like you didn't have one at all.
Aly was doing yoga when I got home.
"Hey babes," he said from his lunge-bind. "Where have you been? I was worried."
"Emily's," I said, slinging my bag down and collapsing on his bed. I thought about my strap on nestled in the bag, how it was pressed in among my books and the lentil-smeared Tupperware from the day before, inanimate.
"Oh cool," Aly said, switching sides. "Did you have fun?"
I took out my phone and glanced at it. No text. I couldn't tell from Aly's tone whether he was pouting or not.
"Yeah," I said, trying to make my tone confident and nonchalant. "Last night I fell asleep with my strap on still on, and so when we fucked this morning it happened in this kind of dream state, you know? It was really nice, to just wake up into that."
"Oh yeah," Aly said, hoisting himself up into a birds of paradise. "That's my favourite. I'm so glad you got to have that experience."
He meant it, but I still wanted to punch him, or to curl up into a ball and cry.
Finnegan Shepard is a trans writer, classicist, and entrepreneur. He has published fiction, non-fiction, poetry, and translations, most recently in The Mystery Tribune, and forthcoming from Amarillo Bay and Darkhouse Anthology Books. Based out of nowhere in particular, Shepard is currently co-founding a philosophy start up called Invisible, and working on (hopefully) the final draft of a novel. More on writing and philosophy can be found at finneganshepard.com.
Read parts one and two of 'It's All About Aly'.
<! -- WIDGET HERE FOR BUY ARCHER -->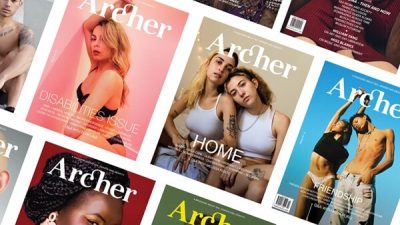 HELP KEEP ARCHER MAGAZINE AFLOAT!