Top 5 picks at Mardi Gras Film Festival 2019
By: Lucy Watson

Queer Screen's Mardi Gras Film Festival is always a highlight of our Mardi Gras calendar, because who doesn't love the chance to sit back with some popcorn and (finally) see our communities and stories projected on the big screen?!
We've trawled through the program of 120 films (54 feature length and 66 short films across 70 sessions) to bring you our top picks. They're diverse and inclusive, funny and moving, entertaining and informing, and we think you'll love them.
Zen in The Ice Rift
Italy

Zen in The Ice Rift follows 16-year-old Zen, seemingly 'the only girl' on the local ice hockey team, as they battle with bullying and exploring their identity. The tense soundtrack and stunning visuals combine in really effective ways to create a visceral sense of the confusion and isolation of gender dysphoria, growing up, and desire.
The film tackles these themes head on, with aggression. The icy setting also brings a welcome change from the Mardi Gras heat.
Screening Monday 18 February, 7:30pm
Event Cinemas George St
View the trailer and purchase tickets
Chedang and Apple
Philippines
Thelma and Louise is one of my favourite films. So, how do you improve on a film like Thelma and Louise? By making it about a 66-year-old woman who's just come out, and her best friend who's just cut off her abusive husband's head, obviously.
This hilarious road movie stars two former beauty queens as Chedang and Apple, and follows them as they search for Chedang's former lover, with Apple's husband's head in a Louis Vuitton bag. Seriously.
Screening Saturday 23 February, 1pm
Event Cinemas George St
 Sunday 24 March, 7:15pm
Riverside Theatre, Parramatta
View the trailer and purchase tickets
1985
USA

This beautiful and sparse film is a heavy reminder of some of the darkest moments for our communities. The film is set in its titular year and follows Adrian's return from New York to his conservative Texas family for Christmas, for what is likely the last time: Adrian has AIDS.
The black and white film captures the shadowy nature of these moments – the stilted conversations Adrian has with his family, the silences that are heavy with meaning, and the cracks in crumbling relationships. Stories about the HIV/AIDS epidemic tend to be common at LGBTQ film festivals, but this award-winning film is a stand out.
Screening Tuesday 19 February, 6:30pm 
Event Cinemas George St
View the trailer and purchase tickets
Leitis in Waiting 
Tonga
From the team that produced Kumu Hina, a favourite from Mardi Gras Film Festival 2015, Leitis in Waiting is a documentary about leitis, Tonga's indigenous transgender women: their culture, and their struggles for respect.
These women have historically held an important place within the Tongan community, but recent influxes of foreign evangelism have led to a rise in conservatism and discrimination. The film screening, followed by a Q&A with one of the film's subjects, Joey Joleen Mataele, is not to be missed.
 Screening Wednesday 27 February, 6:30pm
 Event Cinemas George St
View the trailer and purchase tickets
Two in the Bush: A Love Story
USA
Most rom-coms in this world can be summarised with the following synopsis: "Boy meets girl. Girl doesn't like boy. Boy harasses girl. Girl inexplicably falls in love."
So I love that this film flips the script into: "Girl gets job working for a Dominatrix. Girl falls in love with Dominatrix and her boyfriend. Chains and whips are involved in a consensual manner."
This film tackles bisexuality, kink and polyamory in a smart and funny way, and I am so here for that combo.
Screening Friday 22 February, 8:30pm
Event Cinemas George St
 View the trailer and purchase tickets
Lucy Watson is Archer Magazine's online editor, co-host of FBi Radio's Kings and Queens, and a PhD candidate at the University of Sydney.
Queer Screen is a proud supporter of Archer Magazine. BUY ARCHER MAGAZINE
<! -- WIDGET HERE FOR BUY ARCHER -->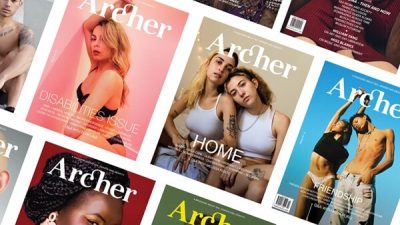 HELP KEEP ARCHER MAGAZINE AFLOAT!
Read more stories about:
arts