Archer Asks: video director Triana Hernandez and electronic producer Geryon discuss their collaboration, Nerves
By: Triana Hernandez x Geryon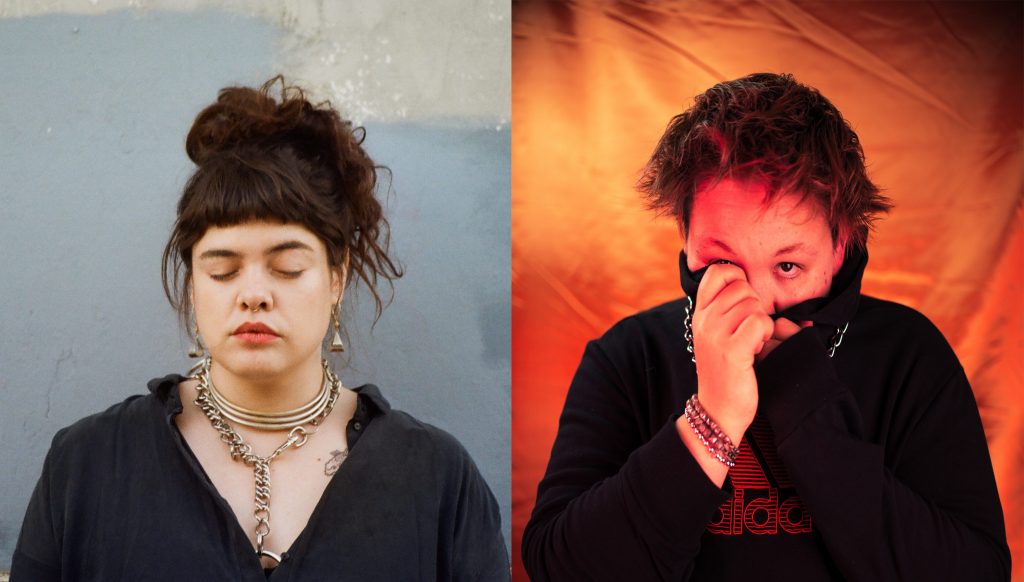 Director Triana Hernandez and electronic producer Geryon had been friends for a year before they decided to collaborate as artists together. Their debut collaboration, a music video made by Triana for Geryon's new single Nerves, is intimate, visceral and considered in its creation.
The track Nerves was prompted by Geryon's experience going through gender-affirming surgery a couple of years ago and it's a ]balanced mood between tension and relief. In the clip 'Nerves', Triana uses elements of horror films intertwined with her signature style of magic realism to make the video a surreal and political journey from start to finish.  
Triana and Geryon talk about their experience collaborating on Nerves, the complexities of making intimate art with political undercurrents, and metaphors for queer experience.
Geryon: What convinced you to work on this music video with me?
Triana: The line "Think of something that makes you happy, think of something beautiful"  has a genius contrast between its clinical spookiness and the florid, upbeat track playing in the background. That's always a great juxtaposition of moods for a music video, so I was excited from the very start to work on it.
Geryon: Ah yes, that line was actually a quote from the anaesthetist! When they said to me "think of something that makes you happy, think of something beautiful" it really stuck with me and created this visual narrative in my head. I never had an intention of releasing Nerves because it feels so personal, but when you heard it and said you wanted to make a clip for it I knew you would really complete it.
Triana: I didn't know this! It's so nice to be the catalyst for this song to be heard by others. I know at the start you were a bit hesitant because the song is about your top surgery but you didn't want to make the clip about you … How do you feel about it now, post music video?
Geryon: I'm not usually a big feature in my music videos because I don't feel comfortable enough with my image to become an aesthetic brand – or whatever you want to call it. I think now that 'Nerves' is a fully collaborative piece, it has kind of detached from me and exists as a work on its own. At the same time, it is ultimately about my experience, and not a blanket statement. I think flipping the narrative and having me act as this creepy surgeon is a statement in itself about how surgeons are involved in this incredibly personal experience, but are ultimately often there to capitalize off it.
When you proposed the concept of the car crash I knew that you would make something that was both beautiful and intense. How did you come up with it?
Triana:  It just came to my head when I listened to the song for the third time. I visualised a car inside a living room as metaphor for the outside world crashing into your private spheres. I was focused on creating a world where a car crash as part of your living room feels oddly normalised and you just have to be the most empowered version of yourself around it.
Geryon: Do you mean as a metaphor for navigating the medical industrial complex or as a broader statement?
Triana: The car crash inside the living room is a broader statement for any experience in which the State significantly impacts your private life and body. When I was sketching this concept, Australia had recently legalised same-sex marriage after conducting a public postal vote. The government's decision to make this issue of inequality a public debate where an entire nation felt entitled to have a say in the way others fall in love and live their lives was a direct attack on the LGBQTIA community.
I think of this postal vote as a weaponised strategy, a calculated wound. This made me think of a car breaking through your wall whilst you are sitting at home with your partner, having dinner or chilling.
Geryon: I think the car crash is a good metaphor for so many things. It aligned with my thoughts on what it's like to navigate the medical system as a GNC person. Personally, as someone who's non-binary and not thin, I struggled to find examples of what my body might look like or what my experience would be.
There's not really space for your own fear to exist amongst the various boxes you have to tick just to get approved. You have to have this almost performative certainty about it. I think when trans people demonstrate fear to medical professionals, it's really pathologized and used to gate-keep their access to things like hormones and surgery. So I feel like having Mossy and Jordi [the film clip's stars] do things that felt empowering for them around the car crash added to that sense of strength, the type of inner strength that helps you prevail.
You can watch the video for Nerves here.
<! -- WIDGET HERE FOR BUY ARCHER -->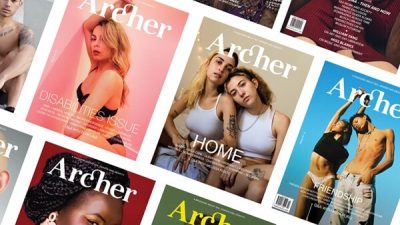 HELP KEEP ARCHER MAGAZINE AFLOAT!
Read more stories about:
arts