Bi Mouth: Queer Representation in Netflix's Big Mouth
By: Alex Creece

This article contains spoilers for Seasons 1 and 2 of Big Mouth. It is recommended that you watch before reading.
I have a conflicted relationship with animated shows intended strictly for adults as they often seem to lack substance beyond the realm of offensiveness for its own sake.
Big Mouth surprised me – despite focusing on the challenges of sexual discovery and puberty, its wit isn't hinged on stale risqué humour.
It balances vulgarity with sincerity, sweetness with shock value, and social conscience with genuine entertainment, as opposed to presenting a hackneyed narrative that merely allows a young male audience to feel edgy.
It also has a strong Jewish presence, an equal emphasis on female sexuality, and includes characters of diverse cultural backgrounds.
Nonetheless, the lack of queer representation in the first season was my main disappointment in an otherwise enjoyable show.
During season one, the only openly gay character, Matthew, doesn't have much purpose beyond the stereotype of a sassy, scathing gay man.
The third episode of season one, 'Am I Gay?' also felt like a missed opportunity to me. Andrew, one of the protagonists, questions his sexuality after feeling attracted to Dwayne Johnson.
This is an important facet of sexual development for many people, however, not much attention is given to unpacking Andrew's misconstrued binary of gay versus straight.
There is also a musical number where the ghost of Freddie Mercury sings about the joys of being gay, unfortunately reinforcing the persistent erasure of Mercury's bisexuality.
Ultimately—and predictably—Andrew realises that he's straight. This outcome is common in popular culture where queerness is used as a temporary story arc before returning to the status quo of heteronormativity.
I would have loved to see twelve-year-old Andrew's sexuality left open, with less emphasis on hastily arriving at a firm conclusion.
Around this age, I was terrified of definitive labels to the point where I refused to explore my sexuality at all.
I went to an all-girls school where I quickly learned that 'lesbian' was the worst thing you could get called – and that once a label stuck, it stuck.
It felt easier to avoid my own self altogether than to be relegated to a fixed identity, especially being a quiet, gawky, autistic kid who was desperate to fit in.
I feel that Big Mouth has made some important headway with its queer narratives. I have especially appreciated the development of Jay's queerness.
Throughout season two, Jay's sexual fluidity is both implied and deflected by the character himself. He often conveys openness to the prospect of sexual contact with other boys, but he also lashes out at Matthew during a school sleepover by insisting that he does not want to sleep next to the queer kid.
Jay is later apologetic about this interaction with Matthew, and they finally kiss.
While flawed, Jay's mistakes and conflicts with sexuality are portrayed sympathetically. He does not conform to the stereotype of a queer-coded villain or a Jock Bully whose vicious homophobia is a front for being closeted.
The latter trope can be particularly damaging as it suggests that homophobes and bigots are likely exhibiting internalised queerphobia, placing blame with our own community rather than acknowledging that this only occurs a fraction of the time.
I definitely had internalised queerphobia as a youth, which was exhibited in similar ways to Jay – through uncertainty, conflicted moments, and a constant fear of being outed.
When I was about thirteen, a female friend confessed to having a crush on me and I hit myself in the face with a textbook. Looking back, I cringe at how rude and inappropriate that was. She was always unashamed and open about her sexuality, and it made me extremely insecure.
I was affronted by the idea of sexuality altogether, because I felt like I was wrong. I bought teen magazines and plastered male celebrities' faces on my wall to feel like a 'normal girl', thinking this could manifest an attraction.
I later experienced similar conflicts when finally I acknowledged was queer but felt like I didn't seem typically queer enough.
By not being a caricature of queerness, Jay's portrayal dispels the notion that being 'normal'—for queer people or otherwise—means conforming to a specific brand of personality, attraction, or lifestyle.
The two-dimensional portrayals of bisexuality often seen in the media tend to be 'basically straight' women who experiment purely to satiate the male gaze, and 'basically gay' men who are adulterous villains.
Jay, despite literally being two-dimensional, has an established attraction to women, and his sexual fluidity is explored with reference to his personality and existing interests – such as having sex with pillows, now both male and female.
Big Mouth also subverts representational norms for its characters in general, and this is developed further in the second season.
For instance, Nick's father, Elliot, is an excellent rejection of toxic masculinity. Elliot is sex-positive, kink-positive and normalises emotional vulnerability and affection between men, as well as within intimate relationships.
The character of Matthew is also humanised in the second season of Big Mouth after an older gay man informs him that "being young, gay and mean is not a personality". Matthew begins to reflect on his own behaviour and attempt to show more vulnerability and kindness.
We also see Matthew treated as a cliché by other students – he is asked to "girl talk" and told he is "not, like, a boy". This draws attention to Matthew's perceived status as a stereotype and demonstrates how he is unfairly reduced to these confines.
This bears real-life relevance in how gay men are often valued for their potential to serve as an accessory to straight people.
Ultimately, I feel that Big Mouth has made some significant developments with respect to its queer representation.
These inclusions resonated with my own adolescent experience but were still consistent with the show's character development and existing social themes, rather than seeming to be tacked-on simply to pander to LGBT+ audiences.
It gives me hope that queer kids can see more of themselves not only in queer-specific productions, but normalised alongside the narratives of their heterosexual counterparts. We all deserve solidarity in how life is a fucked-up mess.
Alex Creece is some species of land mammal located in Victoria, Australia.
<! -- WIDGET HERE FOR BUY ARCHER -->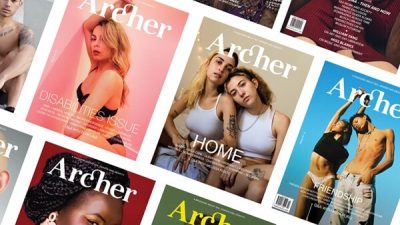 HELP KEEP ARCHER MAGAZINE AFLOAT!