How to make a magazine: Choosing contributors
By: Archer Magazine
If you're making a magazine, then you probably have some familiarity with magazines that are currently on the market. (If not, back to the drawing board, aka Mag Nation, with you.)
You know the writing you like. If you're not sure of your own opinion, sit down with a publication and pay attention to which articles you read in a sitting, and which ones you half-read before checking the score on the cricket.
Compelling writers are not necessarily experienced journalists, either. Sometimes they just have a voice that speaks to you, or there's something in the way they explore a subject that you find familiar, or totally unfamiliar, or just entertaining.
When I was compiling a list of potential contributors for issue 1 of Archer, I started at the top. I went first for my favourite Aussie author, Christos Tsiolkas. Christos and I have a long history (that he isn't necessarily aware of), which began during my first year of university. I studied creative writing and a classmate compared my writing style to Tsiolkas, and gave me a copy of Loaded to read. I found his writing inspiring in its honesty and comforting in its familiarity. Of course I wanted him to grace the pages of my first issue. And he does. Lesson: aim high.
Other contribs were recommended to me. Dr Lauren Rosewarne and Aram Hosie, two people with strong opinions on gender and sexuality, and who both read their pieces at the Archer launch in Melbourne, were names I picked up in conversation with friends. Lesson: look to your networks.
Then there are my close friends, a lot of them writers. Some of my favourite pieces in the first issue are written by my talented mates. Be warned, though: friends can be tricky. You may find some back out of an agreement at the last minute because you are their friend first; their editor second.
Friends also tend to argue their points more than most contributors, because they're comfortable with you. However frustrating, this was an excellent test of my skills as editor. Having to justify every full-stop and word change to a demanding contributor forces you think carefully about your editorial decisions, and look at them with fresh eyes. (So thanks for that, guys.)
The last lesson is about your instincts, and it's a recurring theme throughout this blog series. Your feedback will be so varied: different people like different things. You aren't starting up a magazine because you believe in someone else's tastes. You have to believe in your own.
You have strong opinions. If you don't, GET SOME. And stick to them. Look for contributors YOU like, and ask them to cover topics YOU find interesting. Otherwise, you might as well leave the project to someone else.
So, start close, with your friends and networks. Aim high: the worst that can happen is they'll say 'no'. And always trust your gut. If your tastes aren't in line with the masses, you'll find out pretty quickly.
Text by Amy Middleton
Follow @moodleton on Twitter
<! -- WIDGET HERE FOR BUY ARCHER -->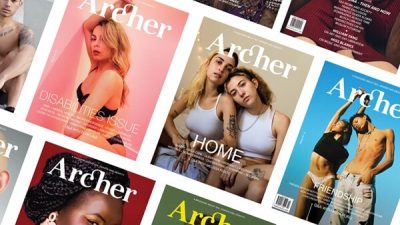 HELP KEEP ARCHER MAGAZINE AFLOAT!