How to make a magazine: Team building, aka 'Don't be scared to ask for help'
By: Archer Magazine
Another massive lesson I've learned during this whole making-a-magazine affair is that one woman can not do everything. And if she tries to, the end result will suffer.
I've been in publishing for 10 years so I know my way around sentence structure. I know how to commission, how to edit and how to put together great content.
My eye for images? Not so good. Design, branding and marketing? Not my strong point.
It's also trickier than I thought to sell my product, in a PR sense. I'm close to it. I'm inextricably attached to it. Doing my own promotion would be like selling myself to potential employers week in and week out and no matter how confident and energetic you are, that's hard slog for anyone.
So I asked for some help. The first step was to find my designers. Felipe Ubilla and I used to work on a caravan magazine in Melbourne. As much as he loves RVs and motorhomes, I had an inkling that a potential side-project might pique his creative interest. He then roped in his good mate and former colleague Kyran Docker, another full-time designer with a passion for new projects.
I had my layout guys, but I still needed images to augment the paragraphs of expertly-edited text I was collecting. I put an ad for an intern on a couple of websites (The Loop, pedestrian.tv, etc) and got a flurry of applications. Alexis Desaulniers-Lea was a Canadian-born photographer with an interest in sexual diversity. Her portfolio was bursting with androgyny, burlesque, fetish and physical interaction and her enthusiasm for the project was obvious from the outset.
As a relative newcomer, Lex has a unique perspective on this country. Australian attitudes to sex, as compared with those of Canada or the United States, make for an interesting conversation over a glass of wine. But that's a story for another time.
Further down the track I realised that despite my initial beliefs, selling advertising space without any prior experience is quite difficult. A good friend of mine, Nathaniel Holmes, who has done production for festivals, events and artist tours for over a decade, helped me out with sponsorship and kick-started a marketing campaign for the Archer brand.
The launch events began to take shape. With his creative nous and my understanding of my audience, the events began to look like rollicking parties, complete with live drawing installations, DJs and speakers as well as my humble address.
Like any good friendship, my bond with Nathaniel was cemented with alcohol and conversation, so it's fitting that the first issue of Archer is supported by Dcider, Two Birds Brewing and Tractorless Vineyards – all of which will be available at the launch events in Melbourne and Sydney.
Asking for help is easier than you think. Creative people with big ideas usually gravitate towards one another, so open your eyes to the talents of your mates and when funds are low, I find an offer of beers and hugs never goes astray.

Text by Amy Middleton
Follow me on Twitter
<! -- WIDGET HERE FOR BUY ARCHER -->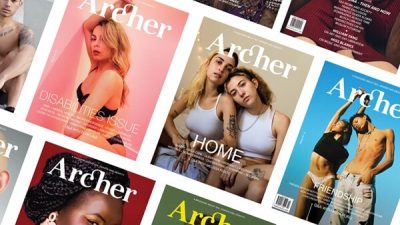 HELP KEEP ARCHER MAGAZINE AFLOAT!