Porn as sex education
By: Grace Sharkey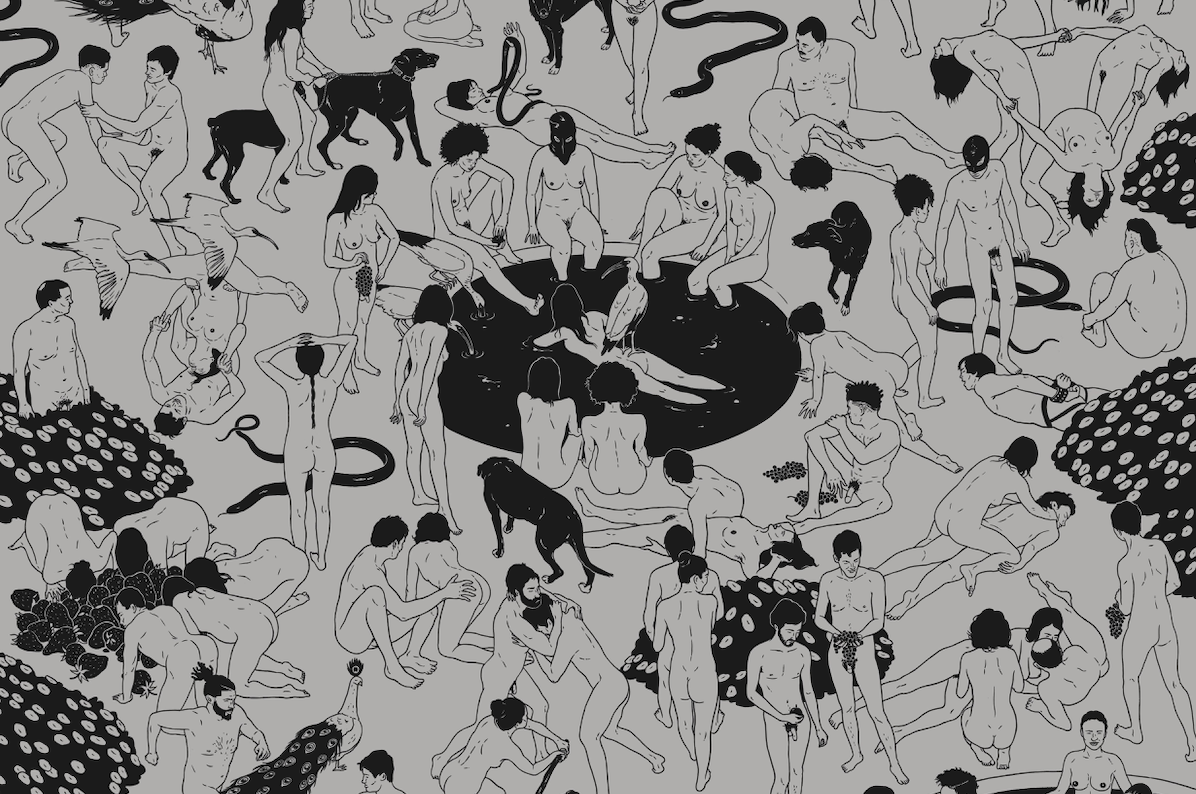 I don't remember how I found queer porn. Maybe an ex told me about it? I do, however, remember the first time I watched it.
I've never gone back to the specific scene, but I remember the gloves, the sweat, and how it made me feel: hot and bothered, sure, but also like I was watching something I couldn't believe actually existed.
I couldn't believe something was made just for us.
I wasn't allowed to go to sex ed as a child. My small public primary school had a nice lady come in and run classes for Year 6. I'm guessing she wore dangly earrings and a pashmina.
Our parents needed to sign a permission slip and I was raised by my dad – a politically conservative Catholic, born in the early 1940s. He didn't want me to learn about abortion. As my classmates were learning about our changing bodies and where babies came from, I was with the Year 5s next door.
I went to a public all-girls high school. A school without religion – no nuns as far as the eye could see. The deputy principal was a lesbian who later ran away with the head of maths.
Even so, our sex ed was perfunctory and mainly about periods. Some classes got condoms in science. Mine didn't. There was only one mention of queerness in my entire PE career. Lots of softball, though, which is quite dykey.
I was born in 1992 – the beginning of the internet. By 1997, lower-middle-class families like mine could have dial-up in their homes. I had unsupervised access to the internet for much of my childhood, but I wouldn't use it to seek out porn until my early 20s.
The one memorable exception to this is the first 'pornographic' image I ever downloaded: a picture of Pamela Anderson in a wet white T-shirt. (I would continue to believe I was a heterosexual for many years.)
Instead, I would stay up late and wait for Queer as Folk to come on. I was obsessed with Buffy the Vampire Slayer. Eventually, I found The L Word and it became clear things I had tried hard to ignore were not going anywhere.
My dad paid for my L Word DVDs. He called me when I was finishing my PhD and said, "I saw some of that L Word on TV the other day. It was kind of… porn. If I had known I wouldn't have let you watch it."
But Dad, what else was I meant to watch? I was starved for ladies on my screens kissing (and thinking, dreaming, laughing, loving). I wanted to keep thinking about queers forever.
I started my PhD in 2014 and where previously I had written about film, I thought if I wanted to go where the lesbians are, I need only look to porn. In porn, lesbians abound.
So I went back to the gloves, and the sweat, and while it never stopped making me hot and bothered, I spent years thinking about what it all meant.
Since finishing my PhD in 2018, I have taught many courses, but among my favourite are those on young people and sexuality. Students share their sexual education experiences, which vary widely based on age, gender and the kind of school they attended.
Most feel unsatisfied with what they learned, and are aware of the vast array of topics that were absent from these classrooms. I always ask them where they ended up learning how sex works, or how pleasure is negotiated, or about consent, and many say the internet. Fewer say porn specifically, but it's only mid-way through the semester – we are still building trust.
We often think of young people as having brains made of Play-Doh – mouldable, impressionable, ready to be influenced. And we want to protect their little mushy brains from things they aren't ready to know.
The knowledge we are most afraid of is sexual. Violence is second; drugs, third. Think about media classification systems. A film that is PG might contain light kissing; you might see nudity in an MA 15+ film; R is usually synonymous with sexual content. An M-rated film with violent murder? Yes. Female orgasms? Absolutely not.
This fear means that schools and the state are very concerned about what might get them into trouble. What we teach young people about sex in schools is a barometer of what society thinks is acceptable, and this is always in flux – a messy push and pull between conservatives and progressives (think Safe Schools).
The result is that many of us learn what we know about sex outside of the classroom. We have to. From the sealed sections of Dolly magazine, from older siblings, and online. Kids these days have high-speed internet in their pockets at all times. And a lot of them are watching porn.
The belief that young people have impressionable brains is why there is so much anxiety around access to pornography, particularly for young boys. We are concerned that boys are learning the wrong things about women from hardcore pornography – that women like it rough, or like anal sex (God forbid).
I don't want to dismiss these concerns outright. But I am not wholly convinced by them, just like I am not convinced that violent video games are dangerous. The correlation between knowing and doing is not one I have ever felt confident about.
While it's true that not all porn is created equal, I am always hesitant to imply some porn is feminist, while some is not. Pornography is a complex genre with a never-ending archive – to say anything about what porn is or isn't is largely useless, because there's so much of it.
I can, however, say some things about the porn I studied for my PhD and the ways it positions itself as ready to fill in the gaps between what we learned in school.
My research was focused on QueerPorn.TV, helmed by queer porn performer and all-round icon, Courtney Trouble. It is a highly visible example of the genre. It is part of a group of queer porn websites, like CrashPadSeries.com (run by one of the most famous directors in the queer porn game, Shine Louise Houston), where content sits behind a paywall so that all performers and artists can be paid for their work.
QueerPorn.TV brands itself as "real queer sex ed". Because of course, queer people are learning the least from formal sex education.
Even though I believe things have improved since my day, it's unlikely schools are giving young queer kids the knowledge they need to thrive.
I'm certainly not saying that kids should be shown pornography in schools. But think of all the movies that have hetero sex in them. Think about all the women's magazines that talk about pleasing your boyfriend. Think about how cis-centric all of this messaging is. About how white and thin everyone is.
We talk a lot about seeing ourselves on screen, and this particular screen matters too.
In the academic journal Porn Studies, Trouble explains what queer porn is to them:
"Queer porn means different things to different people – but to me, it means porn that is out of the box, out of the closet, and shamelessly sex-positive. Queer porn's endless combinations of genders and sexualities allow its performers and its audience to expand and affirm their own identities and desires. It is porn you end up thinking about long after you watch it, occasionally leaving you wondering whether you are more like the performers you saw than you had previously thought. Queer porn is humanizing and connective."
The promise of queer porn is that it is made for queer people, by queer people. Queer porn is for when you want to see people who look like you or fuck like you do (or, as it may be, look like you wish you looked or fucked like you wish you fucked). The performers are covered in tatts and identify with a range of gender identities and expressions.
According to QueerPorn.TV, the site is filled with: "proud modern sluts, feminist porn stars, sexy amateurs, trans men, trans women, genderqueers, cisgendered folks, fags, dykes, tops, bottoms, switches, real couples, sex educators, non-normative heterosexuality, sadomasochists, perverts, activists, punks, and artists at their kinkiest, raunchiest, filthiest, rawest, most passionate, radical, and real."
Queer porn is all about the real. As an academic, I am trained to be suspicious of anything claiming to be the real, but in queer porn there is no magically appearing lubricant after a quick jump cut. Instead, the lube is there, and hot dykes lose the bottle in the bed sheets like the rest of us.
Its authenticity extends beyond the mirroring of everyday life. Black Boricua genderqueer performer Papi Coxx has said that queer porn gave them a public and educative avenue to "express [their] gender and have it be visible in the most vulnerable of ways".
Trouble, too, has written about finding their gender through performing in porn. Seeing people of diverse sexualities and genders and races and body types being intimate, having fun and playing together is its own kind of lesson. A lesson I wish more people had access to.
I have written elsewhere about how queer pornography works as a kind of pedagogy, an educative tool.
By this I mean that pornography that is meant for queer people and made by queer people does more than turn us on. It promises the authentic identification you can have with someone on screen who looks like you and has sex like you.
Queer pornography is a pedagogical text: it teaches queers how to fuck, gloves and all.
Grace Sharkey is an academic based in the Department of Gender and Cultural Studies at the University of Sydney. Her work sits at the intersection of feminist, queer and film theory. She has since moved on from Pamela Anderson.
This article first appeared in Archer Magazine #14, the GROWING UP issue.
<! -- WIDGET HERE FOR BUY ARCHER -->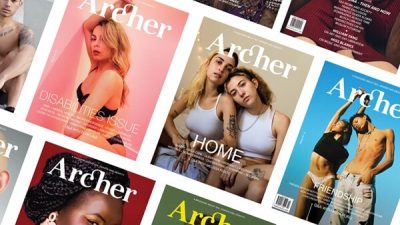 HELP KEEP ARCHER MAGAZINE AFLOAT!