Cruising: Public sex and the queer resistance to gay assimilation
By: Regan Lynch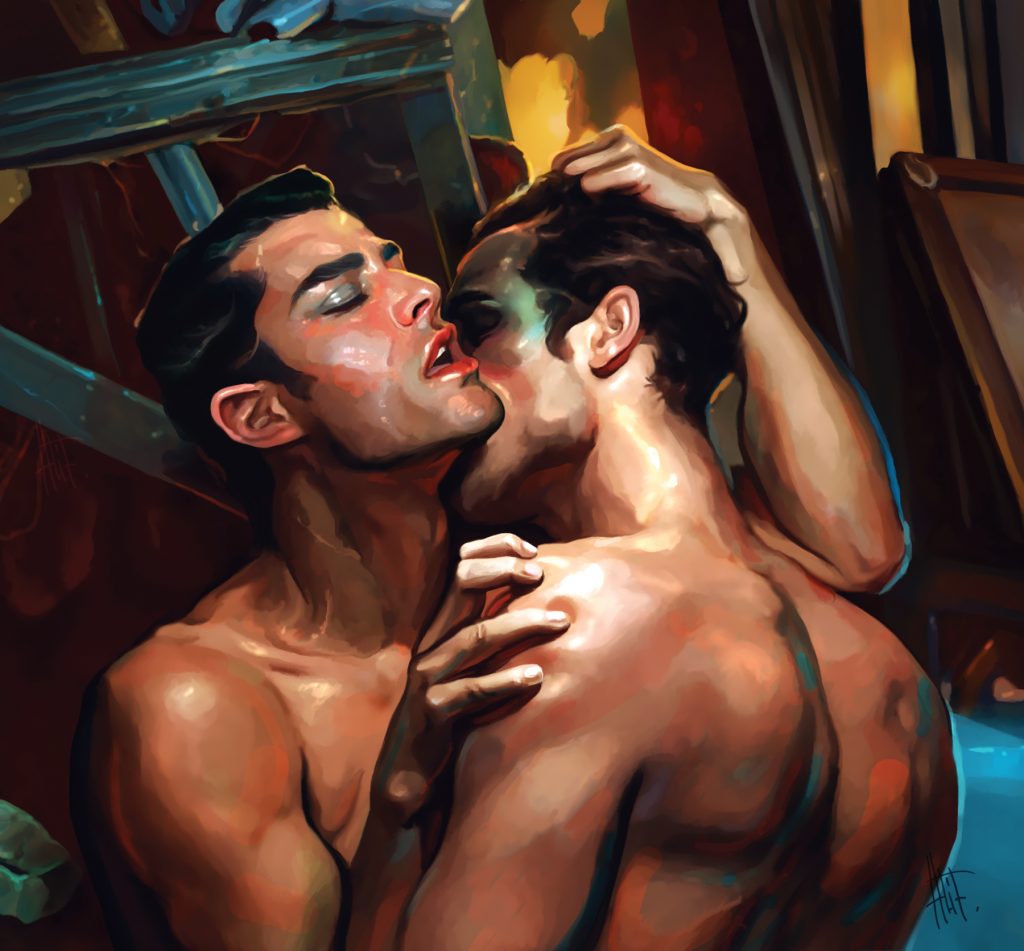 He's been paddling in the pool for 20 minutes, locking eyes with every member of the water polo team. I'm reclining by the edge of the water with my shirt unbuttoned. When he gets out to sit on the grass, I get up slowly and walk towards the showers. A few minutes later, he follows me in. Both of us shower separately, and get dressed with our backs to each other. As I walk out, I say, "Hey," in passing.
We have a meaningless conversation that still leaves me blushing. There are long silences. Our eyes don't break contact. He asks me if I want his number and we both pull out our phones. Before I've even unlocked the screen, he kisses me.
We fuck in one of the showers, periodically peering out of a crack in the door with wry grins. It feels like we know each other, but we don't. We exchange numbers and, then, eventually, names.
For many of us, the emergence of our queer selves did not take place in the domestic comfort of the family home – it happened in a toilet cubicle, or the park, and in the body of a stranger. Though sections of our community seek to repress the queer history of public sex, some of us cannot help but remember.
Cruising – the act of picking up strangers and having sex with them in public – has been a practice of queer men for centuries. Hidden in plain sight, in a body language that has become, over time, a kind of physical slang, cruising has given men who have sex with men a sexual outlet in societies riddled with bigotry and homophobia.
"Like poems, cruising carves privacy out of public spaces," author Garth Greenwell says in an interview with The Guardian in March, 2016. "Poems are a kind of private communication that occurs in public speech. I think cruising is that, too: a training in reading occult codes; a way of seeing a significance in the world that most people don't see."
Cruising reveals our most private desires in public. Eye contact, movement, ways of dress and other codes can load bustling public spaces with sexual potential.
These spaces are known colloquially as beats. Though cruising can happen anywhere at any time, there are popular, well-known beats around the world, such as Central Park and Fire Island (or the Meat Rack) in New York City, Nehru Park in New Delhi, Hampstead Heath in London and Flinders Street Station in Melbourne.
Although there is sometimes a public outcry to shut down known beats – as in the case of nudist beaches like Little Congwong in Sydney, Campbell's Cove in Victoria or Third Bay on Queensland's Sunshine Coast – such spots have proven resistant to law-enforcement and public shaming. The practice continues, and to this day, one can spy little sandy nooks, hidden in the bushes, on the way to Little Congwong, into which men disappear.
As gay sex became more accepted and domesticated in many Eurocentric countries, the practice of cruising has become less common. The subculture is impacted by a whole range of factors besides social progress – public sex practices adapt to legality, discretion, medical advances in sexual health and, of course, safety.
For instance, in cultures where openly gay relationships are criminalised or made dangerous, public sex provides a rare avenue for intimacy due to its anonymous nature. Simply put, when sex is deemed inappropriate for the home, it will be pushed out into the public.
But, where private queer sex has become more acceptable – whereby some degree of social progress has led to gay couples adopting similar lifestyles and family structures to straight people – public sex becomes a form of rebellion.
In such cases, engaging in public sex may be a continuation of gay tradition, and a way to connect with a lineage of queer ancestors who came before us. For a generation whose forbearers were devastated by death, disease and fear, this form of sexual time travel is a way to reclaim a queer history that threatens to be buried beneath the pressures to look, and act, like everyone else.
In Carlos Motta and Joshua Lubin-Levy's Petite Mort: Recollections of a Queer Public, over 60 gay men draw the spaces where they've had public sex in New York City. The book is an act of community imagining – a subjective map of a city that remembers a more liberated queer culture, and challenges how the politics of sex shifted from the public realm to the conjugal bed.
"I was drawn to the expression 'petite mort', a French phrase which translates to 'little death', because it is used as a metaphor for orgasm," Motta says. "Risk, trespassing, breaking or resisting the law… public sex can be thought of as a little social death."
These little social deaths can be linked closely to the wave of AIDS-related deaths (in part fuelled by government negligence and conservatism) which decimated the worldwide population of gay men during the 1980s and early 1990s.
The AIDS crisis led to the mayor of New York padlocking any place deemed to be a gathering spot for gay men, despite the health commissioner's advice that it would do "little, if anything, to the control of AIDS." Still, decades later, the power of a narrative whereby promiscuity equals death lives on.
Nic Holas, an Australian writer who founded The Institute of Many – an organisation dedicated to increasing resources and advocacy for people living with HIV – wrote in Archer Magazine in 2014: "The generation of sex-positive gay men lost to AIDS is an ongoing issue, because these men who would now be our elders have been replaced with a largely conservative voice that preaches monogamy, and tells young gay men to prioritise marriage over pleasure."
It is this "conservative" voice that sees cruising as a sad anachronism that caters to a promiscuous gay stereotype. And this, really, strikes to the heart of how public sex is disseminated socially. Public sex perpetuates the image of the bad gay – the gay slut – and endangers the new ideal of respectability that many elite gays have spent decades cultivating. Apparently, it even endangers lives.
Where fear of HIV and its associated stigma was once enough to give sex-shamers a platform, the rise of antiretroviral drugs has begun to sap their power. These days, HIV-positive people are living long and healthy lives. With treatment, they may become undetectable and, thus, have next to no chance of infecting sexual partners. Moreover, access to Post-Exposure and Pre-Exposure Prophylaxis (PEP and PrEP) provides gay men with a sense of sexual empowerment that was stolen from us during the AIDS crisis.
As a result of these medical advances, a new sexual revolution is underway among men who have sex with men. With the vice-grip of ingrained fear beginning to loosen – despite the rising rates of other, less damaging STIs – a pre-AIDS culture of public sex and sexual promiscuity could be rising from the ashes of the crisis.
When I told Mum I was gay, the first thing she said was, "The lining of the anus is thinner than the lining of the vagina, so you have to be more careful when you have sex." Although not a very sexy thing to think about, this crossed my mind the first time I fucked on PrEP without a condom.
I was at the top of a natural amphitheater, above a tent city, with a mob of wallabies feeding in the dark nearby. I remember looking out over the woods and up at the night sky, and feeling, for perhaps the first time in my life, completely free. When it was over, we shrugged and smiled at each other. He said goodbye, and I never saw him again.
For those who don't conform to the new gay ideal of monogamy and respectability, public sex affords intimacy while still avoiding this restrictive identity.
Meanwhile, access to this gay ideal is restricted for many people of colour, homeless people, or those who are gender non-conforming. Many are excluded by parts of gay culture either due to entry fees, abuse, or discrimination.
This pervasive exclusivity narrows the 'gay scene' down to a privileged few. For those who cannot enter these spaces, who don't feel comfortable in them, or who need to be discreet because of circumstance, age, relationship status or closetedness, finding intimacy in public can be a more appealing option.
Even though the rise of tech-based cruising apps, like Grindr and Scruff, has greatly reduced the need for men to cruise in person, or in public, some don't have a private space in which to fuck, and there will always be those who feel more comfortable with the completely anonymous, fleeting nature of public sex.
This is especially true in countries where homosexuality is still criminalised. In Egypt, Iran and India – especially where access to electricity and the internet is restricted – cruising remains a simple and historical reality for many queer men who fuck despite the ever-present threat of police entrapment.
Although homosexuality is not technically illegal in Egypt, having public sex is, and under the 'debauchery' law many gay establishments, and even private house parties, have been raided, with more than 250 people arrested since 2013. Pro-Government journalist, Mona Iraqi famously raided a bathhouse with the help of police, and broadcasted it on live television.
Cruising apps can also be extremely dangerous, with undercover police in Chechnya flirting with gay men online only to entrap them into criminality, and then using their phones to trawl for other queer people.
These sinister forms of entrapment make anonymous sex one of the only viable options for intimacy in some countries.
In a gay rights movement defined by respectability and domestication, ongoing acts of public sex – and the existence of cultural texts like Petite Mort – show that men who have sex with men engage in non-normative behaviour, are happily non-monogamous and, in many cases, aren't even gay or bisexual.
The mainstream narrative of "We're just like you!" is inadequate, for the glaringly obvious differences between many queer men and heteronormative society.
We need politics that speak for all of us. Instead of distancing ourselves from acts of sexual deviance, we should be publicising and embracing them. As well as love, we need to start crying sex from the podium.
The late George Michael, who was famously caught cruising in a public toilet in 1998, is a great example of what sex-positive activism can look like. In an interview in 2005, he said: "Gay people in the media are doing what makes straight people comfortable, and automatically my response to that is to say, 'I'm a dirty filthy fucker and if you can't deal with it, you can't deal with it.'"
When harassed again in 2007 for cruising on Hampstead Heath, he fired back at photographers, saying: "Are you gay? No? Then fuck off! This is my culture."
By leaving behind consensually promiscuous expressions of our sexuality, or convincing ourselves they're immature, dirty or invalid, the gay rights movement is just as motivated by shame as it is by pride: the shame of being different, and the shaming of anyone who embraces that difference.
The bridge, the church, the park and the pool have long been sites of fleeting companionship and anonymous fucking. By disavowing public sex as morally repugnant, we not only divest ourselves from our own histories of persecution, but also distance ourselves from those who continue to experience persecution, discrimination and stigma.
We need to question our increasingly conservative forms of activism. It's time to pick up the pieces of our past and reassemble them into a revived, sex-positive and truly queer politic.
Regan Lynch is a theatre-maker and writer based in Brisbane, Australia. His work in fiction, non-fiction and theatre is interested in kitsch, camp, genre, queer subcultures and reclaiming the unwanted. He seeks to create bold, liberating experiences for audiences and readers that question understanding and attack common sense.
<! -- WIDGET HERE FOR BUY ARCHER -->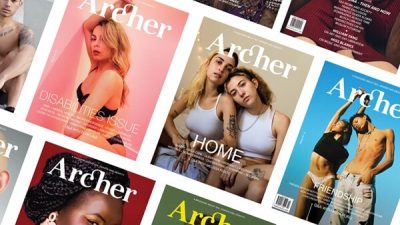 HELP KEEP ARCHER MAGAZINE AFLOAT!