Queer fashion files: 'Bloodlines' by The Huxleys
By: Hailey Moroney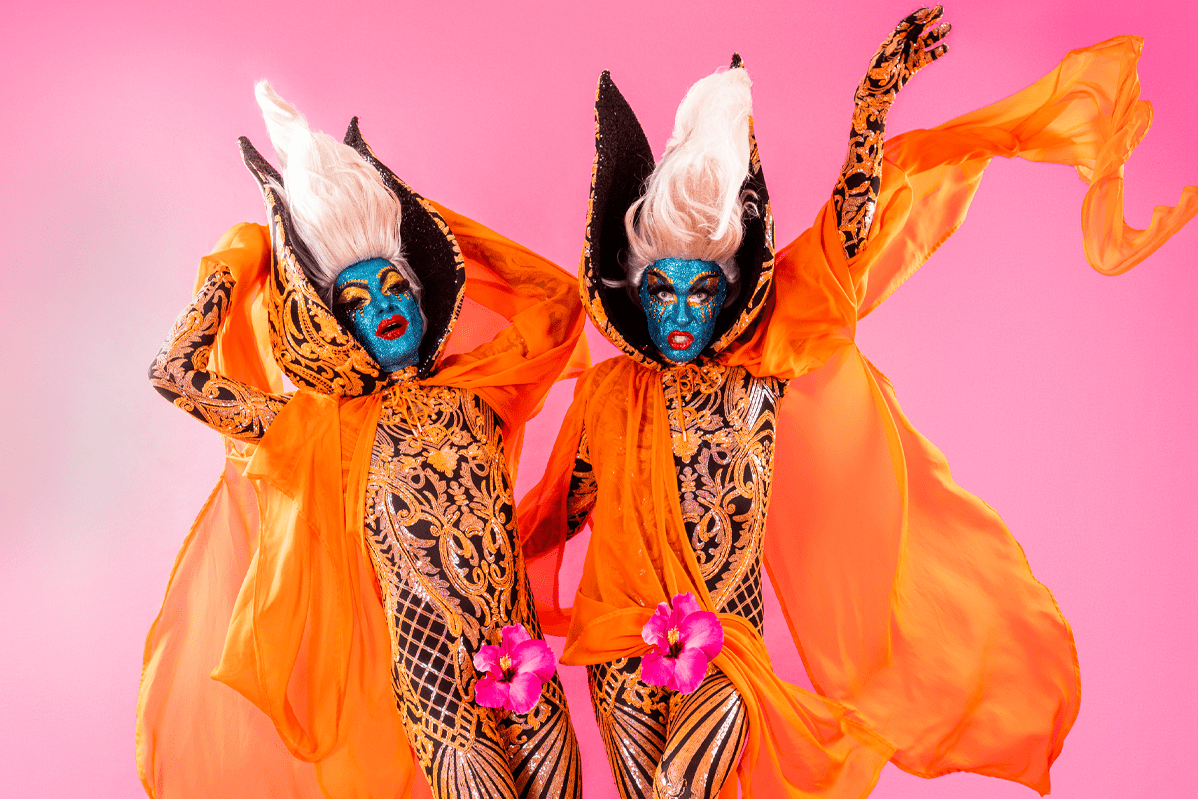 Welcome to Archer's queer fashion files! Each month, we'll interview queer trendsetters and tastemakers, showcasing the diversity and talent of the fashion world. You can check out all episodes of our fashion files here.
In Episode 5, Hailey Moroney chats to The Huxleys about Bloodlines, a multi-artform exhibition which honours and worships legendary artists lost to HIV/AIDS.
Will and Garrett Huxley are Melbourne-based collaborative performance and visual artists. They are lovers who joined forces and share a surname as a moniker in support of queer love.
The Huxleys are a dynamic duo of cataclysmic proportion who present camp spectacle and disco-enthused wizardry across the visual art, performance and entertainment realms. Their photography and performance art traverses the classifications of costume, film and recording. A visual assault of sparkle, surrealism and the absurd, The Huxleys saturate their practice and projects with a glamorous, androgynous freedom which sets out to bring some escapism and magic to everyday life.
Hailey Moroney: The Huxleys! Howdy! It's such an honour to interview you. I recently attended your DisGraceland exhibition and artist talk, and I was so utterly moved by the conversation – it honestly reinspired my faith in the arts. How did you approach fostering such a welcoming space?
The Huxleys: We always love to be open and honest about our work and story. Our work is so fantastical and otherworldly that we like the contrast of being as truthful and warm as possible.
We both have struggled over the years with being bullied, with being shy, awkward queer kids navigating often hostile environments. And so, creating an environment of care, humour and heart is vital to us. We love to share anecdotes of failures, struggles and the general absurdity of trying to make it as a creative person in this country. We like to make people smile and inspire them with glamour and horror in equal measure.
HM: Your exhibition, Bloodlines, is a multi-artform exhibition which honours and worships legendary artists lost to HIV/AIDS. You describe it as "a loving tribute to the many influential voices silenced by the HIV/AIDS epidemic of the 1980s and 1990s". If people walk away with one emotion, what would you want it to be?
TH: We would love people to walk away with the idea of history, the idea of legacy. And how, as queer people, we have this extraordinary history of artists who fought first, and fought harder and shone brightly so we can be here making our art and loving one another with more freedom than they could have ever dreamed of.
Our queer history is about people lighting torches for each other and opening doors, casting beautiful sparkling lights towards a future of a queer utopia, which we are always reaching for. We are not one, we are many.
HM: With Archer's queer fashion files, my aim is to show the next generation that there are more options to explore the arts than the traditional route. You experienced years of knockbacks from galleries, and it took time to be recognised as artists, but you persisted. What advice would you pass on to young artists going through similar experiences?
TH: If you love what you are doing and are passionate enough, keep persisting. The struggle is real, but it will pay off if you love what you're doing. Be true to your own desires and passions and don't make work for others or work that you think the world wants to see.
Do want means the most to you. Make your voice stand out. And don't feel despondent if things don't work out straight away, even if you have to take on other work along the way. The road we've taken has been so strange and varied, and it came by being open-minded, challenging ourselves and taking leaps of faith. Trust yourself and find people that believe in you and make you laugh!
HM: You've noted the queer icons that inspired you both growing up in rural spaces are the driving force behind your upcoming exhibition. What does it feel like being inspiring queer icons yourselves to a new generation of artists? Does this ever pop into your minds when creating your work?
TH: It would be a dream to think that our work and voice might inspire younger generations. When we were growing up, we often had to look far and wide for inspiration and beacons of queer light – it wasn't close by, but in galleries, magazines, music and TV. But things are changing, and our local communities are only growing and developing more creative, inspirational voices within the LGBTIQA+ community.
We would love to help young queer people dream brighter and bigger. We want queer youth to know that they are not alone, they can be ANYTHING they want, and they can look, dress and be as wild and creative as their dreams allow.
We had a mother and son approach us in Hobart recently and they showed us pictures of the son's dress-ups for Halloween and school dress-up days; he had dressed up as us several times and they told us that we inspired him. It was one of the most moving and heartwarming things to hear, and it made us so excited for the future.
HM: What's next?! In my imagination, you're sitting in your studio together, surrounded by your next insane, liberating and joyous body of work. Telling queer history and stories is how we keep our community alive, please never stop telling your stories through your art.
TH: We're always creating and making ridiculous things, regardless of whether people want them or not!  We're working towards showing Bloodlines in Naarm early next year! It'll be so beautiful for us to share it with our community.
We are also working on a new body of work which looks at the challenging imbalance between art and sports in this country, and how it feels to be a complete outsider from that weird world of athletics. As queer and uncoordinated people, we've always been at odds with the competitive realm of sport that dominates our culture. It's time to put the surreal strange world of The Huxleys onto the playing field.
You can stay up to date with Will Huxley and Garrett Huxley on Instagram.
If you want to pitch an idea for Archer's queer fashion files, email pitch@archermagazine.com.au with 'QUEER FASHION FILES' in the subject line. You can check out the rest of our fashion files here.
Hailey Moroney is a photographer, entrepreneur, and digital marketing specialist based in Naarm (Melbourne). Since 2018, Hailey has been on the design team at Archer Magazine, the world's most inclusive publication about sexuality and gender, curating images and managing the magazine's Instagram channel. Hailey runs Bedford Studios, a vintage and upcycling studio that is size and gender inclusive. Hailey's interests include vintage cars, cowboy boots and her three-legged kitten, Puzzles.
<! -- WIDGET HERE FOR BUY ARCHER -->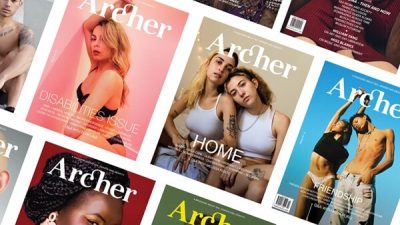 HELP KEEP ARCHER MAGAZINE AFLOAT!